The Piedmont High School flag football team got back to .500 with a 33-26 win over visiting Tennyson on Oct. 12.
Breah Bell, normally one of the top defensive players for the Highlanders, had a huge day on offense, catching three passes for three touchdowns and 93 yards.
Piedmont is now 3-3 on the season, 3-2 in West Alameda County Conference play.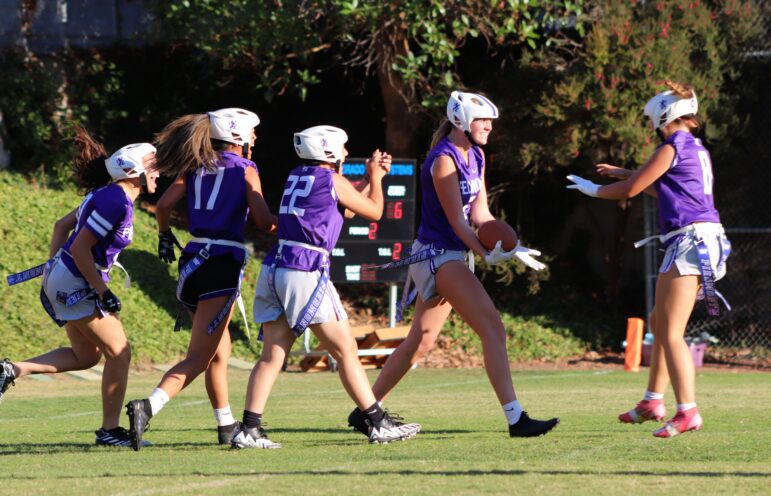 Tennyson (1-4, 1-4) got on the board early, taking 10 plays to drive the ball down for a touchdown. Gabriela Anaya connected with Jade Moore on a four-yard touchdown pass and it was 7-0.
The Highlanders needed just one play to respond. Mia Leggett shoveled the ball forward to Bell on a jet sweep motion and the latter did the rest, sprinting 45 yards for a touchdown. Piedmont missed the conversion and it was 7-6.
The Lancers took three plays to answer, with Anaya taking off on a 29-yard touchdown run. The conversion made it 14-6.
Again, the Highlanders responded in a single play. This time it was Friedie Schickedanz with a beautiful throw to Malea Hartford for a 45-yard touchdown. Schickedanz then connected with Dorothy Nemeth for the two-point conversion and the game was tied.
Lizzy Long intercepted an Anaya pass on the next possession and although she lost the ball on what could have been a touchdown return, her teammates picked her up by scoring the touchdown anyway on another Leggett to Bell play, this time from the 17. The conversion was missed and it was 20-14 to end the first half.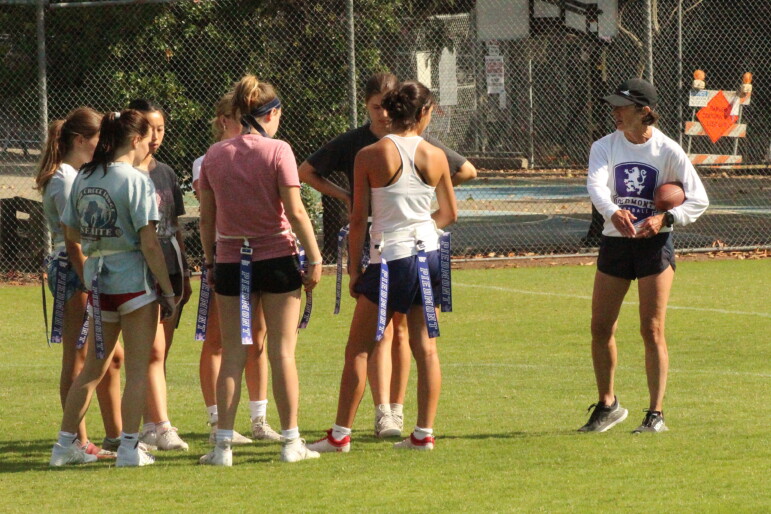 Piedmont had yet another one-play drive early in the second half, with Schickedanz hitting Erinn Gardere for a 26-yard touchdown. Tennyson went three-and-out and the Highlanders stretched it out into a four-play drive with Leggett and Bell connecting yet again on a 31-yard touchdown. That made it 33-14.
Bell did the worm after scoring and the officials were not amused, flagging her for celebrating.
Anaya scored on a 15-yard run and caught a 35-yard touchdown pass from Jade Moore near the end of the game to close the gap.
Piedmont travels to San Leandro on Oct. 19 for a 6 p.m. game.