Two Bay Area movie events — the 15th San Francisco Latino Film Festival (Cine+Más) and the Mill Valley Film Festival — are underway, both celebrating the range and diversity of storytelling during Latino Heritage Month.
Cine+Más wraps up its in-person screenings Oct. 8, but begins a robust online viewing slate, running from Oct. 8-15.
For something with a dash of spice, give Dan Levy Dagerman's "You, Me & Her" a look. Written by Selina Siegel, it concerns squabbling new parents Mags (Selina Ringel) and Ash (Ritesh Rajan), who, on their first vacation after having a baby, ponder embarking on a threesome with Angela (Sydney Park), who has taken a shine to Mags. Dagerman and Ringel, who are married in real life, will appear at the 7 p.m. Oct. 7 screening at the Opera Plaza in San Francisco. Can't make it? It'll be available online starting Oct. 8.
Another intriguing in-person screening is the Chilean Argentine thriller "The Punishment (El Castigo)." Hailed internationally, it's about a frantic search by parents Ana (Antonia Zegers) and Mateo (Néstor Cantillana) for their son, who disappeared in the woods. Both director Matías Bize and the film have collected awards. Screening at 7 p.m. Oct. 7 at the Opera Plaza, it's not available for online viewing.
For the full Cine+Más schedule, and $9-$15 tickets, visit https://cmsf.eventive.org/schedule. 
Over at the Mill Valley Film Festival, it's ¡Viva el cine! time. This year's slate includes a number of gems.
In Monica Sorelle's assured debut feature "Mountains," imminent gentrification and new housing threaten the way of life for a Haitian family in a community near Miami; the father, mother and son each deal with the changes differently. The drama screens at 8 p.m. Oct. 7 at the Smith Rafael Film Center in San Rafael and 5 p.m. Oct. 13 at the Berkeley Art Museum and Pacific Film Archive.
Based on a 2013 article in Wired, "Radical" from director Christopher Zalla follows in the tradition of inspiring teacher stories (such as "Stand and Deliver") but expounds on themes. It takes time to illustrate the unconventional methods a resource-deficient instructor (Eugenio Derbez) uses to motivate his students in a tough Mexican border town. The feel-good movie doesn't shy away from the hard realities of life. It screens at 11:15 a.m. Oct. 8 at the Rafael Film Center and 6:20 p.m. Oct. 9 at the Roxie in San Francisco. 

One of my personal favorites in the Mill Valley Film Festival lineup is Chilean-born director Felipe Gálvez's "The Settlers," Chile's official international film submission for the upcoming Oscars. Seeped in truth, it charts a fact-finding journey for three men hired at the turn of the 20th century by a landowner who wants to establish a route to move cattle along Patagonia. Gálvez tips his hat to the Westerns of yore while he tears into the evils of colonization. It screens at 7 p.m. Oct. 6 and 3:30 p.m. Oct. 11, with both shows at the Sequoia in Mill Valley.
The hustle and bustle of a birthday celebration contrasts with fear of the future for the gathering's guests, in particular, 7-year-old Sol (Naíma Sentíes), whose father – the one being honored at the party – is inching closer to death in his bedroom. It's the premise of Lila Avilés' lovely film "Tótem," which is both hilarious and sad, and filled with tenderness and sorrow. Many of the significant small moments are seen from the unfiltered perspective of Sol, whose soulful eyes speak volumes. Mexico's official Oscar submission for best international feature screens at 8 p.m. Oct. 13 at the Rafael Film Center and 4:30 p.m. Oct. 14 at BAMPFA.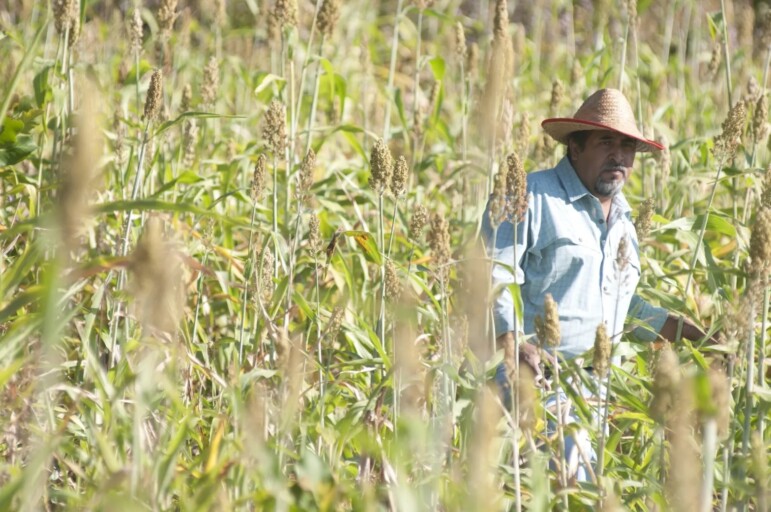 Greenbrae resident Will Parrinello's "Water for Life" is another of his influential documentaries designed to enact change. Narrated by "Andor's" Diego Luna, "Water for Life," getting its world premiere in Mill Valley, covers a potent environmental topic: the battle for one of our most precious natural resources, water. The film captures the valiant efforts of Alberto Curamil in Chile, Francisco Piñeda in El Salvador and the late Berta Cáceres in Honduras as they confront corporate policies and seek to make water safer to drink and use. It screens 6:30 p.m. Oct. 9 at the Sequoia and 7:30 p.m. Oct. 14 at the Smith Rafael Film Center.
For tickets (general admission is $16.50) and a complete lineup, visit https://www.mvff.com/viva-el-cine/.