Grab that comfort blanket and prepare to shiver.
This week, Pass the Remote revisits favorite Bay Area haunts, horror films set in and around the region that chilled our blood and sometimes even made us laugh out loud.
Here are 10 worth getting the shivers over this Halloween weekend, ranked in no particular order.
"Invasion of the Body Snatchers": Director Philip Kaufman plunks his still unsettling 1978 remake of Don Siegel's 1956 classic in San Francisco. The new locale works wonders with emotion-stripped aliens (pod people) inhabiting the bodies of a surging number of residents. Public health coworkers played by Donald Sutherland and Brooke Adams grow ever more suspicious as those around them lose all emotion. Some saw this remarkable update, one of the best remakes ever, as a commentary about the 'burbs. You go ahead and read between the lines. The first "Body Snatchers" commented on the Red Scare.
"Us": Thanks, Jordan Peele. Every time I visit the Santa Cruz Boardwalk, I can't help but tense up and expect to run into a creepy soothsayer hiding a pair of extra-sharp gold scissors behind his hands. You might feel the same after seeing this 2019 freakout. While many walked away mystified by Peele's macabre follow up to "Get Out," I think it remains one of the best horror films of the previous decade, a bloody metaphor about fearing the other that retains a timeless power. Peele doles out the frights and nervous laughter as the Thomas family (parents played by Lupita Nyong'o, who deserved an Oscar, and Winston Duke) vacation near Santa Cruz. After a weird encounter on the beach, unexpected visitors in red jump suits come knockin' at their door. So much to unpack with this one.
"Zodiac": While not entirely a horror film, David Fincher's 2007 dramatization of the search for the elusive Bay Area serial killer from the 1960s and '70s does make your skin crawl. Fincher's visual skill seeps through the pore of this period-rich film — from the sepia-toned San Francisco Chronicle newsroom where a political cartoonist (Jake Gyllenhaal) becomes obsessed with nabbing the killer to the nightmare-inducing recreation of daytime violence enacted on a couple in Vallejo. "Zodiac's" ambiguity might put some off, but that's the entire point of this endeavor. It's a classic.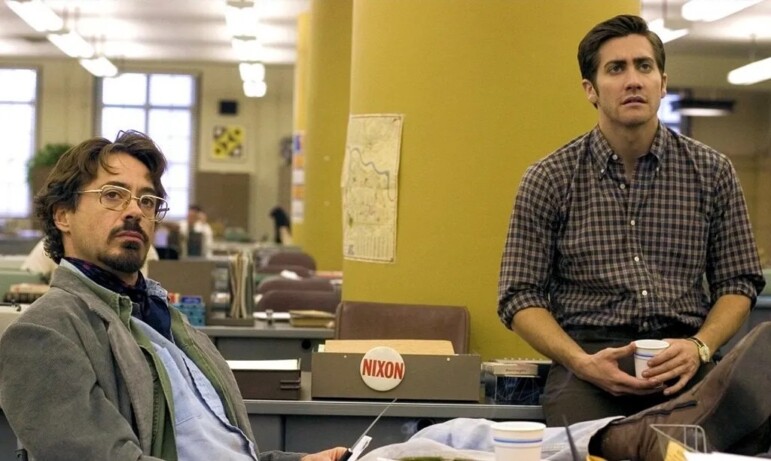 "Burnt Offerings": We all can recall seeing that one horror film when we were young and never being able to quite shake it off. Mine is this ridiculously over-the-top bit of supernatural hysteria starring Oliver Reed, Karen Black, and Bette Davis, all over-acting their hearts and souls out. Both a demonic possession and haunted house (Oakland's Dunsmuir House used to great effect) tale, Dan Curtis' overlooked 1976 shocker packs a punch by showing the breakdown of one unlucky family (metaphor obvious). 
"The Lost Boys": For some darn reason, Hollywood loves to unleash demons and bloodsuckers on Santa Cruz beaches. In the late Joel Schumacher's 1987 camp classic, the vampires sport healthy six packs and beach-ready bods. We're OK with that. But is any of this pumped-up action scary? Hardly. But watching Kiefer Sutherland and Jason Patric along with Corey Feldman and the late Corey Haim sink their teeth into their kitschy roles is a joy to behold.  
"The Fog": Forgo director Rupert Wainwright's weak-willed 2005 remake, which set its lighthouse/ghost pirate kerfuffle in Oregon, and soak up the atmospherics and Jamie Lee Curtis' and Adrienne Barbeau's performances in John Carpenter's flinty original. Carpenter's 1980 throwback to ghoulish campfire stories was shot in Bodega Bay, Inverness and other coastal locales, and while it's not one of his best films, it's a reliable ghost story that's more chilling than frightening. Even Karl, the San Francisco fog, would approve.
"Scream": You just can't keep a good Ghostface down, can you? Wes Craven's 1996 original, written with tongue-in-cheek slyness by Kevin Williamson, ranks high on the best horror films ever made. From that now-iconic Drew Barrymore opener to the irreverent genre one-liners and twists and turns, this first film is unto a class itself. It chronicles the never-say-die travails of final girl Sidney Prescott (Neve Campbell) who gets chased, through parts of Santa Rosa, by a killer covering up in a Munch-inspired scream mask and wielding a sharp carving knife. A smooth mix of gore and humor. 
"The Birds": Alfred Hitchcock's 1963 thriller finds feathered friends attacking not only the lovely and idyllic Bodega Bay, but the lovely social butterfly Melanie Daniels (Tippi Hedren) who's fallen for Mitch Brenner (Rod Taylor). This one holds up well — particularly those suspenseful scenes at a school, inside the phone booth and in the home at the end. It's also one of Hitchcock's most often discussed features, dubiously due to charges about what went on when the cameras stopped rolling. 
"It Came From Beneath the Sea": As we wait until Nov. 17's "Monarch: Legacy of Monsters" to watch the Golden Gate Bridge get bludgeoned and bruised along with San Francisco yet again, why not dip into the cinematic vault and rewatch this cheesy and hilarious low-budget chestnut? It's a schlockfest from start to finish in which an octopus — courtesy of effects wizard Ray Harryhausen — tears apart the city by the Bay, including the Golden Gate Bridge. This 1955 monster mishmash is both terrible (there are six, not eight, tentacles) and terribly fun.  
"Coherence": James Ward Byrkit's metaphysical mind trip proves once more that you don't need a massive budget, or sometimes even a well-defined screenplay, to pull off an indie wonder. Shot in San Jose and contained mostly to one house, "Coherence" rides its plot on a comet trail that suddenly alters the course of things at a dinner party in Silicon Valley. What a head trip.