Amy Miller, Ali Wong, Sarah Silverman, Emily Catalano — the list could go on in terms of comics who established themselves through performing in "The Town."
"Oakland is just so rich in having been a part of many very famous comics' journey in becoming who they are. … We see [OCF] as an opening for comics throughout the world to come and demonstrate their talent," says Shoshanna Howard, founder and producer the Oakland Comedy Festival, which runs Oct. 12-15 in various East Bay locales this year.
OCF is a passion project Howard conceived of in 2018 after working for organizations centered on social change and climate justice and finding an absence of joy, given the heaviness surrounding the topics.
"I've always loved comedy and seen it as such a beautiful art form. I was speaking with somebody that I had worked with about my observations of what I've seen in these spaces. And she was like, 'Why don't you do something about it? You're good at bringing people together around climate change. Why wouldn't you be good at bringing people together around laughter?'"
Howard took the leap, creating a comedy festival "space" in Oakland where there hadn't been one.
"I was just like, 'All right, well, I'm going to give it a shot and see what happens and go for it,'" she explains.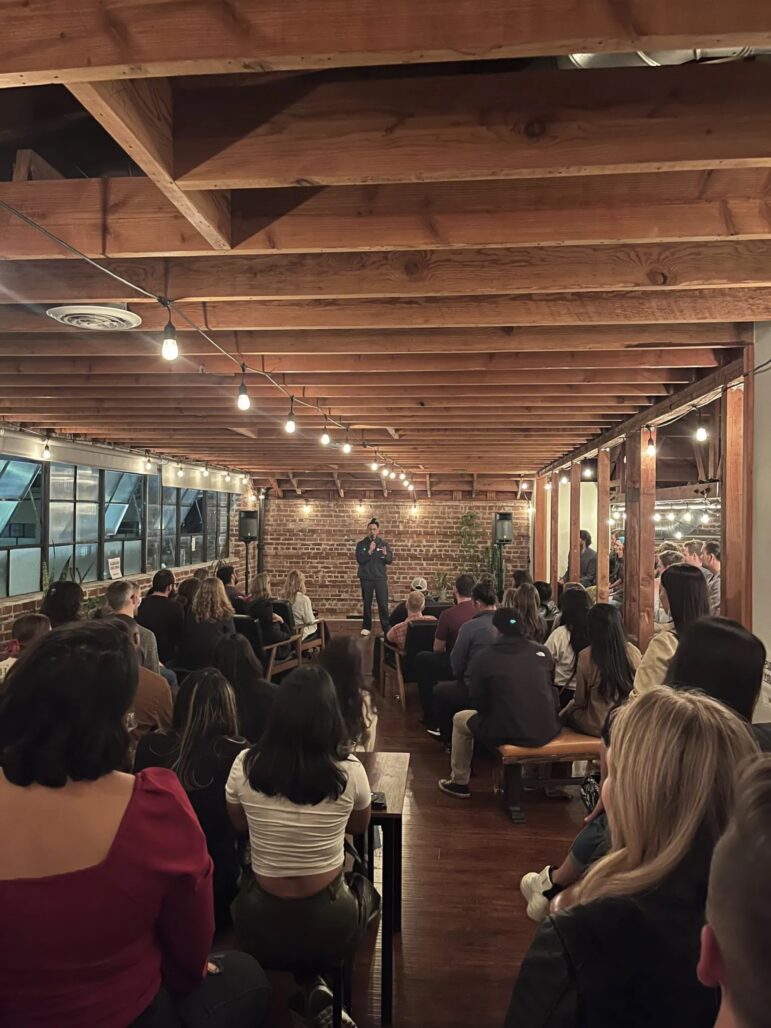 Now five years strong, OCF 2023 boasts more than a dozen shows with some 60 comedians, including headliner Alice Wetterlund, from Los Angeles but with Bay Area ties (appearing in "Best of the Fest" on Oct. 15 at Original Pattern Brewing Company); and locals Samson Koletkar, Brooke Heinichen, Tammy Tea Love and Ashley Monique.
"We do try to heavily book Bay Area comics or comics that are from the Bay that have moved to LA or elsewhere," says Howard.
Jade Theriault, an Oakland comic and veteran of SF Sketchfest, the Punch Line, Cobb's and other local comedy hotspots, also appears, taking the stage at All Out Comedy Theater (where they've previously performed) on Oct. 13 and Oct. 14.
Like Howard, Theriault describes comedy as an art form, sharing that while music was their first love, comedy ultimately won out.
"I started watching Louis CK with my friend in the piano room at school during lunch every day. And he was like, 'You can make a lot of money doing this.' And that turned out not to be true," says Theriault.
Theriault's sets are typically a mix of weighing in on life experiences and circumstances: "I do a lot of family material, and I do some non sequiturs and dark humor about mental health and stuff." 
They add, "I've been dating a lot more, and I've been trying to date with the intention of writing more material, like, 'OK, I'm just going to go on dates all the time.' And that's just going to be my whole act—everyone I date."
In addition to standup, the OCF offers themed events, such as the improv showcase "Divide & Thrive," an event for advanced students on Oct. 14; "S.M.I.L.F." (Straight Men I'd Like to Friend), during which openly gay hosts Wonder Dave and Marcus Williams quiz heterosexual men on their knowledge of gay culture on Oct. 13; and the game show "Get it?!" hosted by Joe Klocek, wherein a comic performs a short set and three audience members are randomly selected to answer questions about the performance, on Oct. 13.
There's also the debut of "Nina G: Stutterer Interrupted," a showcase featuring comic Nina G. and filmmaker Gina Chin-Davis on Oct. 14 at the New Parkway. The performers will chat about stuttering, standup comedy and more. Notably, the event takes place nine days before International Stuttering Awareness Day (Oct. 22).
A lot goes into putting on the festival, and Howard and talent booker Matthew Layne are the team behind it all. Their motivation? A mutual love for comedy and an invested interest in providing a communal space for joy and laughter and supporting comics in the Bay Area and beyond.
"For us, we really want to see it launch people's careers, and in five years from now say, 'Yeah, we had them on our lineup, and now they're so-and-so and they're huge.' We want to be a part of their long-term journey [toward] becoming comics who are successful," says Howard.
Note: 10 percent of OCF sales will go to the Transgender Law Center, an Oakland nonprofit which advocates for transgender and gender nonconforming individuals.   
The Oakland Comedy Festival runs Oct. 12-15 at various locations; tickets are $10-$50. "Best of the Fest" is at 7:30 p.m. Oct. 15 at Original Pattern Brewing Company, 292 Fourth St., Oakland. For the full lineup, visit oaklandcf.com.