Since it was founded in 1992, the New Century Chamber Orchestra has performed chamber works from the Baroque era to the present from differing perspectives, often with mixed-media enhancements.
This week, when NCCO and music director Daniel Hope open the 2023-24 season, their emphasis of "music on all levels" explores how music reaches people emotionally, spiritually and structurally.
Hope, a violin soloist worldwide for more than 30 years and NCCO's music director and concertmaster since 2018, says the group's string players always have been about sharing a musical message, albeit now with a broader mission that seeks to resonate more deeply.
"Our season explores how music goes beyond a mere concert hall experience, examining some of the emotions rooted deep into our society, from love and history to the afterlife and beyond," Hope says.  
"Since I became music director, we have forged new paths together, both in the choice of composers we have commissioned as well as the way in which we connect to our audiences," Hope says. "And since the end of the pandemic, people are in search of both music and the emotions it brings, even more than before."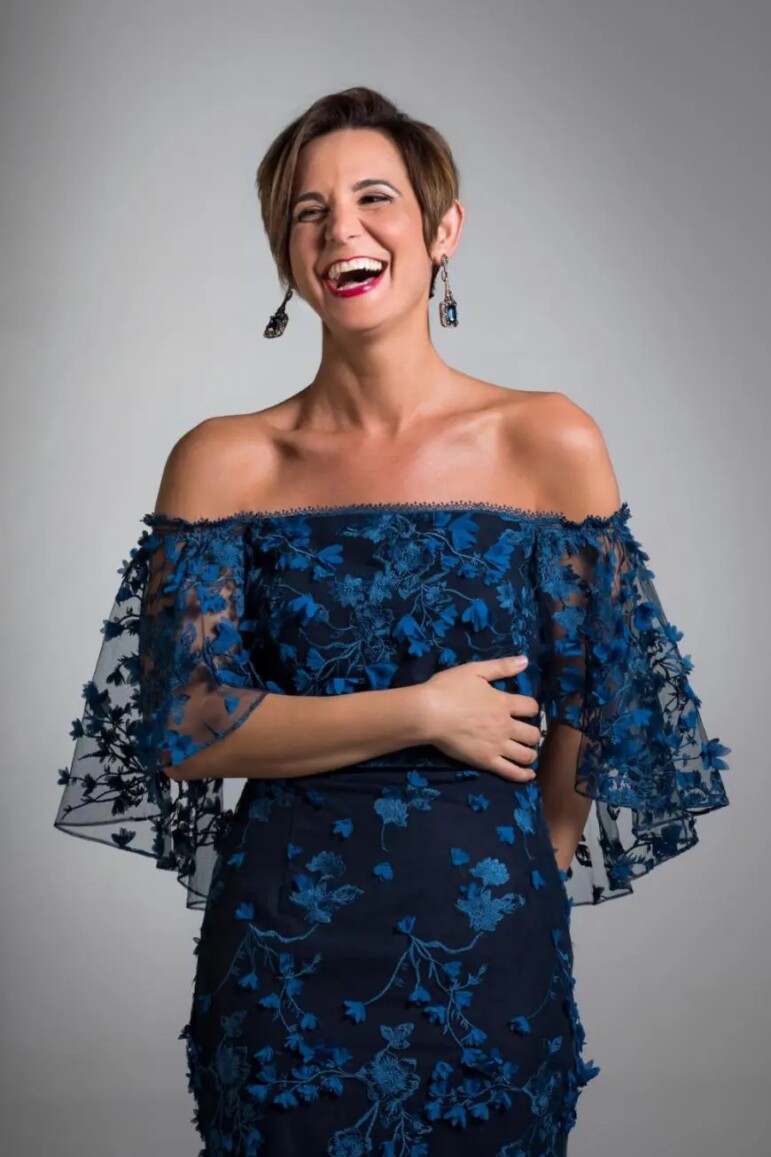 The afterlife and beyond will be palpable when NCCO opens its 31st season on Nov. 2 at Berkeley's First Congregational Church with "Visitations," a candlelit program of otherworldly works including Rachmaninoff's "Bogoroditse devo" (Rejoice, O Virgin), Villa-Lobos' "Aria" (Cantilena), Schubert's "Erlkönig" (The Elf King)," Dukas' "The Sorcerer's Apprentice," Ariel Ramirez's "Misa Criolla" and the premiere of "Doña Sebastiana" (Lady Death), an NCCO-commissioned spiritual piece by Nicolás Lell Benavides. The concert also features a haunting eight-member chorus and mezzo-soprano Kelley O'Connor.
In "Visitations," with performances continuing in San Francisco on Nov. 3-4 and in Belvedere Tiburon on Nov. 5, NCCO is experimenting with a fog-like element that, with candles and other lighting effects, will enhance the concert's eerie vibes. NCCO Executive Director Richard Lonsdorf says it's an example of the group's innovative approach to classical music, which may include mixed-media presentations and has been in its DNA.
"This isn't necessarily a new idea for New Century, but we keep reinventing and revising it, and it provides for a natural vessel to be a little more colorful and descriptive in our programming, even in ways that aren't necessarily called for in the score," Lonsdorf says of the mixed-media elements. "'Visitations' is a good example because we are creating a séance-like or otherworldly atmosphere through color, tone, mood, and we've curated the music with Daniel to bring people on a journey into the otherworld through many kinds of spiritual engagements, from religious to the almost profane or secular."
Lighting for "Visitations" is by Luke Kritzeck, who designed NCCO's memorable 2022-23 season-opening "Berlin 1938," and contributed to San Francisco Symphony's pop-up performance laboratory SoundBox, which Lonsdorf helped launch in 2013.
Still, Lonsdorf believes in a judicious approach to using special effects.
"You want the musicians to be front and center, and the visual narrative has to support the musical narrative; it can't be its own independent experience," Lonsdorf says. "You don't want to put projections or visuals out there if they don't have anything meaningful to add."
The season continues with mixed media on Nov. 8 at Stanford University's Bing Concert Hall with "Moby Dick; or The Whale," a silent film by MacArthur "Genius Grant" winner Wu Tsang featuring original music by Caroline Shaw, Andrew Yee and Asma Maroof played by NCCO. The film-live orchestra combo is presented by Stanford Live and the San Francisco Museum of Modern Art.
"Christmas Ornaments" on Dec. 15-17 in Berkeley, Tiburon and San Francisco showcases Baroque showpieces such as Bach's Brandenburg Concerto No. 3 in G major and his Violin Concerto No. 1 in A minor, as well as Corelli's Concerto grosso in G minor, Neruda's Trumpet Concerto in E-flat major with French trumpeter Lucienne Renaudin Vary, Copland's "Quiet City," and a flurry of holiday tunes.
NCCO revisits a mixed-media approach Jan. 19-20 with "Sonic Ecosytems," its first-ever collaboration San Francisco Conservatory of Music students led by Bay Area violinist Alexi Kenney. The program, with immersive nature projections in the conservatory's Hume Concert Hall, includes selections from Berkeley composer Gabriella Smith's Joshua Tree National Park-suggestive "Desert Ecology"; Angélica Negrón's Puerto Rican beach-evocative "Marejada"'; Vivaldi's Violin Concerto in D major; Aaron Jay Kernis' "Musica Celestis" and Georges Enescu's "Octet for Strings."
Hope, a big believer in using music to tell stories, says "people relate to music differently if there is an inherent connection or reasoning behind a selection of works." 
A longtime booster of mixed-media productions and the more varied artistic options they make possible, he adds, "I have been doing this for more than 20 years; when I first started out there was considerable resistance to concept programs and even concept albums. Thankfully, this has now changed, freeing up the artist and arts organizations to think in different ways and present music that means something particular to them. I do believe this will define future programming in classical music."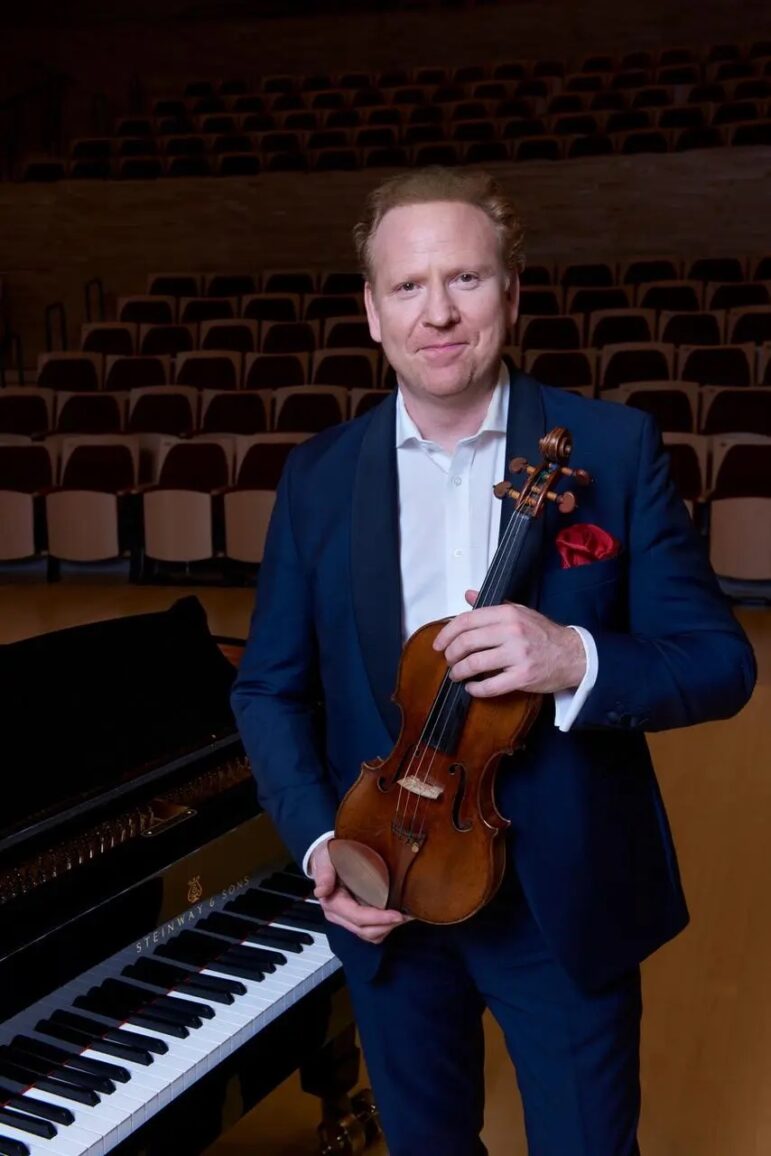 NCCO's March 8-10 "Playing With Structure" highlights the Classical period with Gluck's "Dance of the Furies" from the opera "Orfeo ed Euridice" and Haydn's masterfully elegant Cello Concerto in No. 1 in C major with cellist Sterling Elliott. The concert, in San Francisco's Presidio Theatre and Stanford's Bing Concert Hall, also traverses centuries with Bloch's "Prayer" from "Jewish Life," No. 1 and Stravinsky's ballet-based "Pulcinella Suite." 
"I think it is one of New Century's major strengths that we can adapt to all periods of music, and not every orchestra is comfortable doing this," Hope says. "I relish the opportunity to make music across the centuries, whilst at the same time searching for new, exciting voices who represent the sound of today's world." 
On April 30 at San Francisco's Herbst Theatre, Hope appears in recital with pianist Simon Crawford-Phillips. The program features Enescu's "Impromptu Concertante," Ravel's Sonata Op. Posthumous, Franck's Sonata in A major, and the U.S. premiere of Bay Area composer Jake Heggie's "Fantasy Suite 1803," a violin piece Hope commissioned for its debut in Germany.
"He has produced an absolutely stunning piece, examining themes from Beethoven's life in 1803, which include his meeting and performance with George Bridgetower, the African violinist who took Europe by storm," Hope says of Heggie's opus. "But it also looks to Jake's own connection to Vienna, a city he knows well and in which he studied."
NCCO's timely May 2-4 season-closing program "Love & War" will give voice to the emotions triggered by war with Coleridge-Taylor Perkinson's poem "Grass," with pianist Awadagin Pratt, and David Diamond's "Rounds." The concert turns more hopeful and inspired by love with Florence Price's "Adoration" and Leonard Bernstein's "Serenade." Performances are May 2 in Berkeley, May 3 at Sonoma State University in Rohnert Park and May 4 in San Francisco.
"Sadly, war and conflict have been around for as long as we have," Hope says. "For more than 30 years I have been creating programs that examine the effect of war and conflict on music, and it will be interesting to see how the current state of the world blends into the musical projects that New Century will present this season."
New Century Chamber Orchestra's "Visitations" is at 7:30 p.m. Nov. 2 at First Congregational Church, 2345 Channing Way, Berkeley; 7:30 p.m. Nov. 3-4 at Cowell Theater, Fort Mason, 2 Marina Blvd., San Francisco, and 3 p.m. Nov. 5 at St. Stephen's Episcopal Church, 3 Bayview Ave., Belvedere Tiburon. For tickets, $30 to $70, and the full season calendar, visit ncco.org.