[SPONSORED VIDEO]
Insights, stories and interviews about homeownership and living in the East Bay
From a Piedmont native, Emmy award-winning television journalist-turned-home matchmaker, part-time radio anchor, UCLA graduate, wife and mother of 3.
SO TELL ME A LITTLE BIT ABOUT THE HISTORY OF MARZANO, BECAUSE I KNOW IT CLOSED IN 2014, BUT THEN REOPENED IN 2016.
Manna: Yeah, I've been here since 2008. It opened up as a tiny little neighborhood restaurant. In fact, it was only one side and it became very popular very quickly. And it had a great run up until 2014. I was the general manager at the time, but it was time for the previous owners to move on and it gave a chance to myself and my business partner, who was the previous executive chef of Marzano, to partner and buy in the business. I mean, it was almost like a dream come true.
WHAT WOULD YOU SAY ARE SOME OF THE MOST POPULAR ITEMS AT MARZANO?
Manna: Yeah, so definitely our pizzas. The Spanish octopus is amazing. It's a little bit on the spicy side. And the wood braised chicken is our signature dish here.
SO A LOT OF OAKLAND BUSINESSES HAVE BEEN STRUGGLING LATELY. IT'S BEEN A REALLY DIFFICULT TIME. TELL ME ABOUT YOUR EXPERIENCE.
Business has been down across the board about 30% this year. And then you add in vandalism and break ins and, you know, shortage of staff. It's just been very stressful year.
TELL ME ABOUT THE RECENT NUMBER OF BREAK INS BECAUSE. BECAUSE YOU SAID THREE BACK TO BACK.
Manna: Yes. First time ever that we've experienced break ins or this year and three times back to back. The most recent one being two weeks ago. You know, at 5:30 in the morning, very quick, very damaging. We missed a bus, $7,000 in cash, safes, stolen, doors broken into again and again. Our privacy has been broken, our trust has been broken, and it's just not a good feeling.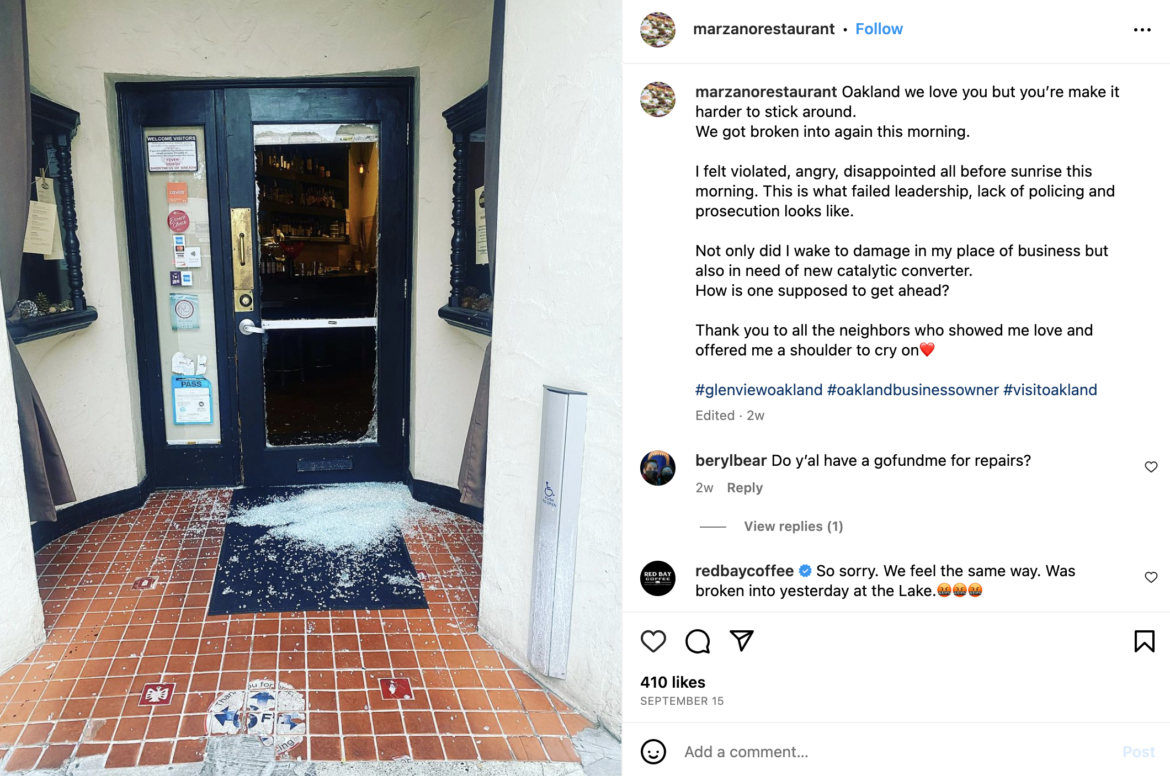 SO HOW DO YOU MOVE ON FROM ALL OF THIS?
Manna: It's an ongoing conversation. You know, we have to engage our community. We have to engage our city leaders. We have to engage our police department. I think it's a long road, but I'm also very resilient. So I won't give up unless, you know, I've tried everything in my power. So I do believe in this community. They've showed us support. They've came here with flowers and, you know, with support. And so I feel like I have to put up a fight. Yeah.
I MEAN, BUSINESS IS ALREADY DOWN AT THIS. AND THEN THIS KEEPS HAPPENING. HOW DOES IT AFFECT YOUR THE BUSINESS AS A WHOLE AND YOU PERSONALLY?
Manna: Honestly, we're not at this point. We're not in it for the money. It's what's keeping us going is the love of the community and the love of this place. We are the very fabric of this community, and I think we deserve a chance to fight.
---
Who should I interview next for Local with Lisa? If you have a suggestion I'd like to hear it! Or if you'd like to talk about real estate and want to know your home's current market value, I'm happy to provide you a complimentary assessment. Get in touch!

For more Local with Lisa, click here.