Maksim Batuyev's college studies on the climate crisis left him feeling depressed.
"I was questioning the sheer gravity of it all and how all of it is systemic. None of it has an easy solution," he said. "That really started to bring me into some dark places."
During his senior year at Michigan State University, he started talking online to people from around the world about their emotions related to climate change, which ranged from feeling overwhelmed and scared about the future to grieving the parts of nature that have already been lost.
"They sounded just like me," he said. "And it sounded like too much for one person to take on."
He decided to do something about it. In 2022, he and climate activist Cindy Pace started informal gatherings in Los Angeles to talk about climate emotions. These groups, commonly known as climate cafes, encourage various kinds of people to come together and talk about their climate feelings in moderated discussions.
"We don't have time to train every therapist and can't afford to give everyone a therapist, so we shouldn't be acting like those are our only options," Batuyev, 25, said. "You don't need to be certified to ask how someone's doing."
Those meetups represent one of the small ways young Californians are beginning to address the global climate crisis as a mental health crisis. Grassroots organizations and nonprofits are offering community-based therapy solutions, such as climate cafes, urban gardens and other events where people can come together and talk.
Some are turning to nature-based therapy, also known as ecotherapy, which involves spending time in nature to enable growth and healing.
And, more formally, the Newsom administration has taken some small steps, including funding a $6 million environmental justice program in San Mateo County schools that includes group activities to build social and emotional resilience against the climate crisis. Supporters hope it becomes a model for a statewide program.
But mental health advocates say the largely grassroots-driven efforts are not nearly enough to meet the needs of younger generations. Mental health advocates say they need more resources and funding to build stronger community-based systems and provide a good alternative to therapy, which can often be expensive and less accessible.
"Without having a place to express their feelings, people can really go into a trauma response and can even get to a point of shutdown," said Maia Kiley, a certified ecotherapist in Los Angeles. "It can even lead to depression and suicidality. It can feel like a really deep hopelessness."
In California, 80% of youth between ages 14-24 have experienced some form of climate distress, according to a 2022 study by Blue Shield of California.
Climate distress refers to the range of negative emotions people can experience due to thinking about the climate crisis or experiencing it, including grief, anger, stress, anxiety, hopelessness and depression.
"It's clear young people are focused on climate change and for good reason. A lot of past policies, actions, and inactions have created a situation that has folks very worried about the future, and I share that worry," said state Sen. Ben Allen, the Redondo Beach Democrat who sponsored the 2021 budget item that funded the school program. "I hope that elected officials, industry leaders, and others in positions of power listen to what they're asking for and respond with the urgency it demands."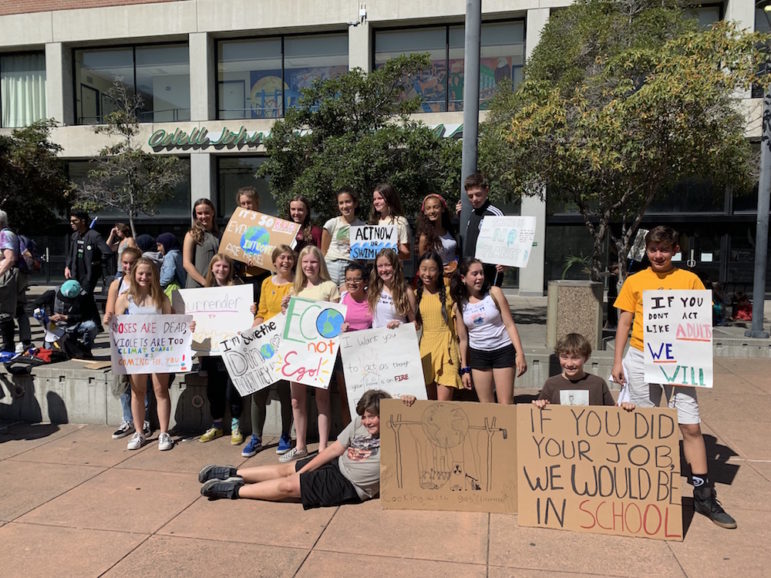 At Redondo Union High School south of Los Angeles, students bring up their emotions about the climate crisis to counselor Rachel Andrews "at least once a day."
"My students say, 'Okay, so now, not only am I worried about finishing my homework, but I have to be one of the people that fixes this huge crisis,'" she said.
In her experience, kids start experiencing climate distress around 5th or 6th grade. While this encourages them to be environmentally conscious, she said, they also find it hard to manage their emotions.
"They feel angry, they feel guilty, thinking, 'Did I contribute to this?'" she said. "And they feel cheated, because their planet is at risk, other people did it and they have to figure it out."
Lian Zeitz, cofounder of the nonprofit Climate Mental Health Network, said educators who teach about environmental issues notice strong emotional reactions among their students, but they "often aren't equipped with tools and resources on how to navigate these very complex emotional landscapes on topics that are experienced differently by very different people."
The California Association of School Counselors, meanwhile, is building a curriculum that includes discussions on how to address climate change. But California is facing a school counselor shortage, with one counselor serving an average of 509 students during the 2021-2022 school year. The American School Counselor Association recommends a ratio of at least one counselor for 250 students.
Zeitz is working on a state-funded environmental justice program in San Mateo County for K-12 grades as a partnership with environmental literacy nonprofit Ten Strands. His role is to ensure that all these programs have social learning and mental health focuses embedded in them. "We're asking educators to welcome the range of emotions that young people are experiencing, and teach them how to feel safe when they experience them," he said.
One way the program makes space for climate emotions is by having activities that encourage social connection and healthy coping skills. It includes a climate emotions wheel based on the feelings that people usually experience related to the climate crisis. By asking students to identify how they are feeling using the emotions displayed on the wheel, educators can check in with them and encourage them to talk as part of a group, Zeitz said.
Outside of classrooms and counseling, some young Californians are seeking alternative therapies as they address their climate anxiety. One of the approaches to climate-aware therapy is nature-based therapy or ecotherapy. Many kinds of ecotherapy exist, from structured sessions in nature with an ecotherapist to community gardening or outdoor yoga.
"Climate-aware therapy is where people feel that they can really share about their climate distress," said Kiley, the Los Angeles ecotherapist. "Feelings are like ocean waves that pass through, so we are really making sure people know how to take care of and manage their feelings so there can be more charge over what's happening and some perspective."
But many California youth may not be able to receive therapy for climate distress for several reasons. Not all therapists are trained to specifically deal with climate emotions. The Climate-Aware Therapist Directory by the Climate Psychology Alliance North America lists just over 100 certified climate-aware therapists all over the United States and Canada.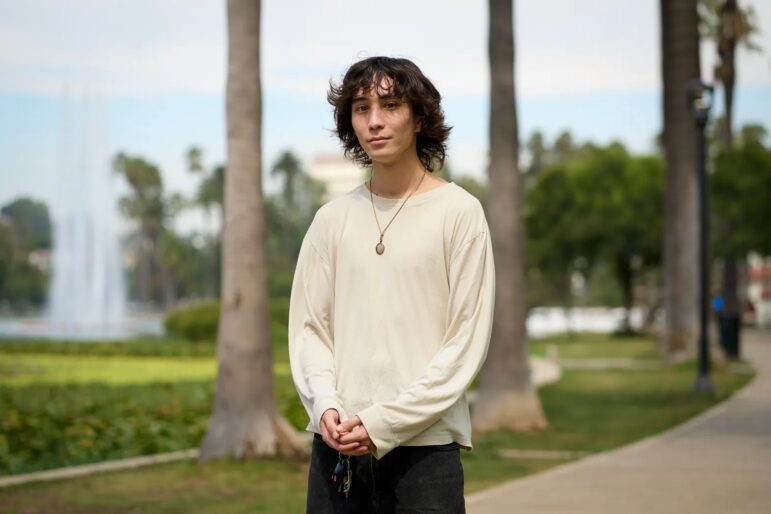 Batuyev believes traditional therapy with a counselor or psychologist is insufficient to deal with climate distress. He views climate-related emotions as a collective concern that cannot be addressed with only medication or traditional therapy.
"Being compassionate and empathetic, that's not a pathological disorder. This is a rational response to our environmental challenges," he said.
Zeitz said while people should acknowledge that the climate crisis can create a sense of collective distress among youth, it is important not to "pathologize" people's emotional responses to the climate crisis.
"The model is not more psychiatrists or psychologists to support people. We need to strengthen community systems that are able to tend to people's needs better," he said.
To fill this gap, several grassroots efforts, including climate cafes and community gardens, have opened that emphasize community-based discussions about climate distress. One of them is Climate Cafe LA, run by Batuyev and Pace.
"It's a thinking and feeling space," Pace said about climate cafes. "This is where people get together and really get into our emotional responses to the climate crisis."
Pace and Batuyev have partnered with UCLA and other public spaces such as libraries and cafes to host climate discussions. They also host a virtual cafe each month. But being the only climate cafe in Los Angeles, they feel their impact is limited.
"This is not something owned by any one person, so I want to help students start them," Batuyev said. "We need to start thinking more seriously about building resiliency and informal support groups like this can be a tool that people have to start engaging around the emotional side of these issues."
But the ultimate cure to eco-anxiety, Batuyev said, is "to solve the climate problem."
Supported by the California Health Care Foundation (CHCF), which works to ensure that people have access to the care they need, when they need it, at a price they can afford. Visit www.chcf.org to learn more.