Your favorite perfume, nail polish, or hair dye may have to undergo a makeover by 2027 if it has one of 26 potentially toxic ingredients now banned by California. 
A new law signed by Gov. Gavin Newsom will ban more than two dozen ingredients from cosmetics and other personal care products in California — and most likely the rest of the nation.
The ingredients — which can raise the risk of burns, cancer, birth defects, reproductive problems and more — are among 1,600 that already have been banned in the European Union, but not in the United States. So California is taking the lead among the states in trying to make personal care products safer.
Some of the 26 ingredients banned under the bill include are:
vinyl acetate, which is found in some nail polishes and helps bind them to nails; 
anthraquinone, which is found in some hair-coloring products; 
lilial, or lily aldehyde, which is used to give a lily scent to many products and can be found in many popular brands of perfumes, shampoos, body washes, and more. 
The first two are believed to raise the risk of cancer, while lilial may reduce fertility, according to the European Chemicals Agency, which implements the EU's regulation of chemicals. Five of the 26 ingredients are also on California's list of chemicals that have been shown to cause cancer, birth defects or other reproductive harm.
The new law, authored by Assemblymember Laura Friedman, a Democrat from Burbank, will take effect on Jan. 1, 2027, to give companies time to eliminate those ingredients from their products.
The changes the companies make will almost certainly affect products they sell elsewhere in the United States.
"No one, especially in the personal care space, is going to reformulate for California and not for the rest of the country," said Scott Faber, senior vice president for government affairs for the Environmental Working Group, the nonprofit organization that sponsored the bill.
Faber said most such products are manufactured to meet national or international standards.
California is often the first state in the nation to regulate business and industry, such as when it banned grocery stores from giving out plastic bags several years ago and set a 2035 deadline for ending sales of new gas-powered vehicles — a move that several other states have since followed.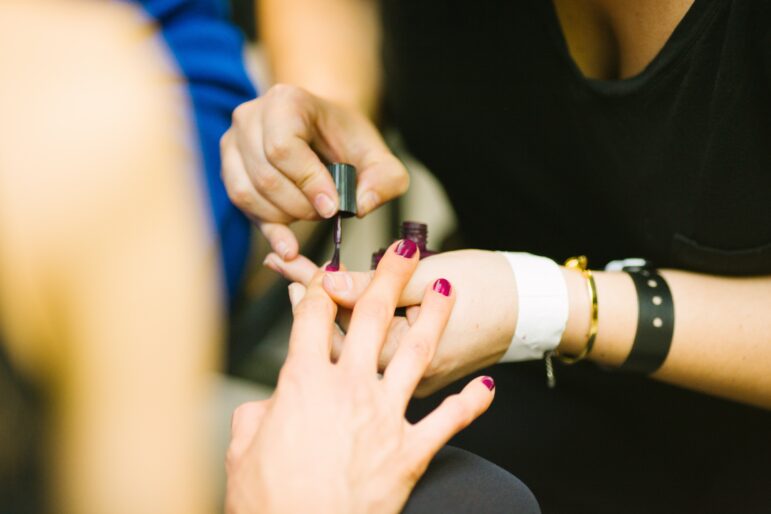 The new chemicals law follows California's 2020 first-in-the-nation law banning 24 toxic ingredients, including mercury and formaldehyde, in personal care products. That ban is set to take effect Jan. 1, 2025. Last year, Maryland followed California's lead and banned those same ingredients.
Newsom also just signed another precedent-setting law banning the manufacture and sale of four food additives found in some soda, candy, and other processed foods because they are linked to health problems. The additives are also banned in the EU. 
The Personal Care Products Council, the trade association that represents cosmetics and personal care products companies and that according to Friedman's staff worked with her on the bill, would not comment on the costs and time associated with reformulating products.
Faber, of the Environmental Working Group, said he has worked for industry groups and that "the cost of the ingredients is a tiny fraction of manufacturing a personal care product."
Global retail sales for fragrance, makeup, hair care and skin care products exceeded $400 billion in 2022, according to an analysis by McKinsey and Co.
The Fragrance Creators Association asked that one ingredient, lilial, be excluded from the new law, arguing that it's not risky to consumers when used "with industry safety standards." The sponsors of the bill disagreed, citing the EU's conclusion on its hazards and risks. 
Dan Selechnik, director of regulatory science at the Fragrance Creators Association, told CalMatters through association spokesperson Katie Cross that "almost everything can be a hazard in large quantities or specific contexts" and that the fragrance industry needs a "diverse" set of ingredients, suggesting fewer options for ingredients could raise costs for consumers.
A 2021 analysis by the Environmental Working Group found that more than 80 other nations have stricter rules on cosmetics safety than the United States.
Last year, President Joe Biden signed the Modernization of Cosmetics Regulation Act, which gives the U.S. Food and Drug Administration new authority to access companies' safety records and to order mandatory recalls of cosmetics if they're found to cause serious health risks or deaths and companies don't voluntarily recall them.
"Congress, particularly (the late Sen. Dianne) Feinstein, fought for decades to give the FDA the power to review toxic chemicals," Faber said. "Congress did modernize part of the cosmetics law, but not the power to methodically review chemicals of concern."