Amy Schneider was busy. It was Oct. 3, the day her book In the Form of a Question: The Joys and Rewards of a Curious Life would be published and she had a slew of media interviews to get through, including one with Local News Matters. The top-winning woman and top-winning trans contestant in Jeopardy! history already had been on The Today Show where she hosted a Jeopardy-style quiz about that long-running production. During the coming days, she would appear on ABC, CBS This Morning, The View, as well as an author talk at the 92nd Street Y.
Schneider has been famous for about 22 months now, ever since she won 40 Jeopardy! games in a row, second only to Ken Jennings's 74-game winning streak. Much of America was captivated by her encyclopedic knowledge of numerous topics, her skill in Final Jeopardy (she guessed correctly 30 out of 41 times)  and the string of pearls she wore around her neck.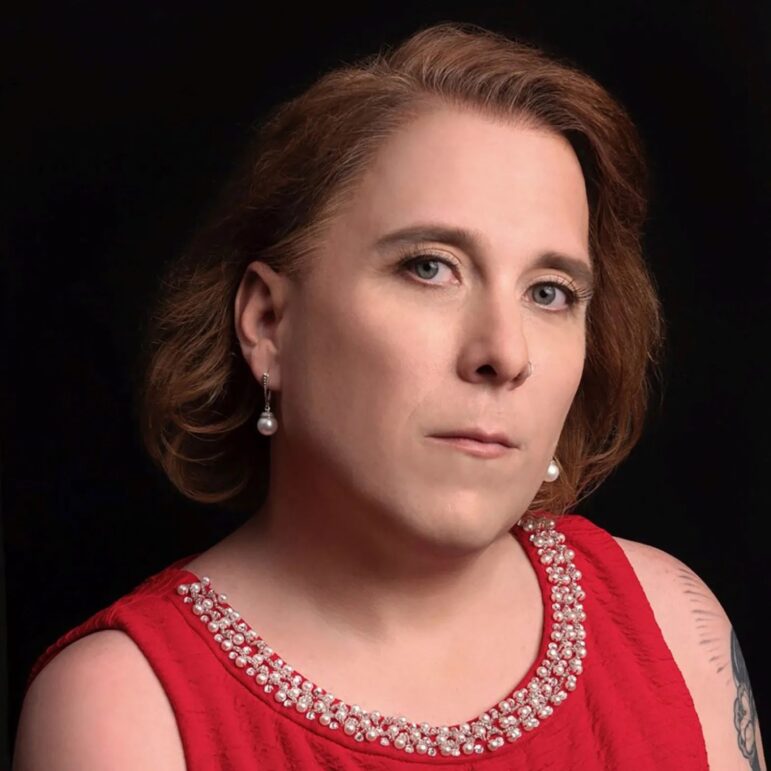 That Amy Schneider was a relatable trans woman and may have been the first exposure many Americans had to someone who was born into the wrong gender and later transitioned into the gender that felt right.
The Amy that readers will encounter in The Joys and Rewards of a Curious Life is more complex. The book, which naturally has chapter titles in the form of questions such as Why Do You Do Tarot? What is Home? and What Did You Win on Jeopardy!? ($1,382,800, plus $2,000 for the second-place finish in game 41) lets Schneider explain her early life as a boy, her first heterosexual marriage, and her slow recognition that she was tranny (her preferred term). She writes that ADD was a blessing in disguise since the best way to calm down her active brain is to learn. "Learning was my first drug, my oldest form of self-medicating," she writes. All that accumulated trivia, as well as spending many years in the theater, helped Schneider become a Jeopardy! powerhouse. (She also won a Tournament of Champions contest in November).
Schneider also reveals aspects of herself that are less mainstream. For example, she is polyamorous. In the chapter "What is Polyamory?" Schneider, referring to her first wife, Kelly, whom she married while still presenting as a man at 25, ponders: "Why not just let each other have sex with other people? … And when I asked myself that question, I couldn't find any downside. It just seemed like another aspect of the question to which nobody ever seemed to have a satisfying answer: Why is there this special category for behavior involving genitals?"
In the chapter, "Okay Then, So What Have Your Experiences with Drugs Been Like?" Schneider describes her experiences with cocaine, mushrooms and psychedelics. "I believe that drugs have been good for me," Schneider writes. "Without them, I might not be here today."
And Schneider, who is married to Genevieve Davis, frankly discusses trans sex in a chapter titled "So If You're Trans, Does That Mean You Like Guys?"
Schneider doesn't think talking about these things is brave, although many people have suggested it is. It's just like when she came out as trans, she said. It was something she had to do, not a courageous act.
"There was this part of my mind that [asked] 'shouldn't you be frightened by this? Shouldn't this feel dangerous to be exposing all this stuff that not everybody is going to like?' I should be feeling that way. But I don't. I've always tried to be an open and transparent person. I don't like the feeling that I'm hiding a secret because, you know, then I just have to worry that it's going to come out. And if I just get everything out there, then I don't have to have that fear."
Schneider, 44, will return to Oakland, where she lives with her wife, after her multi-city book tour. She plans to turn In the Form of a Question into a book for middle school students. Fans can find Scheider's own Jeopardy! like game on her #TriviaTuesday posts on TikTok.
In the Form of a Question: The Joys and Rewards of a Curious Life
By Amy Schneider (Oakland)
Avid Reader Press (Oct. 3, 2023)