As adults of the Baby Boomer generation near the end of their first careers, many are unsure what their next act will be.
"Who do you want to be for the next 20 or 30 years?" is a question many ask themselves, according to Katie Connor, executive director of a Stanford University program designed to help them figure that out.
"Given how much longer people are living, the retirement age of 60 to 65 doesn't seem to make sense anymore," said Connor, 66, who runs the Distinguished Careers Institute. "And people aren't ready and they don't know what's next. And they don't necessarily want to keep doing the same thing."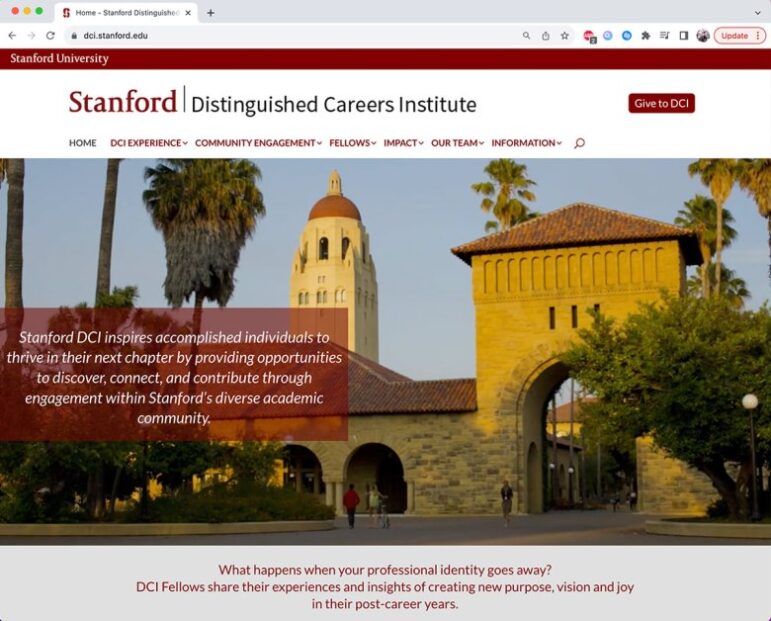 One option is the Stanford program, where the latest group of 41 fellows are beginning a year-long program to find out. The fellows, who come from successful careers in law, business, medicine and other fields, will enroll in a year's worth of classes with Stanford undergraduates and graduates. They will meet weekly for discussions and presentations by Stanford professors. They will also meet with undergraduates to offer advice.
The program has been enrolling fellows since 2015. Tuition, which can be covered by scholarships, currently costs $70,000 a year. About half of the students who are enrolled in DCI are from California, and 20 percent are international.
The program isn't completely like college — there is no dormitory for the fellows, and students get to decide whether they want to complete class assignments or not. But the university and all its academic offerings are available.
"It's one of the best things I've ever done," said Dianne Millner, who was a DCI fellow in 2018, when she was 68 and had retired from the Oakland City Attorney's office.
Millner said she took a variety of classes, from theatre to quantum mechanics. She's been able to use that knowledge to guide her in ongoing volunteer activities, including an organization that encourages African-American youth to study STEM-related subjects.
Like college, for many the best part was meeting their classmates. Tami Zhu, a tech veteran from San Francisco, compared the experience to the type of close friendships she'd made in business school many years previously.
"For me, finding a community was intentional," she said.
Connor said the Stanford program is one of many retiree programs that have started in the U.S. In recent years, including at the University of Texas at Austin and the University of Chicago. She said the concept will continue to spread to other colleges and community colleges.
One Stanford instructor, Michael Kahan, said the DCI fellows add "a perspective that undergraduates don't have."
Kahan taught a History of San Francisco course that included DCI fellows.
"I have had people who had lived in San Francisco for most of their lives," he said, and those fellows would talk about changes they've seen there over the years. In another class he taught, Introduction to Urban Studies, fellows in the class spoke about living in cities like Amsterdam or Athens.
The DCI students have followed different paths since leaving the program, Connor said. Some have formed groups with other fellows to continue working on social problems.
For others, the program helped them find direction in more personal ways, Connor said, such as deciding on "going home and taking care of your elderly parents."
The Stanford program is also open to partners of each fellow. Partners, who pay a reduced price, need to apply for the program as well.
The fellows benefit from being with a peer group that is grappling with similar issues, Connor explained.
"They can help you see yourself differently with fresh eyes," she said.