Over 200 Oakland business were expected to go on strike Tuesday in a call for better public safety.
Some planned to be closed all day and some from 10 a.m. to noon, according to Carl Chan, a longtime local community leader and public safety advocate.  
A public press conference was scheduled outside Le Cheval restaurant in Old Oakland Tuesday morning. Last week the 38-year-old family business announced it will close at the end of September because of a drop in business due to increased crime.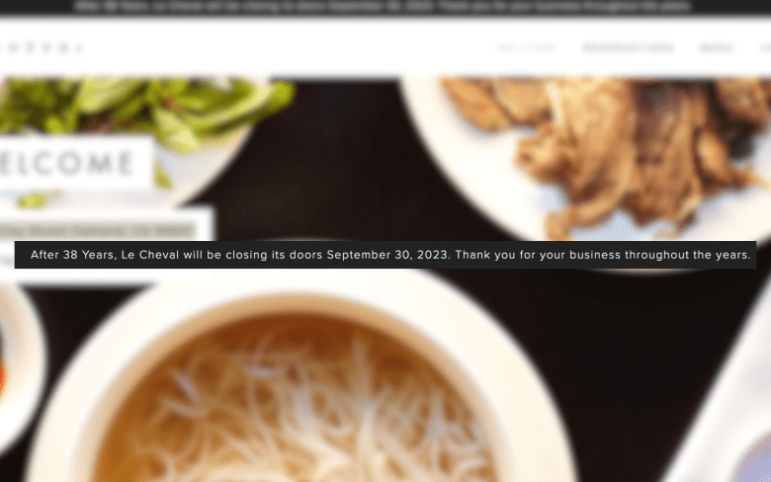 "We need to get additional resources from the county sheriff, the California highway patrol and the FBI," Chan said. He also called for the involvement of the Bureau of Alcohol Tobacco and Firearms.
"Crimes have gotten out of hand. All these repeat offenders keep targeting many businesses, but also people," he said.
Responding to Tuesday's strike called by more than 200 Oakland businesses who want better public safety, Mayor Sheng Thao issued a statement saying her office is working on the problem.
"We welcomed the opportunity to meet with any business owner that wants to work on collective safety solutions alongside our office," Thao said in an email Monday.
"I have been personally meeting with dozens of small business groups to fund and support initiatives that deter crime and promote safe streets," said Thao, mentioning groups that included the Oakland Metropolitan Chamber of Commerce, African American Chamber of Commerce, Oakland Chinatown Improvement Council, Visit Oakland, and others.
Shari Godinez, Executive Director for Koreatown Northgate (KONO), a business association on Telegraph Avenue, is despairing over the spike in crime and its impact on her members. She said that just last night a restaurant and a grocery store had been hit.
When asked what she was doing to address people's concerns, the mayor highlighted a new program called Activate Oakland, which offers grants of $10,000 to help small businesses and expand the number of foot patrols. But Godinez said the grants aren't for everyone.
"That grant excludes applications from existing festivals, like First Fridays," she said.
First Fridays is a popular street festival hosted by the KONO businesses association every month. The event fills the street with crowds, which creates a safe space, and it boosts business income, said Godinez.
"The word community is always used to describe it," Godinez said about the popular free festival. "But we're bleeding money and can't continue."
Godinez said the cost for KONO's First Fridays is $35,000 to $45,000 a month, including costs for security, porta potties, staging and barricades. The event is mostly funded by vender fees and other sponsors, but KONO itself is able to contribute $25,000 a year. The organization also got help from some COVID grant money, she said.
The strikers are also calling for financial resources from the city, county and governor to offset business losses. Funds were recently distributed to local law enforcement agencies throughout the state with a grant to target organized retail crime, but the city of Oakland missed the deadline.
"Small businesses are the biggest employers of the city," said Chan. "We're creating jobs, paying business tax, sales tax, property tax, income tax. We're all paying for it. There should be resources supporting the business community."