When it was over, Sadie Town jumped into the arms of Bauer Peterson, the latter spinning her around in celebration. Piedmont High School's girls volleyball team had just defeated Bishop O'Dowd in five sets at Binks Gymnasium, 25-23, 25-21, 23-25, 18-25, 19-17.
"We finally got the win against O'Dowd," Town said. "It's really exciting. I'm so proud of us."
It was a historic victory. Rumors are that Tuesday's win might be the first time Piedmont has beaten the Dragons in school history. That may not be true, however. A search of Piedmont yearbooks lists wins over Bishop O'Dowd in 1988 and 1993. However, those matches could not be confirmed by press time.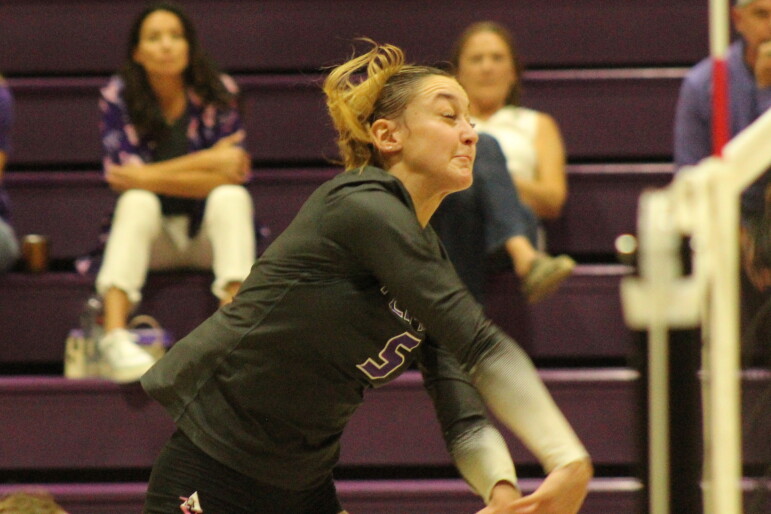 At any rate, it's at least the first victory since the teams were placed together in the West Alameda County Conference in 2012. In fact, Piedmont hadn't even won a set against the Dragons since 2016.
"I was trying to be very inspirational," senior Izzy Grimmer said. "I was calling out all my seniors because we have a very senior-heavy team and we've gone through four years of the program now always getting swept by O'Dowd. This is the year we're going to take advantage of that. I think we really deserved it."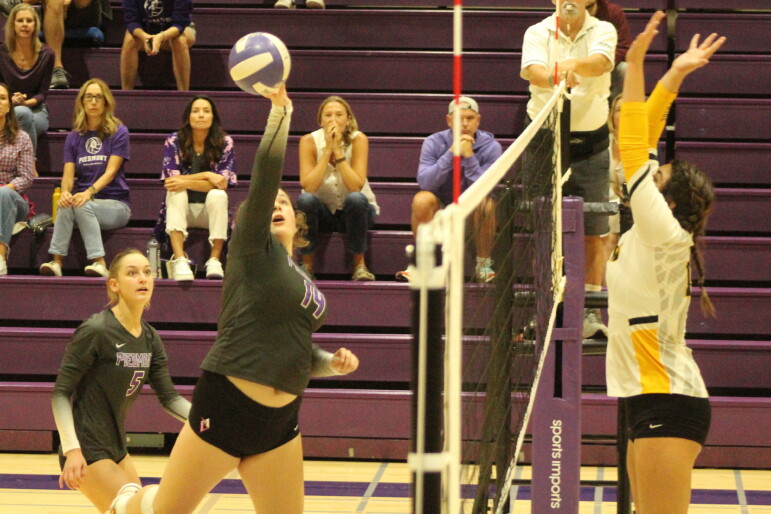 The Highlanders (5-9) were strong and energetic through the first two sets. Most importantly, they got an early lead. In the first set, they got ahead 9-4, 12-6 and 14-7. Bishop O'Dowd rallied back and when Kiara Fortenberry took over serving, the Dragons scored seven consecutive points. Freshman Sadie Zippin had a couple of kills during the rally.
But Piedmont came right back and the set was close the rest of the way, with neither team getting more than a one-point lead until Town put down a clinching spike.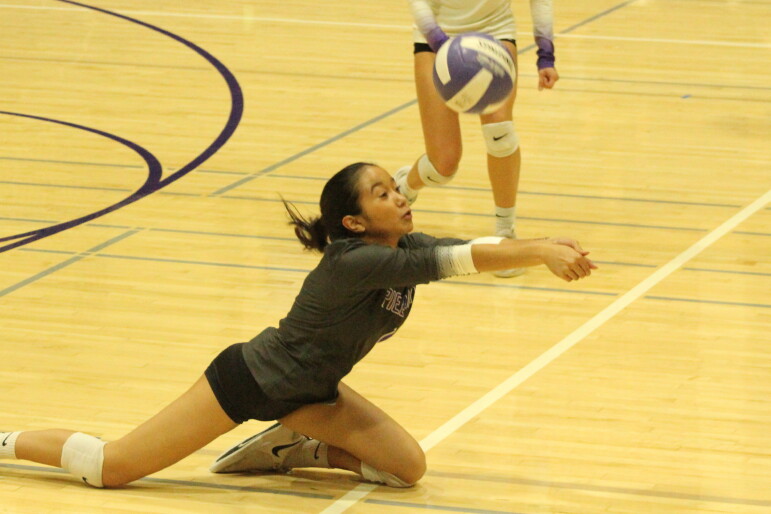 In set two, it was Bishop O'Dowd out front early, taking a 10-5 advantage. The Highlanders worked back, with a Town spike giving them their first lead at 20-19. She scored the final three Piedmont points on kills and ended up with 28 kills on the night.
The Highlanders had a chance for a sweep in set three, leading most of the way until the Dragons rallied late to stay alive. Bishop O'Dowd led early in the fourth and after a Piedmont rally, was able to pull away at the end.
That brought the teams to the fifth set, which is only to 15 points rather than 25.
"It's a complete reset game," Highlanders coach Mariah Cardenas said. "It's two and two so the score is 0-0. We always think of it as mini-games. First to five, first to 10, first to 15. Mini-games is our mindset so we're not overwhelmed with the thought that we have to get all the way to 15 or all the way to 25."
Said Grimmer, "Going into the fifth set is always hard because you only have 15 points. It's very stressful. I was trying to say (in the huddle), 'We all mess up, volleyball is a game of mistakes, get it out of your mind. You only have 15 points to prove yourself.' I kept saying that. We really just tried to make it all count."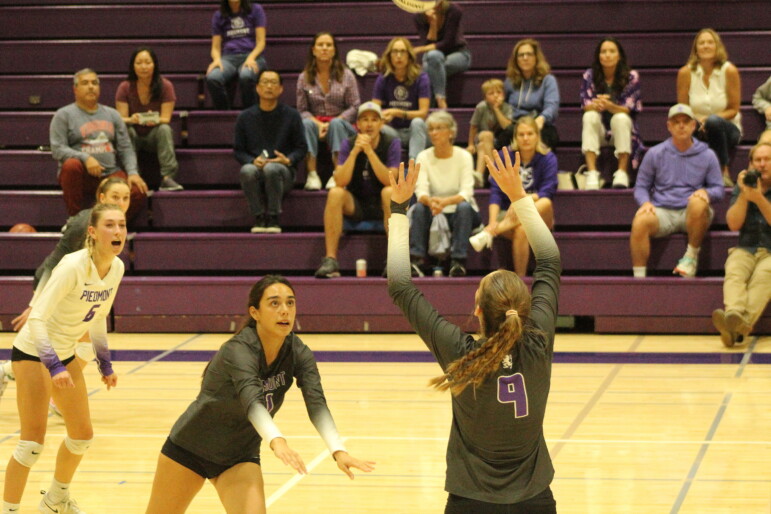 The set was tight all the way through. Neither squad led by more than two points. The teams were tied at 15-15 and the first to get that two-point lead would win the match.
It was still tied at 17-17 when Piedmont's Elena Stevens blocked a Fortenberry kill. Town followed that with a spike and the match was over. The players danced all over the court in celebration.
"I think we all came in confident and excited," Town said. "We were kind of setting the standard today and playing how we know we can play. I think we were reaching our potential.
"I really love all these girls and I think we're getting really close this year. I love this game with all my heart. This is my life."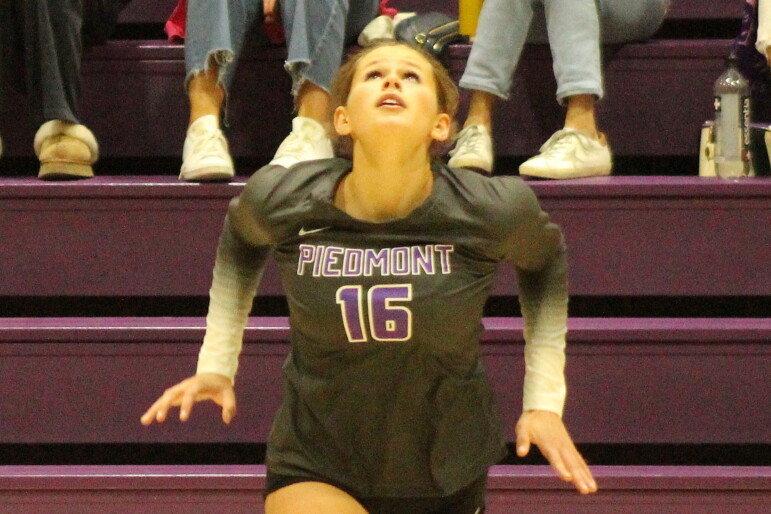 Town also had two aces on the night. Mira Sachs and Molly Wagener each had five kills. Bauer Peterson added four aces.
On Sept. 28, the Highlanders lost at Berkeley, 25-14, 25-20, 17-25, 25-11. Town recorded 18 kills to lead Piedmont.
This story was edited on Oct. 2 to correctly reflect the names of the players mentioned in the opening paragraph.