A scrimmage and a jamboree securely in their collective back pockets, the Piedmont High School flag football team is ready for its first official game on September 14 at Alameda.
"Yes, I am so excited," free safety Lana Ivovich said.
Coach Beth Black is as well. The team is still developing, but she said several players have stood out in preparation for that first game.
The Highlanders had a scrimmage against Las Lomas on September 7, and then the West Alameda County Conference held a jamboree with teams facing each other for a quarter in a series of scrimmages all afternoon on September 9.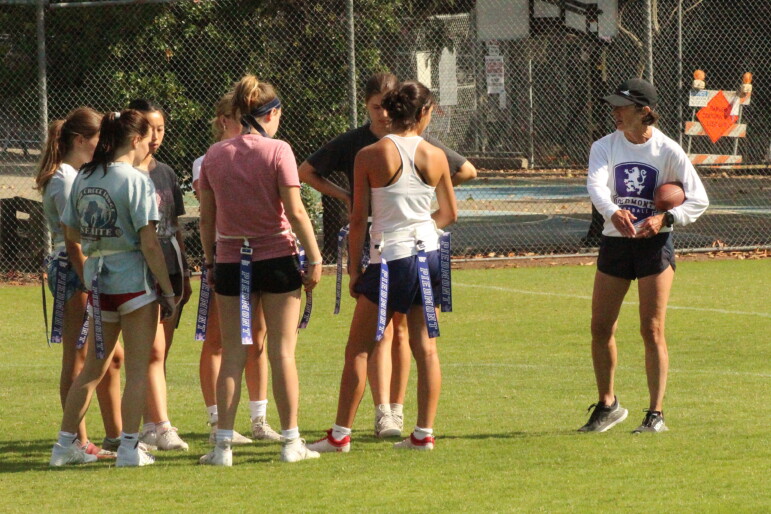 Mia Leggett will start at quarterback. However, Friedie Schickedanz will also get playing time.
"Schickedanz had an incredible quarter at our jamboree on Saturday. She's an equal weapon. So I think both are going to get playing time," Black said. The team will take it game-by-game for now before deciding on a full-time quarterback, or even if one needs to be declared.
Miya Fujimoto should be the top running back.
"Fujimoto is a force when it comes to the run," Black said. "She can move and dart and get to the outside."
Piedmont will roll a variety of receivers at teams. Black said each made contributions at the jamboree.
"It's a passing league," Black said, adding that the team will look to go downfield.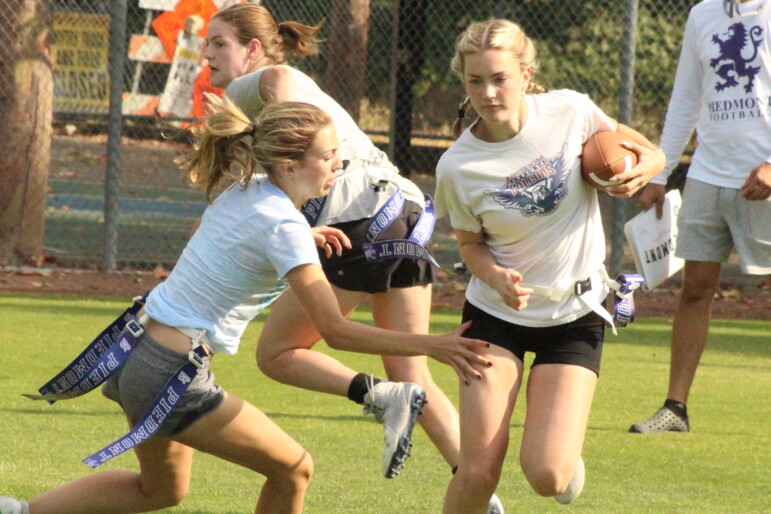 Defense can rush either one or two people per play. Quarterbacks are only allowed to run on one play per series. However, if the defense rushes two, then the quarterback can run without it counting towards that rule.
Breah Bell, a standout on the Highlanders track team, is likely going to be the top defensive rusher for Piedmont.
"Bell is getting strong on the rush," Black said. "She was fast, but now she's fast with purpose. She was disrupting passes at the jamboree."
Linebacker Lizzie Long will be a top tackler.
"Lizzie Long is a great flag puller," Black said. "They're just not getting past her. She gets low, goes right for their hips. She's just on them."
Black said cornerback Dahlia Osman had a pair of interceptions during the jamboree.
Other top players to keep an eye on are Josie Lins and Ivovich.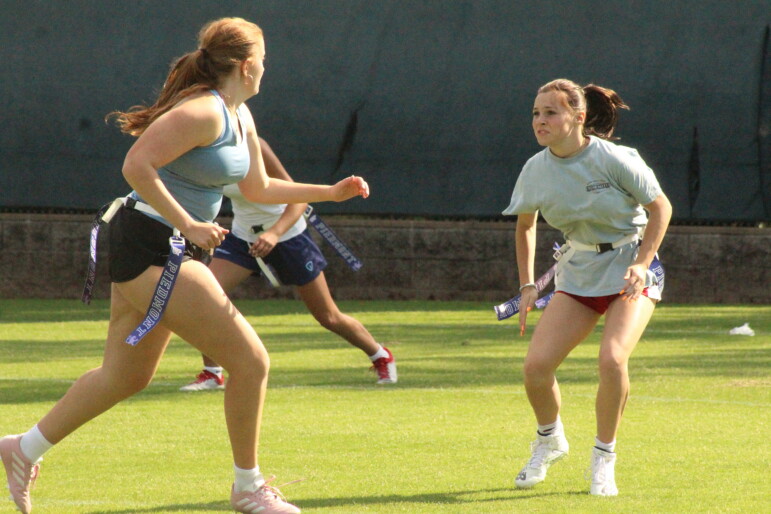 Black said the team took a wait and see attitude on double-rushes at the jamboree. She also got a look at some of the team's future opponents, including Alameda.
"We did play against Alameda and they're tough," she said. "They've got a couple of girls who are really fast. They've got a couple of girls who are really aggressive and are really good flag pullers. I think we're a good matchup with them because we are playing similar styles of offense and defense."
Black added, "There were several teams that set up their offense like a scrum. This wasn't anything we saw before. So it was great that we got exposure to this formation. It was a good learning experience for the girls."
Ultimately, Black said the jamboree was excellent preparation for the season.
"We are not clearly head and shoulders above anybody else, but we are not on the lower part either," she said. "We have a lot of talent. We've got great coaching with (assistants) Bradley (Smet) and Hayley (Adams). I think we'll be competitive."