Alameda High School defeated Piedmont, 13-0 on Sept. 14 in the first official flag football game in Highlanders school history.
Flag football for girls is a new sport in the California Interscholastic Federation this year. Piedmont had played in a scrimmage and in the West Alameda County Conference jamboree prior to the opener.
"It was good that we finally got to play," Highlander Dahlia Osman said. "It was different than the scrimmages and the jamboree we had. A lot more intense. Especially because it was at night."
The game was moved to 6:30 p.m. so the girls would play under the lights at Thompson Field.
"Our girls never gave up," Highlanders coach Beth Black said. "Never even flinched too. They said were going to keep driving."
The highlight of the game was a goal-line stand in the first half by Piedmont. Alameda had driven to the 11. Flag football rules grant first downs when you cross the 20, the 40 (which is midfield at Alameda) and the other 20. The Highlanders held, tackling Hornets quarterback Aaliyah Soderlund at the 1 on a run and forcing incomplete passes by Soderlund on the other three.
"The girls just were so tight on their girls that there was nothing their quarterback could do," Black said. "I was definitely impressed with them. Proud doesn't even begin. A goal-line stand like that, you don't expect that to happen."
The score was 0-0 at halftime. The Hornets finally scored on a hook and lateral play in the second half. Soderlund  passed to Kelly Wu, who pitched the ball back to Elsa Chin, who ran the ball in. Soderlund connected with Nyani Plowden on another touchdown pass late in the game.
Piedmont had one significant scoring chance and also was driving when time ran out in the game. The Highlanders best chance ended after they got to the 12-yard line when quarterback Friedie Schichedanz was picked off at the goal line.
Schickedanz and Mia Leggett split time at quarterback. They combined to complete 11 of 22 passes for 114 yards. However, they also combined for four interceptions.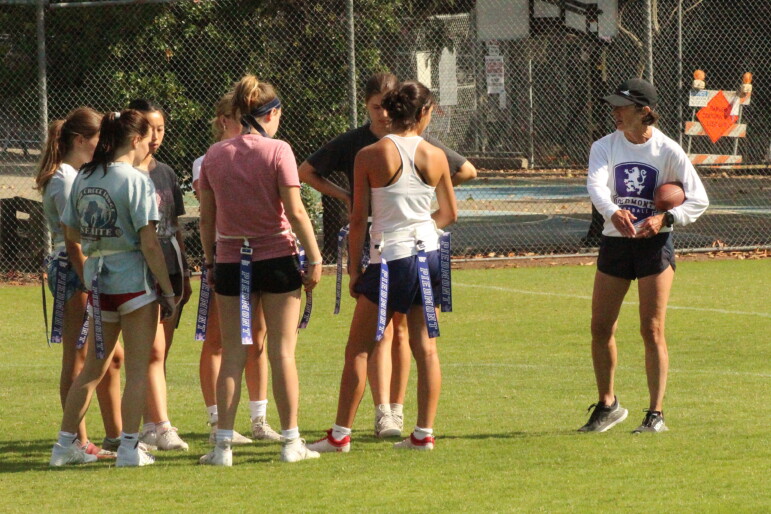 Osman had two interceptions for Piedmont. One came early in the game when Alameda had the ball at the Highlander 10. The second came late in the first half.
"I got 'em!," Osman said when asked what happened on the interceptions. "When their QB gets a little frantic or they throw it far, it has more time in the air and it's easier for me to see where it's going and who it's going to, so I just got in front of them."
Piedmont finished with 145 yards of offense. Alameda with 175.
Osman said the team is improving.
"I think we're playing really good as a team, getting to know each other's strengths and weaknesses and how we can help each other," she said.
This story was updated with additional detail about Hornets players.