Book Reading with Grace Lin: Sept. 13
Co-presenters Oakland Asian Cultural Center and Eastwind Books of Berkeley celebrate the work of NY Times bestselling author/ illustrator Grace Lin with a book reading and drawing demonstration. Lin's new anthology, "CHINESE MENU: The History, Myths, and Legends Behind Your Favorite American Chinese Foods" tells some of the stories behind favorite Chinese American foods. Vividly bringing to life the histories, legends, folktales, and myths behind scallion pancakes, pizza, wonton soup, fortune cookies, and much more, Lin explores a world filled with arguing dragons, magical fruits, and hungry monks.

As a Newbery Honor winner (for "Where the Mountain Meets the Moon"), Lin's work is always a visual and storytelling treasure. Among other honors, Lin was recognized by President Obama's office as a Champion of Change for Asian American and Pacific Islander Art and Storytelling. In 2022, she was awarded the Children's Literature Legacy Award from the American Library Association. The OACC is dedicated to supporting communities through Asian and Pacific Islander American (APIA) arts and culture programs that foster intergenerational and cross-cultural dialogue, collaborations, and social justice.
Oakland Asian Cultural Center | Sept. 13 from 3-5 p.m. | Free | https://oacc.cc/
---
UC Berkeley Holloway Poetry Series: Sept. 14 and 28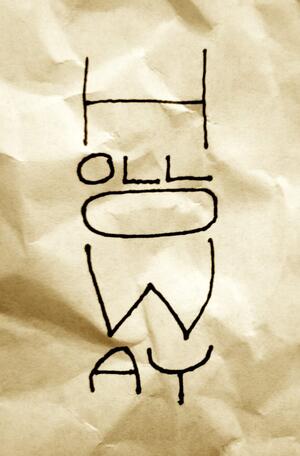 The Holloway Poetry Series is sponsored by the English Department at the University of California, Berkeley, and supports the works of recognized, rising, and UC graduate student poets. Each academic year, the series features a distinguished resident poet who teaches a semester-long creative writing workshop and gives a featured reading. Among the series' most distinguished partnerships is with the Mixed Blood Project; a poetry journal focused on contemporary African-American avant-garde poetry and literary innovation. The readings take place at Wheeler Hall (Maude Fife Room) on the UC Berkeley campus, with a reception at 5:45 p.m., followed by the reading at 6:30 p.m. Claire Marie Stancek reads on Sept. 14, and Tommye Blount on Sept. 28. John Keene reads on Oct. 11 and Victoria Chang on Oct. 26.
Wheeler Hall (Maude Fife Room) @ UC Berkeley | Sept. 14 and 28 @ 6:30 p.m. (receptions at 5:45 p.m.) | Free | https://holloway.berkeley.edu/home
---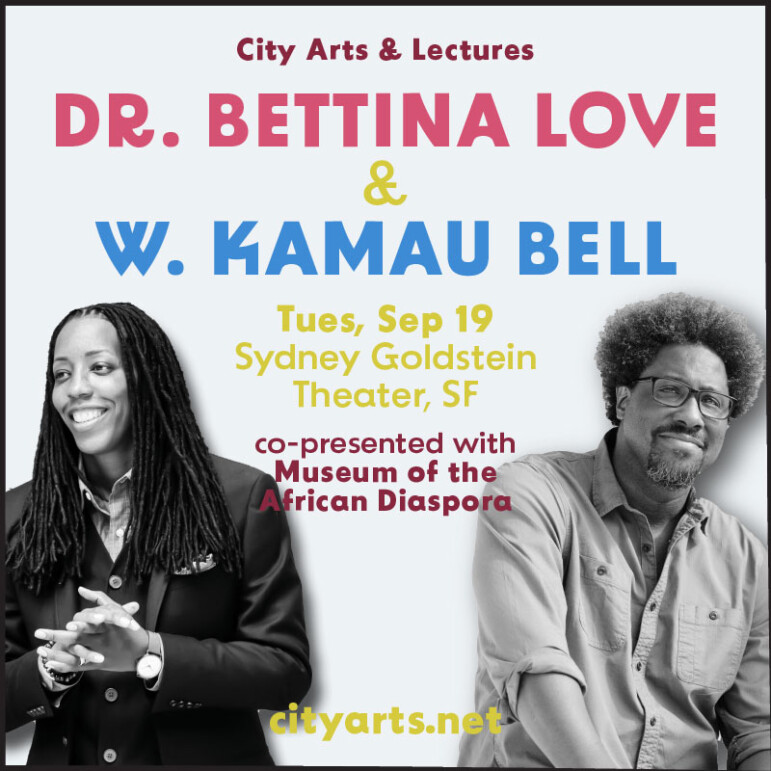 The Museum of the African Diaspora and City Arts and Lectures present Bettina Love with W. Kamau Bell: Sept. 19
The MoAD and City Arts and Lectures present award-winning author, educator and activist Love in conversation with Bell in a discussion of her forthcoming book, "Punished for Dreaming: How School Reform Harms Black Children and How We Heal." The book traces the impact of forty years of racist public school policy on generations of Black lives and pushes against the pathologizing and penalizing policies that continue to disproportionately harm Black children and other students of color. Bell is a father, husband, and comedian and host of the Emmy-Award-winning CNN docu-series "United Shades of America with W. Kamau Bell." His memoir, "The Awkward Thoughts of W. Kamau Bell: Tales of a 6′ 4″, African American, Heterosexual, Cisgender, Left-Leaning, Asthmatic, Black and Proud Blerd, Mama's Boy, Dad, and Stand-Up Comedian," along with two stand-up comedy specials and high profile media presence in combination with Love will be a rare opportunity to hear—live—two brilliant thought leaders in a frank discussion of the country's education system and what its transformation will require.
Sydney Goldstein Theater | Sept. 19 @ 7:30 p.m. | General Admission: $39 (MoAD Members: $34) | https://www.moadsf.org/events
---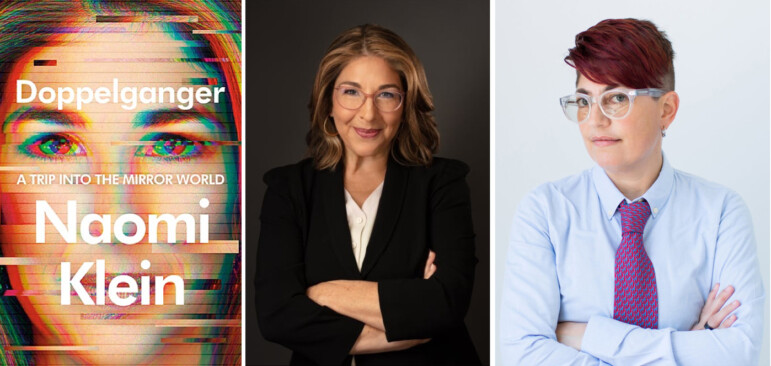 Berkeley Arts and Letters: Naomi Klein with Annalee Newitz on Sept. 20; and Adam Mansbach with W. Kamau Bell on Sept. 26
The venerable presenter swings into its fall 2023 author lecture season with a terrific lineup of programs, including activist and public intellectual Naomi Klein (above middle) on Sept. 20 presenting her new book, "Doppelganger: A Trip Into the Mirror Word." During a conversation with science fiction and nonfiction writer Annalee Newitz (above right), the pair will discuss the destabilizing forces of today's world, with its AI-generated text, New Age wellness advocates, anti-vaxxers, climate crisis supporters and deniers, politicians and the earth itself creating a whirlwind of controversial chatter. Acquiring a second self—a doppelgänger—seems almost inevitable, especially in the hands of Klein, a trenchant storyteller when it comes to grappling with complex realities.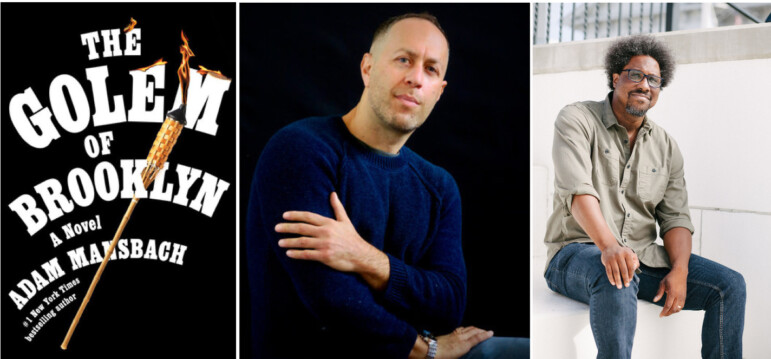 On Sept. 26, Adam Mansbach (above middle), author of the #1 New York Times bestseller "Go the F**k to Sleep," and W. Kamau Bell (above right), who seems to be everywhere this month (see above event), will discuss Mansbach's new book, "The Golem of Brooklyn." The Ashkenazi Jewish folktale about a golem (a human made out of mud or clay and brought "to life" through prayers) presents a lively, humorous dive into Jewish history and the American present that has faith, skepticism, tribalism, interdependence, vengeance, and healing wrestling for victory. Promotional materials call it "an epic romp."
Note that these are ticketed, in-person events held at First Presbyterian Church of Oakland and masks are required. Tickets for Naomi Klein: https://app.gopassage.com/events/naomi-klein; and tickets for Adam Mansbach: https://app.gopassage.com/events/adam-mansbach.
First Presbyterian Church of Oakland: Sept. 20 and 26 @ 7 p.m. | $36 | http://www.berkeleyarts.org/
---
Pegasus Books hosts David Smart: Sept. 25
Pegasus Downtown welcomes David Smart and his new biography, "Royal Robbins: The American Climber." Smart is founding editor of Gripped magazine, editorial director at Gripped Publishing, and author of five guidebooks. His award-winning biographies of Austrian solo climber Paul Preuss and Italian climber Emilio Comici, along with numerous articles have established a reputation for well-researched, dynamically written profiles of climbers and their friends, families, and fiercest competitors. In this new book about the pioneering climber, who died in 2017 at age 82, Smart describes Robbins' challenging youth, "clean climbing" ethos and philosophies, styles, and techniques. Smart had unparalleled access to the Robbins's family archives and personal papers and conducted hundreds of interviews with Royal's family, friends, climbing partners, and others. Notably, the book includes Liz Robbins—Robbin's wife and a trailblazing adventurer in her own right. Bay Area climbers (and visitors) of Yosemite will appreciate Robbins' long history with the area. Advance book orders are encouraged.
Pegasus Books Downtown Berkeley: Sept. 25 @ 7 p.m. | Free | pegasusbookstore.com
---
Authors Terry Tierney and Stewart Florsheim | Sept. 26
It's always cause for applause when two local authors can be celebrated in one evening. Terry Tierney and Stewart Florsheim will read from their recent books in-person at the Montclair Village bookstore. Tierney's "The Bridge on Beer River" tells the story of a rust belt city in decline. The novel's characters show all the common human flaws—drinking to excess, fighting, running from trouble—and induce forgiveness with redeeming qualities everyone hopes to embody. Florsheim's third full-length poetry collection from Blue Light Press, Amusing the Angels, bears the imprints of his being the child of a Holocaust survivor and becoming an adult who wrestles in these ekphrastic poems with matters of everyday life: sexual desire, ancestral histories, faith, family, strangers, fathering, existential and real terrors, and more.
Great Good Place for Books | Sept. 26 @ 7 p.m. | Free | ggpbooks.com