How can California make sure the electric vehicle revolution isn't just for the wealthy few?
That was the big question in a CalMatters panel discussion Tuesday. While bringing down the cost of EVs is crucial, so is the availability of chargers. And that is something of a chicken-and-egg proposition.
Some on the panel — moderated by CalMatters' climate reporter Alejandro Lazo — called for building out the charging infrastructure in disadvantaged communities in advance, especially residential chargers.
Steve Douglas, vice president of energy and environment for the Alliance for Automotive Innovation: "You can't ask low-income residents to spend an hour, three hours, six hours away from their families, every week, just to charge their car, while affluent people pull in, plug in and wake up to a full car."
But others said without enough EV owners in a neighborhood, it's a recipe for vandalism and disuse.
Ted Lamm, senior research fellow in the climate program at UC Berkeley's Center for Law, Energy, & the Environment: "When charging is installed in an area where there is no demand for the vehicles and no local desire to use them, it's this sort of dead infrastructure. It has no use to the local population and local community, and so it is more likely to be subjected to vandalism, or just disuse and disrepair."
Meanwhile, others noted that private car ownership created social inequities in the first place, and that state and local officials must focus on other zero emissions transportation options.
Orville Thomas, CALSTART's state policy director: "We have to reduce the amount of cars on the road — that's transit, that's micro mobility, that's clean mobility options, that's e-bikes. We need to plan better if we're talking about the economic divide."
Other key points
To transition to electric vehicles by 2035, the state is shifting EV purchase incentives to focus on low-income consumers and those in communities impacted by air pollution, said Lisa Macumber, chief of the Equitable Mobility Incentives Branch at the California Air Resources Board.
Though private chargers can have high upfront costs, it can cost three to five times more to plug into public chargers, Douglas said.
In another example of the "it's expensive to be poor" phenomenon, Thomas said EVs with longer ranges are pricier, yet many lower-income people typically have longer commutes.
Thomas also said there would be more money for all kinds of EV programs if voters last November had approved Proposition 30, which would have imposed a 1.75% income tax increase on Californians making more than $2 million a year, but was opposed by Gov. Gavin Newsom.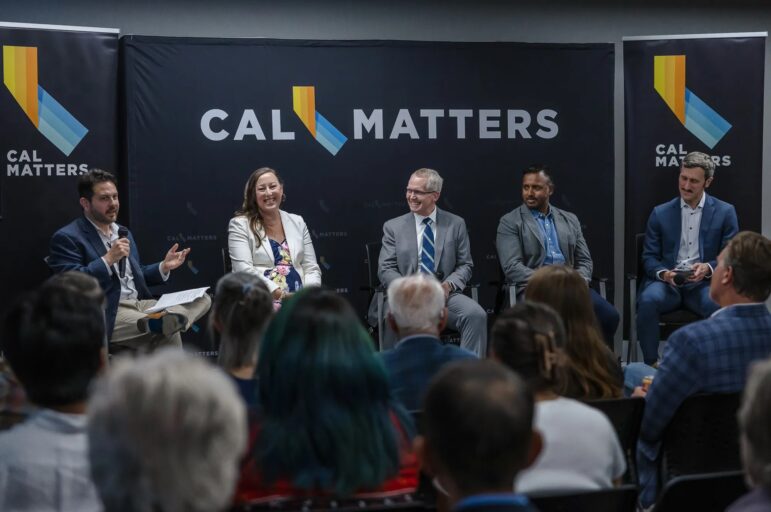 If you missed the session, you can watch it here.
The back-story
In March, as part of a series on California's electric vehicle transformation, a CalMatters analysis found that most electric vehicles in California are owned by white and Asian, college-educated and high-income residents. Very few are registered in communities with the largest percentages of Latino and Black residents. The main hurdles: Vehicle costs, lack of chargers for renting tenants and not enough public charging stations.
The average cost of an electric car as of July was $53,469 — about $5,000 more than the average car. Lower-end fully electric cars start around $27,500.
Atherton, located in Mateo County, has the state's highest percentage of electric cars (about one in every seven) and the average household income exceeds $500,000.
In the 20 ZIP codes where Latinos make up more than 95% of the population, 1% or less cars are electric. In 17 of the 20 communities with the highest percentage of Black residents, less than 3% are electric.