In days of extreme heat, schoolyards often turn from joyful sites of play to hazardous environments where asphalt particles fill the air and playgrounds overheat, giving children thermal burns.
With an understanding that extreme heat often disproportionately impacts California's children at school, Cal Fire is providing grants to convert pavement into green spaces, plant trees and other vegetation, and create drought-tolerant natural areas on school campuses. It is also funding activities that help children connect with nature.
The first round of funding, which includes $47 million in grants, will provide an implementation grant to a project in the San Francisco Unified School District and includes planning grants for schools in Contra Costa, Sonoma, Monterey, Santa Clara, and Alameda counties.
"California is heading into a hotter, drier future and extreme heat will only become more dangerous. We're taking action to protect our kids — especially in underserved communities — from hotter temperatures with our best defense: nature," Gov. Gavin Newsom said in a recent news release.
Dr. Lisa Patel, executive director for the Medical Society Consortium on Climate and Health, an association rallying over 700,000 clinical practitioners around health-focused climate advocacy, has been seeing the impacts of extreme heat play out for years.
Patel works at a small community hospital in the East Bay and has cared for young infants severely dehydrated from living in apartments without air conditioning, and young athletes and construction workers overworked on hot days to the point of kidney damage and muscle breakdown.
"I'm extraordinarily concerned because I think people often dismiss warm days as 'oh you know it's a nice day, it's a summer day, it's a warmer day.' They don't always consider that our bodies, especially in California and especially in the Northern Bay, are not always adapted for these higher temperatures that we are seeing," Patel said.
What makes children, especially at school, a particularly vulnerable population is that they are often unable to voice their needs, failing to express when they are overheating or dehydrated and respond accordingly. Instead, adults often get to decide whether they are comfortable or not, Patel noted.
Much of the school infrastructure in California, she added, was built for a more temperate Mediterranean climate that does not account for the extreme heat the state now faces: classrooms often lack air conditioning and schoolyards are largely built from asphalt, which can become dangerously hot.
These infrastructure issues are exacerbated in urban areas, often as a consequence of historic disinvestment in these areas, Patel said.
"Urban areas in particular are going to face a challenge as these days get hotter because we know that areas where there is more concrete, where there is more asphalt, they can be measurably hotter — so anywhere between one to seven degrees hotter than areas that have more greenery, more trees, more shrubbery to help cool that area down," Patel said.
Not only do green spaces provide shade on hot days, but they also can improve mental and physical health, Patel said.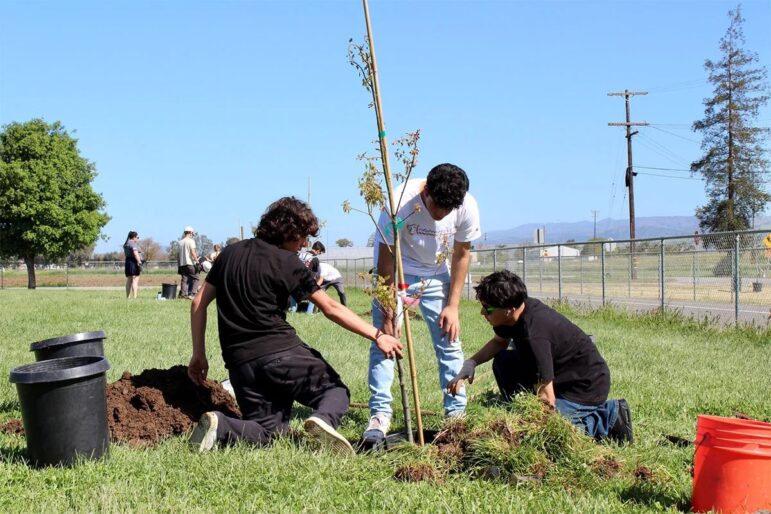 Since 1994, Rhonda Berry, president and CEO of San Jose nonprofit Our City Forest, has been working to bring green spaces to primarily underserved neighborhoods in San Jose — low-income neighborhoods suffering from the heat island effect in which urban infrastructure produces disproportionately higher temperatures.
Piecing together different grants from the state, county, city, and corporate supporters, they have been able to provide free trees and planting resources to over 250 schools. The organization also emphasizes local engagement, inviting community members to participate in the planting process and care for their environment.
Funding these planting projects has always been a challenge, especially as the high cost of living in Silicon Valley has complicated staff retention and recruitment.
However, this year, in partnership with the Santa Clara County Office of Education, Our City Forest applied for and received a Green Schoolyard planning grant from Cal Fire, providing them with the funding necessary to plan greening projects for around 20 high-need schools in San Jose, mostly concentrated in East San Jose.
"Planting the tree is the easiest part, the hardest part is the planning that goes into creating a sustainable project," Berry explained.
The planning process can be especially difficult, Berry said, because it requires obtaining permits and approvals, ensuring the sites of planting are legal and that there are no conflicts with existing infrastructure or protected species, and creating the tree planting event.
The planning grant will allow for the time and funds necessary to design a more collaborative project, one that engages stakeholders, from school groups to district personnel, and prioritizes student engagement. It will also provide funding to design an irrigation system that sustains planted trees — in their near 30 years of operation they have never received a grant that allowed for this, Berry said.
As for how exactly these projects will take shape on school campuses, schools have expressed interest in planting shade trees and converting their lawns to become drought-resistant, Berry said.
After a year of planning, Berry plans to apply for an implementation grant from the same program, allowing for the execution of the project.
Patel expressed her excitement that Newsom and the state Legislature have put funding toward this program, but cautioned against losing sight of just how expansive of an issue extreme heat in California schools is.
"The amount of funding that we put forward is a great first step but we still have a lot to do to get every school in California, and particularly those schools that suffer historic disadvantage, those types of amenities," Patel said.