Re-Imagine the Oakland Public Library Workshop | Aug. 5
Oakland residents of all ages and from all parts of the city are invited to this storytelling workshop as the Oakland Public Library's main branch undergoes an enormous feasibility study. Two community-focused architectural and planning partners, EHDD and blinkLAB! architecture, along with residents and all users of the library will come together in a 3-hour workshop to build an authentic narrative for the re-imagined library.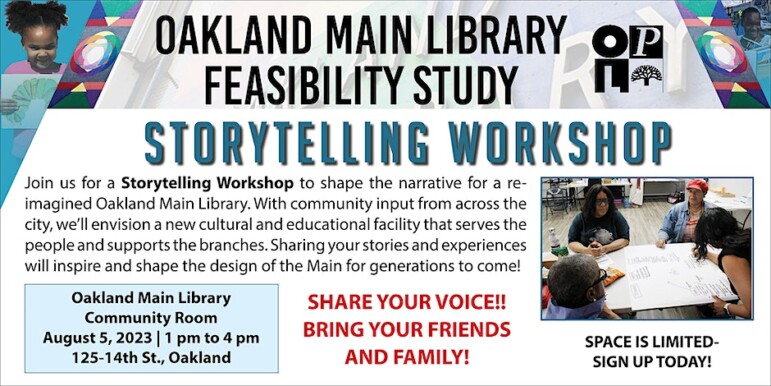 During interactive segments, participants will learn the four main components of a story from Keith Battle from BAVC Media; join small break-out groups for discussions led by a professional local filmmaker; and generate storylines or simple storyboards describing what a new Branch Library means to individuals and communities. A 30-minute break for a catered lunch is scheduled between the first and second parts of the workshop. The storylines created will inform the filmmaking team about potential interview questions for micro-videos that will be produced as part of the feasibility study. This is a marvelous opportunity to share your vision for the design, service, and future of the main Oakland Public Library. Registration is required and available HERE.
Aug. 5 | Free but registration required | 1:00 p.m. | oaklandlibrary.org
---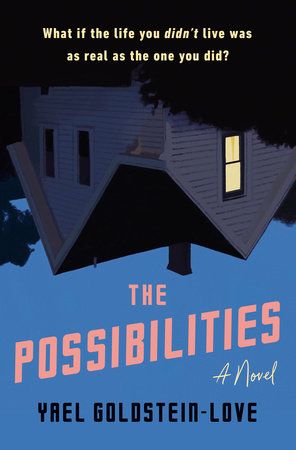 Yael Goldstein-Love in conversation with Vanessa Hua | Berkeley Public Library North Branch | Aug. 19
Berkeley-based Goldstein-Love's sophomore novel, The Possibilities, is a thrilling mash-up of science fiction, postpartum psychology, quantum mechanics, alternative-life visions, parallel reality and more. In a discussion with Hua, columnist for the San Francisco Chronicle and author of the novel A River of Stars, among other works, Goldstein-Love will introduce the book's primary themes and protagonist, Hannah Bennett, who is a successful novelist with a propensity for scary stories. Hannah lives with her husband and young son in a big house in the Berkeley Hills, but eight months after their son's birth, she is left with incredible anxiety that leads to episodes when she seems to inhabit an alternative version of her life in which Jack died at birth. One evening, her son actually does vanish from his crib and in her desperate search —"riding the possibilities"—Hannah's real and imagined worlds collide. The complexities of maternity, love, and fraught connections to the multiverse have readers riding a wild, fantastical wave in a narrative that is both chilling and exhilarating. Goldstein-Love is a psychotherapist and is working on her doctorate in clinical psychology. Her dissertation research focuses on how mothers experience their anxiety for the unknown futures of their children.
Aug. 19 | Free | 4:00 p.m. | berkeleypubliclibrary.org
---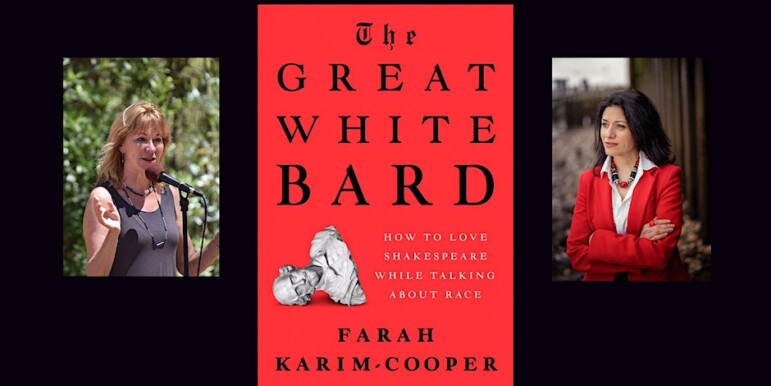 Farah Karim-Cooper and Dr. Philippa Kelly | Orinda Books | Aug. 17
For fans of Orinda's Cal Shakes outdoor theater—and who mourn their absence this summer as the company reimagines its future—one huge loss is the opportunity to hear Dr. Kelly's pre-performance talks. As the company's resident dramaturg for 14 years, her passion for illuminating the great literature of Shakespeare and literary cronies of his time is unsurpassed. This hybrid event with Karim-Cooper is sure to be a zinger. Kelly will be onsite at the store in Orinda while speaking via zoom to Karim-Cooper, the Director of Education at Shakespeare's Globe Theatre and author of The Great White Bard: How to Love Shakespeare While Talking about Race. Their talk will analyze issues relating to race, gender, and otherness in plays from Antony and Cleopatra to The Tempest. Bringing it all into relevance for today, the discussion will no doubt leave participants with insights into similar similar societal divides in the world of today.
Aug. 17 | Free, but must register | 5:30 p.m. | OrindaBooks.com
---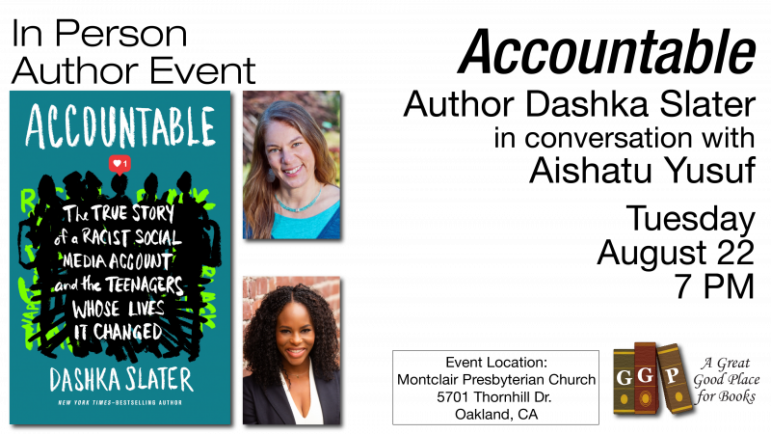 Book Launch with Author Dashka Slater | A Great Good Place for Books | Aug. 22
Award-winning and New York Times–bestselling author Slater (The 57 Bus, the picture book Escargot, and others) arrives with her new book, ACCOUNTABLE: The True Story of a Racist Social Media Account and the Teenagers Whose Lives It Changed. Slater will read from her book and be in discussion with Aishatu Yusuf, who is currently working with the National Black Women's Justice Institute and has expertise in creating improved outcomes for marginalized youth, young people, and their families. Slater's Accountable is a young adult narrative nonfiction book about a racist social media account that has teens and adults in Albany, CA. grappling with harm caused by an Instagram that used racist and sexist memes. What began as a misguided attempt at humor leads to trauma and mixed-up efforts by adults to remedy the situation. Ultimately, everyone must confront the consequences of destructive online speech and decide for themselves how to handle or stop it. Note that the GGPB event will be in person at Montclair Presbyterian Church at 5701 Thornhill Dr. in Oakland.
Aug. 22 | Free | 7:00 p.m. | https://www.ggpbooks.com/event
---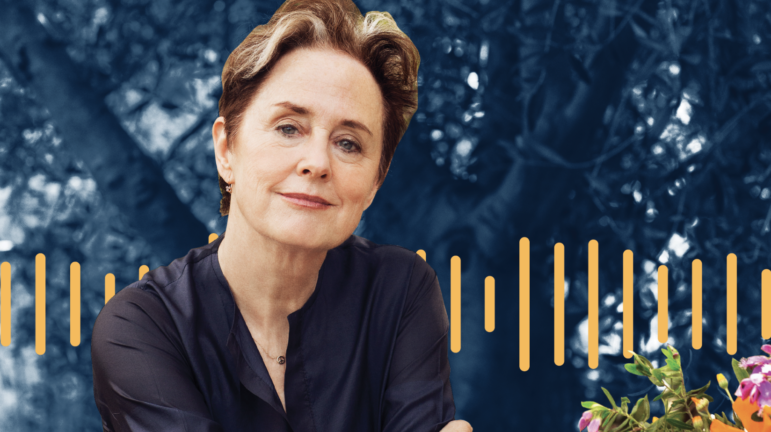 Alice Waters in conversation with Davia Nelson | Herbst Theatre | Aug. 24
Legendary restaurant Chez Panisse founder, food activist, educator and author of numerous NYTimes best-selling books, Water's most recent book is We Are What We Eat: A Slow Food Manifesto (2021). Presented by KQED and appearing in-person at San Francisco's Herbst Theatre with Nelson, they will discuss Water's revolutionary vision of farm-to-table dining, advocacy for local ingredients, the restaurant's culinary philosophies and the future of the slow-food movement. Nelson is one-half of The Kitchen Sisters, an award winning radio program (a role as producing artist shared with Nikki Silva since 1979). Among other projects, they are the producers of The Hidden World of Girls, the NPR series and special hosted by Tina Fey, and The Keepers, a radio, podcast, and social media project that chronicle stories of activist archivists, rogue librarians, curators, collectors, historians and supports the free flow of information and ideas. Together, Waters and Nelson form a crack team: the conversation holds promise for culinary devotees, people interested in sustainable practices related to food or farming, or simply anyone seeking an introduction to two of the Bay Area's most learned, lively, and expert culinary minds in dialogue on a topic of broad community interest.
Aug. 24 | $40 ($30 members) | 7:00 p.m. | kqed.org