In recent years, the state has poured billions of dollars into a dizzying array of programs under the banner of career education. The only problem with that, said Gov. Gavin Newsom, is that there is no cohesion between these programs.
"Tens of billions of dollars invested in the last few years, 12 different agencies, but not a cohesive, connective tissue, not a compelling narrative that drives a vision and drives a focus forward," Newsom said Thursday, during a press conference at River City High in West Sacramento.
Newsom took aim at that disconnection by signing an executive order calling for the state to create a master plan for career education in the next 13 months.
The governor's executive order promises to knock down the barriers that students in California face on their journey from the K-12 system to college and ultimately a fulfilling, well-paying career.
"California will be the model of the nation in making sure that we educate all Californians to be career-ready, back in their neighborhoods where they lift their neighborhoods," said CSU Chancellor Mildred Garcia.
Newsom signed the order, flanked by a heavy-hitting line-up of state education leaders who pledged to knock down the "silos" between the institutions.
That includes the leaders of all the educational systems: UC Chancellor Michael Drake, CSU Chancellor Mildred Garcia, Community College Chancellor Sonya Christian and State Superintendent of Instruction Tony Thurmond. It also included Assembly Education Committee Chair Al Muratsuchi, D-Torrance, and Senate Education Committee Chair. Sen. Josh Newman, D-Fullerton. It also included the Secretary of the California Labor & Workforce Development Agency Stewart Knox.
"This is a team effort; it is a collective effort, and it is long overdue," Newsom said.
Input for the master plan, due Oct. 1, 2024, will come, not just from education leaders, but from labor leaders, business leaders, community groups, students, parents and families, the governor said.
The order lays out the importance of building connections not just between different educational agencies but also between education institutions and employers.
It lays out some specific strategic goals, such as building an online portal for any job-seeking Californian and rethinking the concept of a student transcript.
Newsom introduced the concept of a "career passport" that would look beyond grades. That means a student's transcript would include marketable work skills and experience developed through classes as well as apprenticeships, internships or other experiences outside the classroom.
Newsom said it's important to look at a student "broadly," adding "I say that as someone who didn't get very good grades."
The plan will require public progress reports with the legislature. The first deadline is Dec. 1, 2023 — shortly before the next legislative session — when agencies are requested to provide preliminary recommendations to the Governor's office.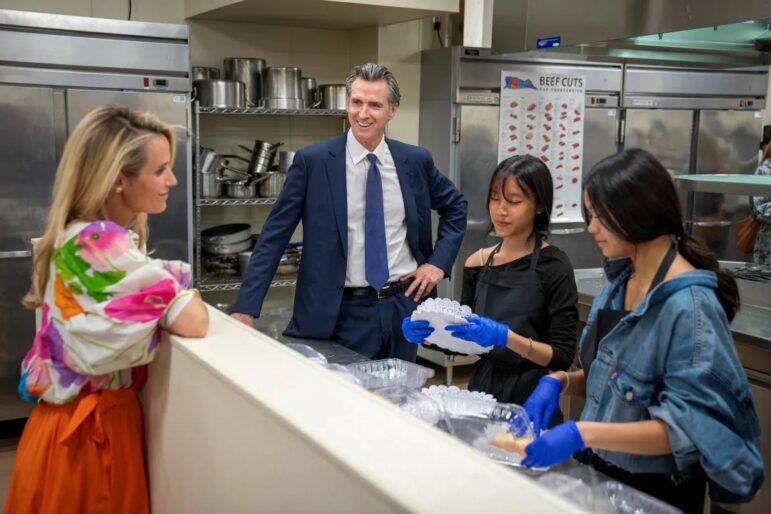 The master plan describes the state's three goals for career education. One is ensuring that ninth grade students are encouraged to explore well-paying careers and that they are guided on a pathway to that career. The second is that students have opportunities to learn real-life career skills in their education, preferably for pay. Lastly, the executive order states that students shouldn't have to take on substantial debt or have to navigate complicated bureaucracies as they prepare for their career.
The state has already made substantial investments in this arena, particularly during recent years when the state budget was flush.
The governor named a few of these programs: dual enrollment, apprenticeships, the state's volunteer corps, the cradle-to-career data system and college-and-career savings accounts. He added a funding aimed at retraining oil and gas workers and another funding to address workforce shortages and future demand in the fields of healthcare, education, climate and technology.
"California, like most states in the nation, has workforce shortages in just about every single sector," said Thurmond. "This presents the opportunity for us to use our pathway programs to propel our students into the workforce."
The state is focused on knitting together the disparate parts of its career education strategy, but the governor noted that some of this work is already funded and happening at the regional level through its K-16 collaboratives, and its California Economic Resilience Fund.
The governor's executive order also takes aim at the way the state hires its own workers. It charged the Department of Human Resources with reviewing any position where a bachelor's degree is a requirement and determining whether there is data to back up that job requirement. Newsom said the state has already reclassified 169 positions that previously required a degree, but this executive order charges the state with updating its existing policies to make this process official.