Mia Leggett dropped back on the grass that normally stands for left field on the Piedmont High School baseball diamond. She saw Sara Broach get behind the defenders and lofted a high pass toward the end zone. Broach went up for the ball, pulling it in with her right hand reaching above the defense.
The two then ran towards each other to celebrate the score.
It was just a practice, but it also captured the excitement of a brand new sport in high school: Girls flag football. The California Interscholastic Federation has made it official during the 2022-23 school year. Piedmont is one of many schools throughout the East Bay starting up a new team. Fifty-five girls came out for tryouts for a 40-woman roster. While Piedmont's boys football program has been struggling with numbers the past few years, there were no such struggles for the girls.
"It's crazy how big of a turnout we got," Ruby Guzdar said. "I came here expecting to have me and a couple of my senior friends come. I mean there were about 20 cuts. It has been a crazy amount of turnout and it has been super-fun."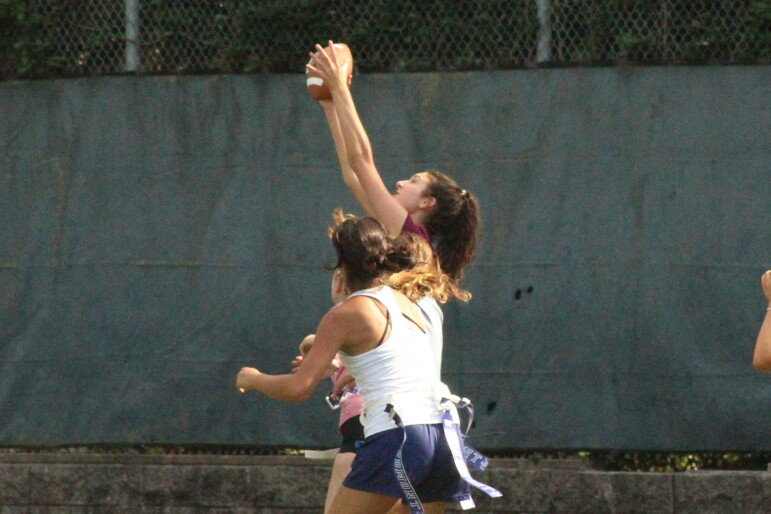 Said Broach, "Like Ruby, I came out expecting to be in a small group of other girls playing football. It's really exciting to have lots of people play. It's important to know that we're not just messing around. We're a real competitive women's flag football team. And we are not here to mess around!"
No, they are not! Piedmont has been working to add girls sports over the past year-plus after a Title IX audit showed that more boys were playing sports than girls at the school. A first-year lacrosse team didn't get off the ground last spring, and only nine girls signed up for the inaugural beach volleyball team when the school hoped for 12.
Longtime Piedmont teacher Beth Black is the head coach. She's being helped out by athletic director Bradley Smet, a former boys football player and assistant coach at Atascadero High School, and Hayley Adams, another teacher at the school.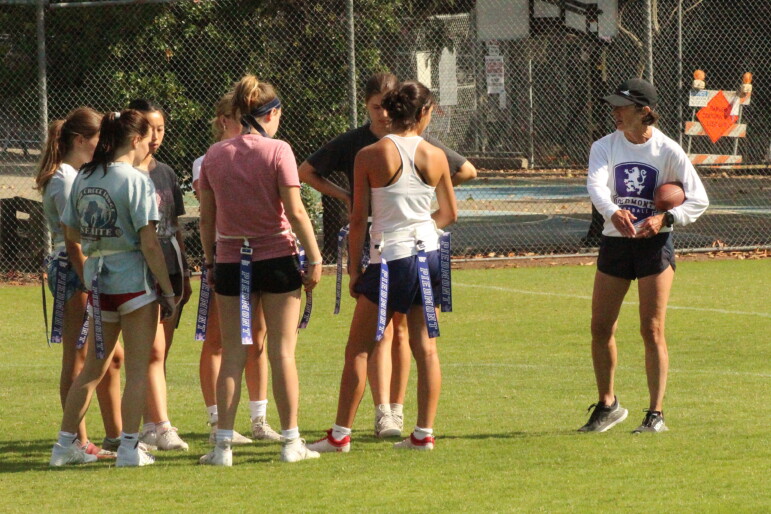 "I am more excited now than when I first agreed to coach," Black said. "When I had the intro meeting in the spring, they were so excited. It was like we opened a world to them.
"Bradley and Haley and I have treated it as you are on equal footing. I love that. I know so many girls that have watched football with their families and now it is wide open. It feels like they wanted to embrace it."
Indeed. Sabrina Carling said, "It's super-interesting to learn the rules of football. I've always had it playing in my house and never paid attention. It's super-fun to run routes and learn the offensive and defensive positions. We've bonded really well as a team and I love all the girls on our team and I think it's such a fun experience and everyone should participate."
Said Allison King, "I think it's great. Girls finally have an opportunity to be a part of such a big sport. In America, football is such a culture and I think it's amazing that girls are getting to be a part of that and be involved."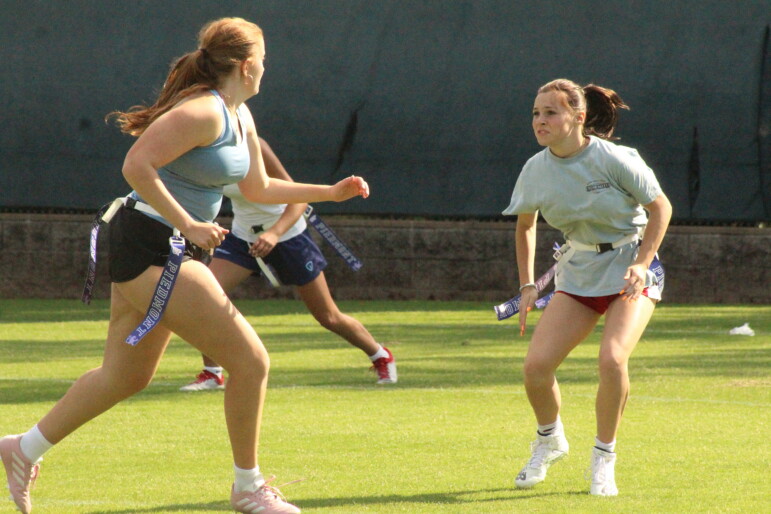 Added Kira Pan, "This is my first time playing. I haven't had experience playing football before but I really like playing with this team. It's a great social opportunity. It's so nice to see everyone happy to try out a new sport and be so eager. We even had cuts which was so crazy for a first-year sport.
"I think this is a big step. I feel like there's a big audience around men's football and it's really exciting that women are going to have the opportunity to do this and I really hope there is the same amount of turnout and excitement built around this. And I'm really excited to see where it goes this season."
Coach Black grew up in Ohio – Michigan fans, cover your ears. That midwestern upbringing is quite football-centric.
"I wore an Ohio State jersey for as long as I remember," she said. "I remember my first Piedmont High School football game. I was sitting in the stands. There was a sack and I was standing up and shouting and I looked around and nobody else was shouting.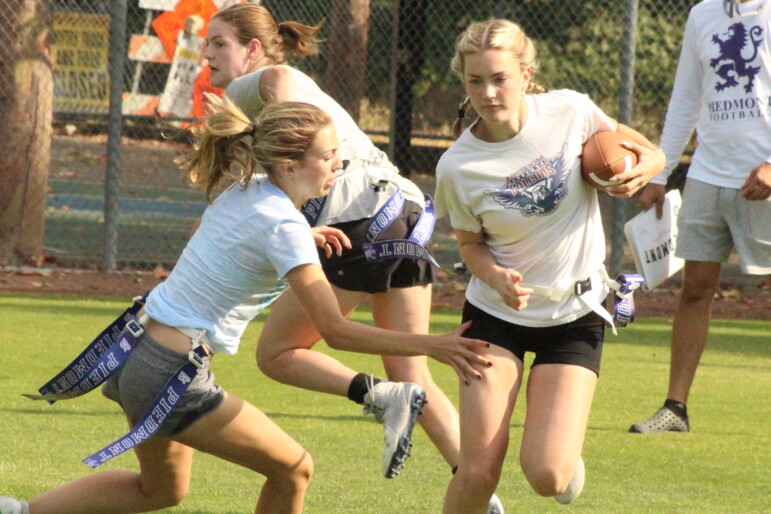 She said that she has a great group of athletes who have come from other sports at Piedmont, and they are adjusting to football.
"There are these 'ah-hah' moments," she said. "I've got basketball players, I've got lacrosse players, I've got soccer players, you don't leave your cover. Once the ball is thrown, it doesn't matter who I'm on I just get to the ball."
Liggett has played basketball and softball at Piedmont.
"Honestly, I'm really excited," she said. "I've always wanted to try out football. I've watched it a lot, played it with my dad, it gives me the opportunity to actually fulfill this dream that I've had.
"I really enjoy it."
Photos by Damin Esper