Teachers working in California school districts with conservative school boards are increasingly finding themselves with a difficult decision: violate district policy and risk losing their job, or potentially disobey federal and state laws and policies and take a chance on ending up in court.
Last Monday was the first day of school at Chino Valley Unified campuses since the passage of a controversial board policy that would require teachers, counselors and administrators to notify parents if a child asks to be identified by a different gender or name, or to access a bathroom or take part in a program not aligned with the gender on their official records.
After the Chino Valley Unified decision, California Attorney General Rob Bonta warned the school district that the parental notification policy could violate the state's anti-discrimination laws and students' rights to privacy guaranteed under the U.S. and California constitutions, as well as federal Title IX protections and the state education code. Bonta launched a civil rights investigation into the school district last week.
A previous letter from Bonta cautioned that "outing" students to parents could result in emotional, mental and physical harm to the students and subject them to discriminatory harassment.
There is a sense of uneasiness among teachers, said Brenda Walker, president of Associated Chino Teachers. Teachers want to do what is right for their students, obey the law, and keep their jobs, she said. 
"We don't understand what the implications would be if we didn't follow through with those policies," said Steven Frazer, a Chino Valley high school teacher, on the first day of school on Aug. 7.
Teachers could potentially be found liable or sued as a result of the policies, or they could find themselves caught up in a lawsuit's allegations, even if they aren't a defendant, said Laura Juran, chief counsel for the California Teachers Association.
"Teachers are liable if they don't follow state law," said Mark Reichel, a Sacramento-based attorney and legal expert. "On the other hand, so is the school board. You can never fire somebody for complying with state law. Retaliatory firing is a recipe for a lawsuit."
Andrea Johnston, Chino Valley Unified director of communications, said school staff received training on the new board policy before the first day of school and that staff who adhere to district policies will be protected and supported.
"At this time, the district is not clear how educators can be held liable for upholding district policies since none are contrary to current state laws and policies," Johnston stated in an email.
On the first day of school, teachers are generally getting acquainted with their students, reading off names and, sometimes, asking if they have a preferred nickname instead of their given name, Walker said.
"Now teachers will probably give a blanket statement that will say that, based on board policy, I'm obligated to 'out' you. It's going to raise concerns," Walker said before classes began last week.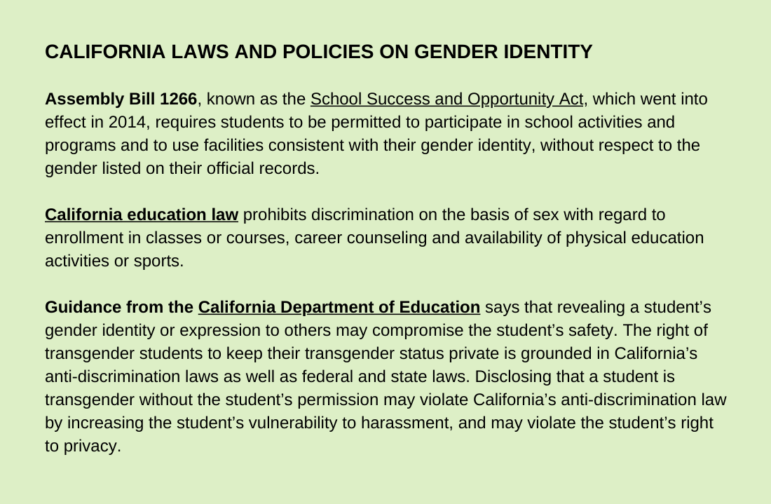 Frazer said his students didn't ask about the policy on the first day of school. "We were wondering if it was because of the fact students may not have felt comfortable expressing themselves."
It was a fairly normal day, with no sign of student protest, Frazer said.
"I wouldn't be surprised that the LGBTQ community was playing it safe," he said. "I hope it just proves that everyone just wants to get back to school and get back to learning." 
He said he is hopeful that the civil rights investigation instigated by the state Attorney General's Office will resolve the issue.
Teachers have told union president Walker that it isn't uncommon for them to receive requests to change names or pronouns, adding that one teacher told her she receives 15 to 20 such requests from students each year.
Walker sent a memo to teachers last week advising them to follow the district's new policy but to object to it if they think the policy is improper or unlawful. If a teacher feels uncomfortable talking to a parent about a child's gender identification, they should ask one of their administrators to take on that task, the memo directed.
"Members are expected to comply with directives given by their administrators, and if a member or the association find that there has been a violation of the collective bargaining agreement, then a grievance can be filed," Walker said.
Union officers met with district administrators last week to discuss what discipline teachers might suffer if they don't comply with the board policy.  District officials said they would use the progressive discipline procedures used for violation of all board policies, Walker said.
Progressive discipline often includes a number of steps including verbal warnings, letters of warning, meetings with supervisors and letters of reprimand before a teacher is dismissed.
In addition to their personal liability, teachers have other concerns about the policies. Some expressed concern for their students' safety; others say it adds to their workload, and others are concerned teachers won't work in districts with such contentious policies.
"Chino has already been struggling to attract teachers; the extreme views being imposed on the district and unfavorable publicity the board is garnering will only make it more difficult," Walker said in a statement.
She told EdSource that teachers are worried for their LGBTQ+ students.
"Teachers don't want to be in the middle of this," Walker  said. "They want to teach their students. They want to support all our students. I want to emphasize that — all of our students. They worked hard for their credentials and degrees, and that's what they want to do."
Chino Valley Unified in San Bernardino County is not the only one changing board policies. School boards across the country and in some parts of California are passing policies that ban books, restrict the curriculum and reduce protections for LGBTQ+ students. Board meetings have been raucous and divisive.
An Aug. 8 meeting at the Kern County Office of Education had to be cleared during a board discussion about whether staff in local schools should have to notify parents if students change their gender identity, according to Bakersfield.com.
Thursday night, the Murrieta Valley Unified school board voted to approve the same policy as the one adopted by Chino Valley Unified. Murrieta Valley Unified is in Riverside County.
Teachers working for Murrieta Valley Unified, interviewed before the vote, said they were uneasy about the proposed policy. Most agreed that they would rather not have to deal with this additional burden, said Chris Shoults, who teaches English at Vista Murrieta High School and is on the union's executive board.
"Having a local policy at odds with state and federal policy creates another uncertainty in a job that is already demanding," Shoults said.
Kimberly Chevlin, president of the Murrieta Educators Association, said she is wary of the school board's motivation.
"We are doing what is best for kids. That is what we all got into this job to do," she said. "I do think the school board members got into this for politics."  
Chino Valley Unified also recently passed an administrative regulation that restricts the types of flags that can be displayed in a classroom.
"It's disturbing that our classrooms are now politicized," Walker said. "History teachers have to get approval to put a flag up if they are teaching a lesson about a country."
A federal judge recently ruled that students' gender identities should remain private. The judge sided with Chico Unified in Butte County, which was being sued for not informing a parent their child was transgender, the San Francisco Chronicle reported. In his July ruling, the judge said that the district's policy not to identify students who are transgender aligns with the state's interest in combating discrimination and harassment against students.
Guidance from the California Department of Education recommends that schools ask transgender students who, if anyone, they would like to be informed of their transgender status. The department says that rule should only be broken in rare circumstances when district officials feel there is a compelling need for parents to know the information and the student is given advance notice before parents are informed.
Last week, Associated Chino Teachers filed an unfair labor practice charge against the school district with the California Public Employment Relations Board, alleging that the district approved the new policy and regulation that restricts the types of flags that can be displayed in a classroom, without first negotiating with the union. Districts have a duty to bargain with unions if the policies change the condition of employment and can lead to discipline, according to the complaint.
If an administrative judge decides that the school district should have sought an agreement with teachers over the policy before passing it, it could be rescinded, Juran said. 
Walker said she didn't learn about the parental notification policy until she saw it on the school board meeting agenda.
District officials met with teachers about the new board policy, Chino Valley spokeswoman Johnston said. "The term 'bargaining' is incorrectly applied," she said. "The process is to meet and confer with the union, which was completed."
Murrieta Valley Unified hasn't bargained with its union about its parental notification policy either, Chevlin said.
Murrieta Valley Unified is developing protocols, training directives and instruction to staff on how to implement the policy, said Monica Gutierrez, spokesperson for the district.
"We are in the process of working with our employee groups related to the effects on working conditions," she said.
The local teachers unions of Chino Valley, Murrieta Valley and Temecula Valley school districts are working with the California Teachers Association to determine whether further action is needed.
Last week Temecula Valley's teacher union joined seven students and three teachers in a suit against the district. The suit, brought by Public Counsel, a nonprofit law firm, as well as a private law firm, alleges that a resolution banning critical race theory has resulted in the censorship of teachers and taken away students' fundamental rights to an education.
"When politicians try to push their own agendas and politicize our classrooms, educators can and will push back together in their union," said CTA President David Goldberg in a statement to EdSource.
"California students deserve to learn a rich and inclusive curriculum in a safe learning environment, and teachers should not be penalized for providing that education or for following state law," he said. "CTA will continue to support educators and students."