A suspect is at large after evading Piedmont Police in a foot pursuit on July 8. The incident began at approximately 7:30 a.m. on Grand Avenue. A suspect, described as an Hispanic male with a thin build wearing a red sweater and black pants and riding a red bicycle, was reported to be attempting to break into a vehicle. The reporting person scared off the suspect. Police arrived and found a red bicycle on Grand next to a 2021 Hyundai Accent with a shattered driver's side window.
Shortly thereafter, the suspect was found by officers on Oakland Avenue. When officers attempted to contact the man, he fled on foot and turned onto Jerome Avenue, according to Monahan.
At 10:31 a.m., the suspect was spotted walking on Oakland Avenue. "As officers moved into position to conduct a high-risk walking stop, the suspect pulled a loaded 9mm firearm from his waistband and tossed it into some nearby bushes," Monahan said.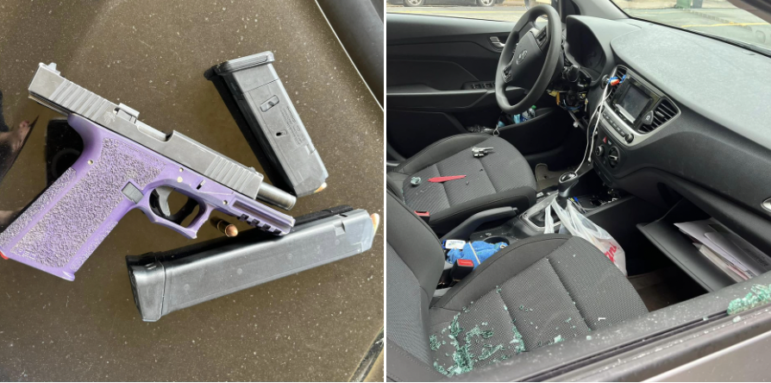 The suspect then fled again, passing through the Linda Dog Park and toward the Beach Elementary School and Linda Avenue soccer fields. Officers pursued the suspect. According to Monahan, the area was full of people and officers evacuated the area. The suspect was found again near the elementary school entrance on Lake Avenue. At this time, according to Monahan, the man pulled a loaded 9mm magazine out of his pocket and dropped it as he fled through the school's blacktop.
The suspect jumped a fence into a backyard of a house on Howard Avenue. Officers searched the backyards in the area and did not locate the individual.
There is no further information on the suspect. Monahan said, "During all encounters with the suspect, he ignored all commands from officers. Canvasses for surveillance footage is still outstanding. One officer suffered a minor injury to his hand."
---
In other incidents, several vehicles were stolen in the two weeks ending on July 6, including at least one work truck and a vehicle parked at a work site. Monahan said work vehicles are targeted by thieves.
"They are constantly being targeted," Monahan said. "Tools are easy to steal and resell."
---
Multiple property thefts were reported around town. On June 25, a report came in accusing a FedEx driver of stealing the reporting person's son's bicycle. The incident happened at about 9 a.m. on Lake Avenue. The resident claimed the theft was caught on video surveillance. Monahan said the incident is under investigation.
A residence on Wildwood Avenue was reported to have been burglarized on the morning of June 27. A BMC road bike and an antique desk were stolen, according to the victim, with a total value of $3,897.22.
A house on Dudley Avenue was reported to be broken into while the residents were away. The incident apparently happened on July 1. The report came in on July 6. Monahan said the Police Department is awaiting a report on any loss by the residents.
---
Also several vehicle break-ins and collisions. A silver 2019 Kia Niro was reported stolen on June 25 on Oakland Avenue. The vehicle was found four days later, but $5,150 worth of personal property had been taken, according to the victim.
On June 26, a resident on Winsor Avenue reported that a white Cadillac SUV was broken into overnight and that $4,250 worth of stereo equipment (subwoofers and two amplifiers) were taken.
On June 28, a white 2004 Toyota Camry collided with a parked BMW X3 SUV on Oakland at 9:09 a.m. Officers arrived and spoke with the driver of the Camry, who told them she "may have" taken an Ambien sleeping pill prior to driving, according to Monahan. Field sobriety tests were conducted and the roadside tests produced blood alcohol content readings of 0.22 and 0.27 percent. The driver was arrested for suspicion of DUI and was taken to Santa Rita Jail in Dublin.
A man riding a bicycle was arrested on June 30 and found to have a bench warrant, several stolen items, and narcotics. Police stopped the rider for an equipment violation, according to Monahan. The stop was conducted on Grand Avenue. The suspect was taken to Santa Rita Jail.