Piedmont resident Dahlia Saffouri, a rising junior at Piedmont High School, performs as Esmeralda in YMTC's production of The Hunchback of Notre Dame, with performances July 14-16 and July 21-23 at the beautiful El Cerrito Performing Arts Theater at El Cerrito High School.
Soaring and gothic, The Hunchback of Notre Dame sweeps us away to late medieval Paris, where the deeply pious Archdeacon Frollo has his ward, deformed bell-ringer Quasimodo, locked away for life in the bell tower of Notre Dame. Quasimodo yearns to know the world outside the stone walls of the cathedral. He and his master, Frollo, both fall for a beautiful and independent Romani girl, Esmeralda. As Frollo's desire for Esmeralda and his hatred of "gypsy" outsiders grows, Quasimodo is forced to choose between the safety of his sanctuary or facing a world that will not accept him to protect the one he loves. Hunchback – a retelling of Victor Hugo's novel set to Alan Menken and Stephen Schwartz's epic score – is a haunting story of isolation, racism, belonging, and the true nature of faith.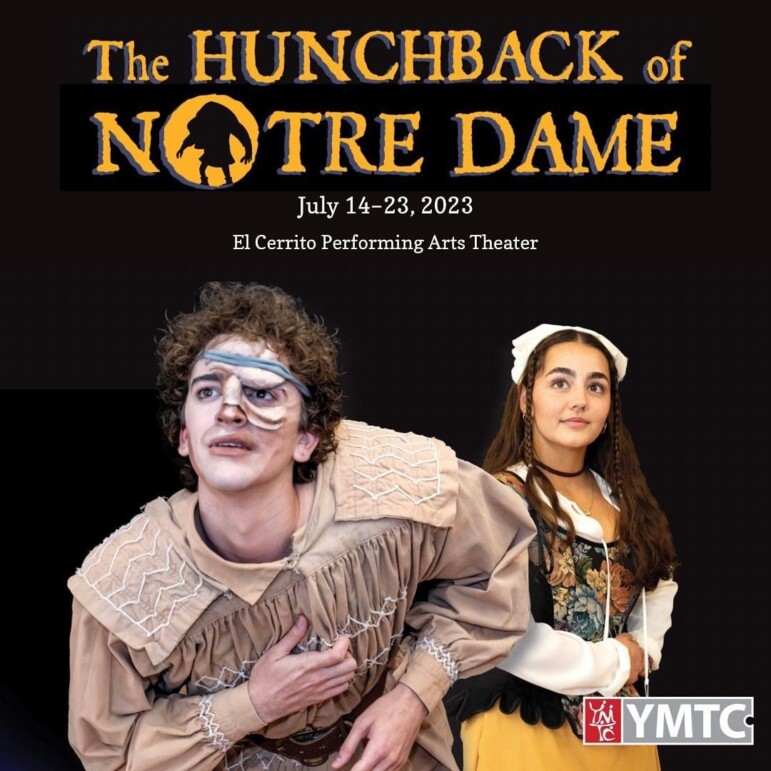 The show features a cast of 32 student performers and six student creative apprentices (ages 13–22) from cities all over the Bay Area. They are led by a team of professional directors, designers, and musicians, including Director Jennifer Boesing, Music Directors David Möschler and Phillip Harris, and Choreographer Pam Crane. The production features a 14-piece orchestra playing the original orchestrations.
Performances run for two weekends at El Cerrito High School's Performing Art's Theater, 540 Ashbury Avenue, El Cerrito. The run consists of four 7:30pm performances (7/14, 7/15, 7/21, 7/22) and two 2:00 p.m. matinees (7/16 and 7/23). Tickets are available online at www.ymtcbayarea.org or at the door one hour before curtain. Ticket prices are $16–$34, with discounts for students, seniors, military, teachers, and groups. YMTC offers one "pay what you will" performance to provide affordable musical theater to all in the community. This performance will be on Friday
7/21, when seats will be offered for cash-only at the box office. Reserved seats can still be purchased online.

ABOUT YMTC
YMTC is dedicated to providing exceptional training to young theater artists through the production of exceptional musical theater. The organization brings together the Bay Area's most talented and dedicated young performers — as well as students of technical theater — with professional directors, designers, choreographers, and musicians. They take on challenging and sophisticated musical and dramatic themes, and productions are always accompanied by a full, live orchestra. YMTC takes young artists on adventures that will inspire them for the rest of their lives.