San Francisco Silent Film Festival: The largest festival of its kind in the Americas, this educational and fun event allows audiences to experience early cinema in a movie palace — the Castro Theatre — where audiences of a century ago similarly enjoyed movies we now call silents.
Put together by revered programmer Anita Monga, the festival's 26th edition contains 23 programs, most of them showing movies from the 1920s and all featuring live musical accompaniment. Seven countries are represented.
Leading things off is the restored "The Iron Mask," director Allan Dwan's sequel to "The Three Musketeers." The plot involves a mission to return a kidnapped king to the throne that his evil twin has stolen from him. A swashbuckling Douglas Fairbanks stars.
"The Merry Widow," directed by Erich von Stroheim, closes the festival. Two royal cousins compete for the love of a dancer in this comedy, and biggest hit, from the Austria-born auteur.
There's lots in between. Names on the marquee include Buster Keaton, Laurel and Hardy, Norma Shearer, John Ford, Yasujiro Ozu, and others. For details, visit www.silentfilm.org. (Wednesday through Sunday, July 12-16, at the Castro Theatre, San Francisco)
"Mission: Impossible — Dead Reckoning Part One": Tom Cruise saves the world again, in this seventh installment of the action franchise, and, as before, the stunts outshine the story.
This time, human superhero Ethan Hunt (Cruise) and his Impossible Mission Force team traverse the globe to prevent a force of artificial intelligence, called the Entity, from destroying humanity. Cruise and director Christopher McQuarrie, who have collaborated on the "M:I" films since 2015, demonstrate effective actor-director sync, and the superbly crafted action material, featuring a committed Cruise and, of course, those stunts, contains so much enthusiastic energy that it hardly matters if you can't figure out what Ethan Hunt actually believes in. (Is it truth, justice, and the American way? Or has he lost all faith in the latter?)
As for the narrative elements, the theme of algorithmic data, and its sinister potential, injects contemporary relevance into an otherwise ridiculous plot. This is action entertainment, not grand cinema. The actors — Hayley Atwell joins returnees Vanessa Kirby, Rebecca Ferguson, Ving Rhames, and Simon Pegg — supply requisite formidability. (Opens Wednesday in theaters)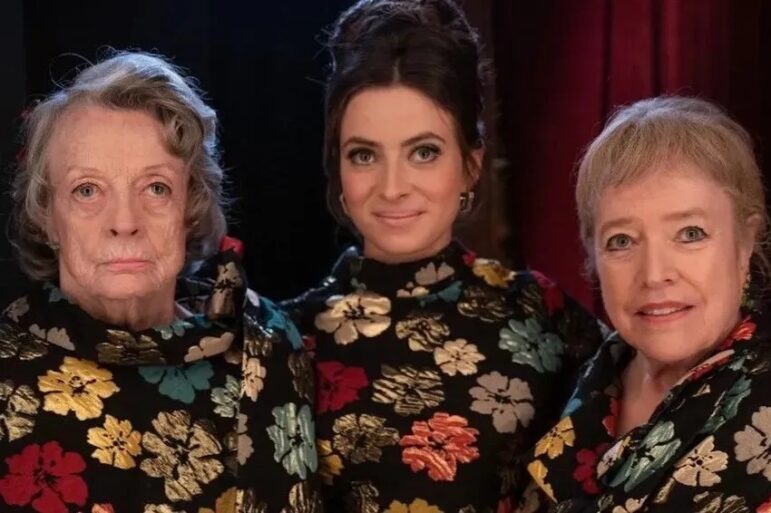 "The Miracle Club": This 1967-set dramedy follows three Irishwomen — Eileen (Kathy Bates), older Lily (Maggie Smith), and much younger Dolly (Agnes O'Casey) — who take part in a pilgrimage to Lourdes. Each has a personal reason to visit the famed French town's reportedly miracle-working holy sites. Boston-based Chrissie (Laura Linney), Eileen's former best friend, who has come to Ireland for her mother's funeral, joins the others, though she's unsure why.
Lily and Eileen express animosity toward Chrissie; slowly the screenplay, based on a story by Jimmy Smallhorne, reveals the history behind those feelings. The cast is the best reason to see this movie. When director Thaddeus O'Sullivan simply lets his actresses connect, as their characters realize that forgiveness and reconciliation are more therapeutic than sacred waters, or as they sing a pop tune or discuss unwanted pregnancies, they're mesmerizing.
Unfortunately, the screenplay offers too few answers to its characters' secrets and seems unwilling to present darker subjects with essential seriousness. The movie makes for pleasant viewing, but its excessive sunniness undermines dramatic impact. (Opens Friday at area theaters)
---
Short takes
"Two Tickets to Greece": The road tales keep on coming. In this French production, directed by Marc Fitoussi, unadventurous 40-something Blandine (Olivia Cote) and free-spirited estranged childhood friend Magalie (Laure Calamy) reunite and vacation in Greece together. As the differently tempered women clash and bond, and old resentments resurface, cliches outweigh character depth. But the delightful Calamy and the more subtly effective Cote keep us caring regardless. (Opens Friday at Smith Rafael Film Center)
"Black Ice": This documentary from Canada looks at racism, past and present, in hockey, a sport ingrained in the Canadian psyche. Filmmaker Hubert Davis includes historical material about early Black hockey leagues; interviews with players who share stories of racial abuse they've experienced from both fellow hockey figures and fans; and accounts of how authorities have failed to respond adequately. At 97 minutes, the film can't address every aspect of its subject. But it compellingly documents an important issue that few people, sports fans included, know about. (Opens Friday at Metreon, San Francisco, and AMC Bay Street, Emeryville)
"Umberto Eco: A Library of the World": This documentary examines the work and mind of Italian writer ("The Name of the Rose"), scholar and thinker Umberto Eco (1932-2016) by absorbing viewers in the enormous world of Eco's amazing libraries. Eco himself acts as guide. Readings from his writings and insights from family members enhance the picture. Admirers of Eco will especially appreciate what filmmaker Davide Ferrario has thoughtfully crafted. (Opens Friday at Smith Rafael Film Center)