California's struggling child care providers will be getting the largest pay increase in state history as well as an ongoing overhaul of the reimbursement rate under the tentative agreement hammered out Friday evening between the state and the Child Care Providers United, a union that represents 40,000 home child care providers across the state.
"Today child care providers have made history by standing together, strong and united, to demand the pay we are worth and the quality child care California's children deserve," said Nancy Harvey, an Oakland child care provider and member of the CCPU bargaining team in a release. "We forged an agreement through 2025 that will deliver the largest increase in pay in the history of the state and set us on the path to finally be reimbursed for the full cost of providing care."
The union negotiated its first contract, which is set to expire at the end of June, with the state in 2021, in an attempt to win better pay and benefits for the historically underpaid workforce. Those efforts have finally come to fruition, union officials said.
Key elements of the contract include $600 million in rate increases over two years, although exact percentages have yet to be released. The agreement also includes $80 million in retirement funding, $100 million in healthcare funding and a commitment towards an overhaul of the outdated rate system.
Child care providers are hailing this as a milestone for a long-underpaid workforce dominated by women of color.
"Our new contract creates greater certainty for California providers which will allow us to retain talent and attract new talent to the field," said Harvey, "ultimately giving families more opportunities to receive the high quality care they can expect from their neighborhood family child care providers."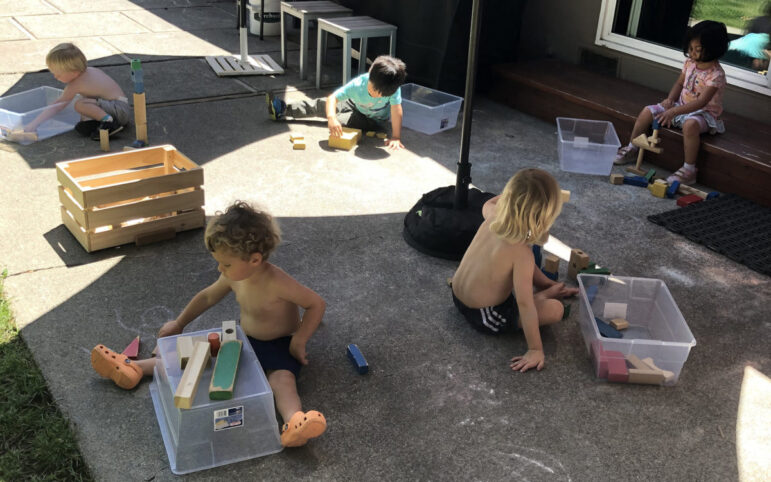 Current rates for subsidized child care are obsolete, many experts say, pegged to 2016 costs. This has put great financial pressure on child care providers, a sector already strained by the pandemic. California pays some childcare providers as little as a quarter of what the service costs, research suggests.
Family fees will be also capped at 1 percent of family income, under the recent state budget agreement. Childcare costs squeeze families hard, often costing more than a quarter of household income on average, according to a new report. This is concerning given that the U.S. Department of Health and Human Services (HHS) considers child care "affordable" when it costs families no more than 7% of their household income.
"The majority of Californians can't afford or access quality child care, which is disastrous for our working families and young children's developing brains," said Ted Lempert, president of Children Now, an advocacy group.
In the face of the childcare crisis, a brutal tug-of-war in which most families can't afford the skyrocketing high cost of care, while many child care workers can't survive on their pay, many advocates have long said the system was broken.
The core of the problem is that childcare costs more to provide than most parents can afford. The state offers subsidies for low-income families through vouchers and contracted slots but these subsidies have only covered part of what it costs to provide child care. These outdated rates as part of an unwieldy system that a state-commissioned report characterized as a "market failure."
"If you look at the way we've set up childcare as a nation, we have set it up as a social welfare program, not as a public good," said Brandy Jones Lawrence, senior analyst at Berkeley's Center for the Study of Child Care Employment. "It's a broken business model basically balanced on the backs of the workers." 
While the escalating cost of care places a real burden on families, child care workers are paid worse than 98% of professions, research shows. Median pay for child care workers was $27,490 per year or $13.22 an hour in 2021, far less than the wage for retail ($14.03) and customer service ($17.75) workers.
"Children are a low priority as are the people who do the work," said Makinya Ward, an administrator at Kids Konnect Preschool, which runs child care centers in San Mateo and Alameda counties. "Parents are expected to foot the bill, but the cost has become difficult to pay."
This inequitable dynamic has led to many California child care workers to leave the field in search of higher pay at Target and Starbucks.
"You can't continue to ask them to show up first for our children and families when we deal with their needs last," said Lawrence.
At the end of the day, it's been the children who suffer, advocates say, because they often miss out on early learning and care during a critical period of brain development, as nearly 90% of brain growth happens before children start kindergarten.
"Early care and education teachers work with children during their most formative years of development and growth," said Scot Moore, head of Kidango, a nonprofit organization that runs many Bay Area child care centers, "yet they are the lowest paid in a low-pay profession." 
Ultimately, some say any rate increase must be just the first step if the state intends to stabilize its early education and care system. Rates must be tied to the actual cost of care to be fair.
"People are really holding out for this alternative methodology process," said Lawrence. "That's a really formidable change. That's starting to base the payments on what it costs and not on what people can afford. That'll be a game changer if we can get that through in a state as large and impactful as California."
The contract will become final pending ratification by both the CCPU membership and the state later this summer.