The California State Auditor found California State University routinely failed to address sexual harassment allegations across some of its 23 campuses.
The audit, released Tuesday, continues to shed light on a system in disarray and disorder. The state auditor reviewed multiple alleged cases of sexual harassment and several investigations to determine that, in some cases, universities improperly closed cases and failed to provide adequate discipline or take action against offenders.
The audit arrives one day after the release of a year-long independent investigation ordered by the CSU Board of Trustees to review the system's Title IX practices.
That report, assembled by Cozen O'Connor law firm, also found that the nation's largest public university system fails to respond adequately to sexual harassment and discrimination complaints from employees and students because of few resources and little staffing.
The state auditor reviewed 40 CSU sexual harassment cases from 2016 to 2022 that showed employees potentially engaging in sexual harassment. Twenty-one of those cases led to a formal investigation and four led to an informal resolution agreement. Out of 15 cases that were closed upon their first assessments, the audit found that campuses did not provide clear reasons for closing 11 cases.
"In those cases, the campuses did not move forward with a formal investigation, even though the cases contained concerning allegations that may have warranted an investigation," according to the audit.
The audit gives one such example of a student who alleged that a faculty member made, "inappropriate comments about her body, consistently walked her toward her residence after class, talked about his personal and romantic life, and compared her to women he dated.
The student filed a written complaint, met with a campus official and made it clear she wanted to take action. But the campus, which is unnamed in the audit, declined to investigate stating that the alleged conduct was "on the border" of the campus's purview.
The auditor found that some campuses did not contact all the complainants before closing cases or made little effort to pursue investigating allegations if the complainants chose not to participate in the investigation.
The auditor also found issues with the way CSU conducts investigations. Seven investigations contained "deficiencies that caused us to question the campuses' determinations that sexual harassment had not occurred."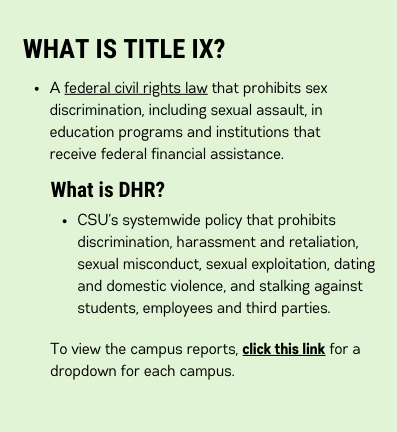 In another example from the audit, a contractor reported that a faculty member made "inappropriate comments to her on multiple occasions, hugged her, touched her hair, and kissed a different staff member without that person's consent." The university substantiated the allegations but found the conduct "did not meet the definition of sexual harassment in CSU's policy — an outcome we question, given the details of the case and deficiencies in the campus' investigative analysis."
In seven cases, the audit found that the university failed to implement action even when campuses determined an employee's behavior required discipline. Three cases were closed by campuses that also referred those cases to a different university department for possible corrective action, such as having a conversation with the accused person or a letter of reprimand.
In another example, an unnamed campus found a male professor responsible for sexual harassment, sexual violence, and stalking in 2016 but failed to take disciplinary action for more than five years. The campus did issue a letter reprimanding the professor for his conduct, but nothing else because the campus determined it missed the statute of limitations for any other disciplinary action.
And that letter wasn't given to the professor until six years later in 2022 when a new report alleged he engaged in inappropriate conduct.
"This professor is also participating in a faculty early-retirement program that reduces his employment to half-time until his anticipated retirement," according to the audit. "The personnel administrator for that campus stated that given the professor's past behavior, the campus is making every effort to keep him away from the classroom and engaged only in projects that do not involve students."
The Joint Legislative Audit Committee called for the audit last summer after multiple reports showed poor responses to sexual harassment complaints from faculty, administrators and students. The committee requested access to sexual harassment complaints against employees at the chancellor's office, San Jose State, Fresno State and Sonoma State campuses where there had been publicly reported allegations of misconduct.
The report found that from 2018 to 2022, the system received 1,251 sexual harassment reports against CSU employees across the 23 campuses. However, the audit cautions that the data from the chancellor's office is unreliable and inconsistent.
The audit also found that of the 40 cases, 24 were missing documents, making it difficult for auditors to assess if campuses handled the allegations appropriately. Those missing documents included interview notes, relevant evidence, outreach to complainants, and timeline extensions.
"We also identified two cases in which a campus's lack of accessible documentation about the outcome of a previous case may have affected its handling of a new allegation of sexual harassment against the same" individual, according to the audit.
Sometimes the corrective actions were not severe enough to stop individuals from misconduct. In another example from the audit, a female student reported a male faculty member repeatedly asked her out, hugged, and kissed her. The Title IX coordinator and a personnel administrator met with the faculty member to address his behavior. But three years later, the faculty member was the subject of similar allegations.
In four cases, campuses reached settlement agreements that contained conditions like suspension without pay, voluntary resignation, training, or a letter of reprimand in exchange for monetary awards, or removal of disciplinary documents from a personnel file. Those actions could allow the employees to be hired elsewhere with no information shared on the allegations that led to the settlements.
The chancellor's office has partially addressed this issue by creating a new policy that doesn't award positive letters of recommendation to any employee that has been fired or separated from the system due to sexual misconduct. But the audit found that the new policy would not cover seven cases where employees had findings of sexual harassment. For example, the professor that committed sexual harassment, violence and stalking could still receive a letter of positive recommendation because the discipline in that case didn't lead to his firing.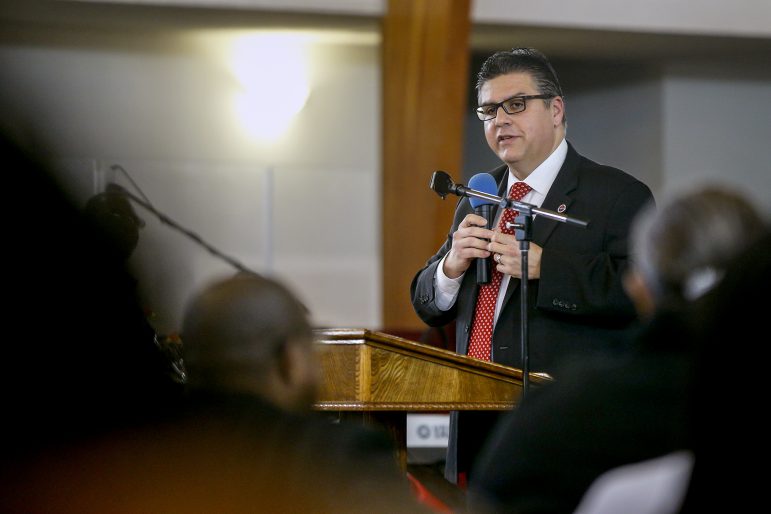 The auditor also found that CSU needs a way to address unprofessional behavior that isn't sexual harassment. In one case, the audit cited an investigation that found the behavior inappropriate and recommended the individual's supervisor address it, but there was no evidence the campus took any action.
The chancellor's office also failed to collect data and analysis adequately across the 23 campuses, so "it lacks complete and accurate information about the total number of cases of alleged sexual harassment," according to the audit. The office also doesn't have standard practices for preventing, detecting or addressing sexual harassment.
"Ultimately the Chancellor's Office has both the responsibility and the authority to ensure that campuses consistently and adequately address sexual harassment concerns," according to the audit.
State Auditor Grant Parks, in his letter to the legislature, said: "The problems and inconsistencies we found during this audit warrant system-wide changes at CSU. In particular, the Chancellor's Office must take a more active approach to overseeing campuses' efforts to prevent and address sexual harassment."
Parks recommends the chancellor's office close gaps in its policies, collect and analyze critical data, and regularly review its campuses for compliance with legal requirements.
In response to the audit, Interim Chancellor Jolene Koester said, "we agree with and will implement the recommendations provided in the audit report, as well as those identified in the Cozen assessment, to strengthen our culture of care and compliance and advance the CSU's core values of equity, diversity and inclusion."
Koester said that CSU will strengthen its accountability and prioritize prevention, mitigating barriers to reporting and ensuring appropriate response and support systems.
Mike Fong, chair of the Assembly Higher Education committee, said he would work with the university system, faculty and students to "address the identified problems and provide avenues for healing for all those involved. Our students, faculty and staff deserve a safe campus environment, and the knowledge that when they report any discrimination or misconduct, their voices will be heard, their complaints investigated, and the system will work."
Fong also said that while CSU was the subject of two investigations, the problem of how systems respond to allegations of sexual misconduct and discrimination isn't isolated.
"We will work to address Title IX compliance at all higher education institutions in California," he said.
Cal State's new chancellor-select, Mildred Garcia, following her appointment last week, said of the law firm's report released yesterday: "There are no ifs, and, or buts, and we say that to our communities, and we demonstrate what we're doing. It is my understanding that campuses have already started the implementation teams. It is my role to make sure that work gets implemented and that we hold people accountable to get it done."
The issue of sexual harassment in the CSU system blew up early last year when USA Today reported that recently appointed Chancellor Joseph I. Castro, while president of Fresno State, ignored complaints of sexual misconduct for years by his vice president of student affairs, Frank Lamas, before his actions were finally investigated.
CSU has increasingly come under scrutiny from state auditors and news organizations for poor responses to sexual harassment complaints filed by faculty, administrators and students.
---
Also from EdSource on the state audit:
The complete list of stories in this EdSource series about CSU's Title IX reckoning can be found HERE.