With the U.S. Supreme Court ruling Thursday that race-conscious admissions are unlawful, colleges and universities across the country hoping to enroll diverse student bodies will need to turn to different strategies to do so.
For ideas, those institutions could look to California, where public colleges haven't considered race in admissions since voters in 1996 approved a ballot measure banning it.
The University of California has since turned to holistic review practices to make admissions decisions in an effort to maintain a diverse student body. Rather than only looking at a student's grades or test scores, UC campuses have considered a range of factors including the location of an applicant's school, an applicant's socioeconomic status and an applicant's achievements relative to the opportunities available at their high school. UC over the years has also ramped up its outreach to low-income students and students enrolled at underserved high schools.
Those efforts have been far from perfect, however.
In fact, UC officials acknowledged in a brief submitted to the Supreme Court last fall that it has failed to enroll a sufficiently diverse student body or one that is representative of the state's demographics. But in the absence of being able to consider race, experts and college officials say UC's strategies may be at least somewhat helpful in promoting racial diversity on campuses.
Without being able to consider race in admissions, universities will be forced to "work much harder to identify and address the root causes of societal inequities that hinder diverse students in pursuing and achieving a higher education," said Michael Drake, UC's systemwide president, in a statement Thursday.
For colleges that will now for the first time enter a world without race-conscious admissions, Drake added that UC is prepared to help.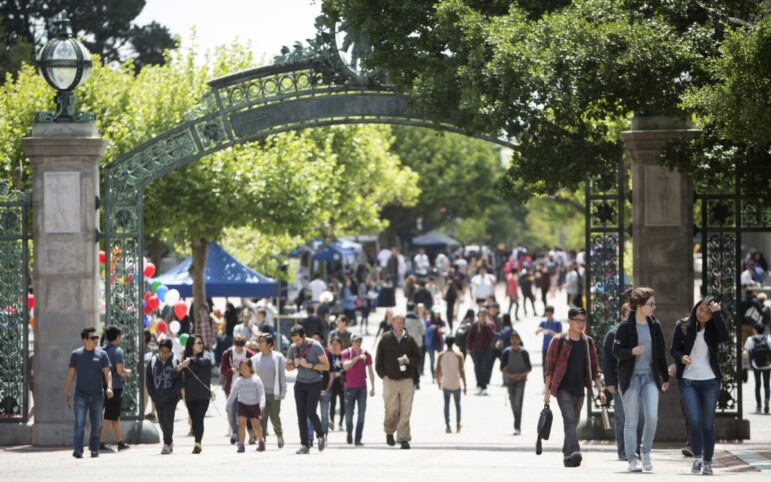 "We stand ready to share our expertise and lessons learned as we collaborate with our partners to achieve a higher education landscape that reflects the rich diversity of our nation," he said.
Among the institutions that may have something to learn from UC are the dozens of private colleges and universities in California, which unlike California's public colleges, have previously been free to consider race in admissions but will now be outlawed from doing so. Many of them are likely to seek UC's guidance when it comes to developing new student outreach programs, refining their own holistic review processes and potentially investing more in admission staffs, said Kristen Soares, president of the Association of Independent California Colleges and Universities.
"We'll have a lot to learn from them," Soares said.
About 27 years after Proposition 209 banned the consideration of race in admissions, the racial makeup of UC's student body doesn't come close to matching the diversity of the state. For example, in fall 2022, UC's incoming first-year students were 26.7% Latino. The state's high school seniors in 2022 were 55.7% Latino.
But the university maintains that holistic review, introduced in 2001, has allowed the system to make some gains. In the two decades from fall 2002 to fall 2022, the percentage of undergraduate Latino students enrolled across UC has increased from 13% to 25%, though some of that is likely also due to demographic changes in the state, as Latinos now make up a larger share of high school seniors. The share of Black students has also increased from 3% to 4.4%, while the percentage of white students has decreased from 36.5% to 20.7%. White students made up 21.2% of high school seniors last year and Black students accounted for 4.9%.
"Holistic review can be a powerful tool to ensure that students are really getting a fair shot at being reviewed in a much more equitable fashion," said Michele Siqueiros, president of the Campaign for College Opportunity, an organization based in Los Angeles that advocates for more equitable access to college.
In a webinar hosted Friday by Siqueiros' organization, speakers noted that the Supreme Court did not say colleges could not collect additional information about a student in order to gain a more holistic perspective.
"This is not a mandate of race ignorance in the university admissions process," said Thomas A. Saenz, president and general counsel at the Mexican American Legal Defense and Education Fund.
Some speakers highlighted how this decision could lead to rethinking admissions and recruiting, particularly among students attending the community colleges in California.
"Actively recruit community college transfer students and students seeking to resume their studies after an extended pause because nearly 50% of community college students are students of color and 45% are from families making less than $25,000 per year," said Mamie Voight, president of the Institute for Higher Education Policy, a nonpartisan research, policy, and advocacy organization.
Voight provided additional potential solutions, including increasing recruitment efforts in communities of color, awarding financial aid based on student need, ending legacy admissions policies, and ending the consideration of students' criminal records during admissions.
In the Supreme Court's majority opinion issued Thursday, Chief Justice John Roberts said universities can consider factors consistent with holistic review, such as a student's socioeconomic status, status as a first-generation college student or an essay describing how their race or ethnicity has impacted their life experiences.
One concern, however, is whether students of color will even apply to competitive universities now that affirmative action has been banned in admissions.
"I worry about how this might change the behavior of students and that students will be discouraged from applying to selective institutions," said Maricela Martinez, the vice president of enrollment management at Occidental College, a selective liberal arts college in northeast Los Angeles.
In UC's case, the system has tried to deal with that by increasing its outreach programs aimed at students from low-income families, such as its Early Academic Outreach program aimed at students from underserved high schools. UC has a total of 13 of those types of programs, and they collectively reach more than 200,000 students, the university told the Supreme Court in the brief it filed last year. UC said those programs haven't been particularly effective reaching Black or Native American students but that Latino students have benefited.
UC in 2020 also eliminated standardized test scores from admissions. That was followed by a big increase in applications to the university, including among Black and Latino students. Experts attributed that partly to the elimination of those tests, saying students likely felt more optimistic about their chances of being admitted.
"I think there's a lot that UC has learned, and can teach others across the country about admissions and how to do it in a much more thoughtful fashion," Siqueiros said.
EdSource reporter Betty Márquez Rosales contributed to this article.