The figure below is of a proposed ADA ramp and parking space for upper Dracena Park. It was developed by the City in response to an April 2022 complaint about ADA access to the dog run. City staff developed this design over several months of private meetings with Dracena Avenue residents.
Two key elements of the design should be of concern to park users and dog owners. First, it does not fit with the natural aesthetic of the park. Secondly and more importantly, it obliterates the prime seating and off-leash areas there now that many dog owners enjoy daily. The lower ramp requires the relocation of the two benches to an undetermined location but as users of this area know, the current location is the only spot in the off-leash area that receives sunlight, making these benches great for socializing with other park users. And the ramp for disabled users discharges directly into an area of high activity for off-leash dogs, which cannot be a good mix. The design seems to not have considered these factors.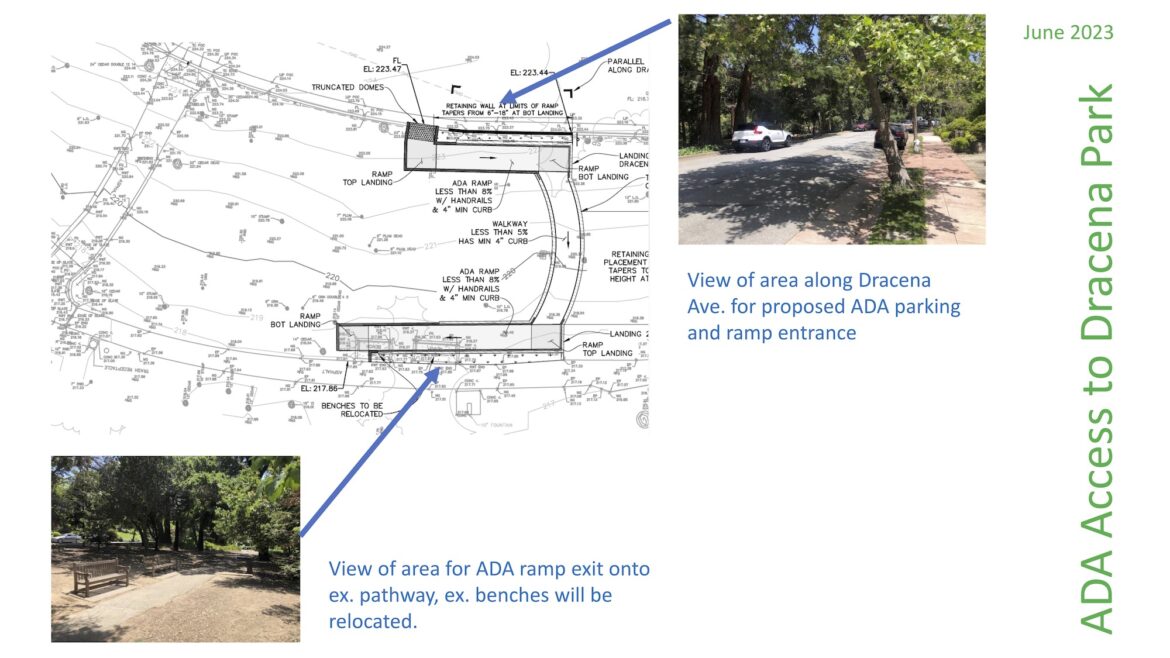 This design has not been publicly distributed so there was little public comment about these issues at last Wednesday's Park Commission. Several landscape professionals on the Commission were critical of the design and proposed alternatives. How those alternatives will be vetted is unknown; the Park Commission has scheduled a vote on the final design for the ADA ramp for the first week in August with no interim meetings.
Park users and residents who have questions or comments about this design should contact Daniel Gonzales, Director of Public Works, dgonzales@piedmont.ca.gov, or Nancy Kent, Park and Project Manager, nkent@piedmont.ca.gov.