Winsor Avenue gate to Wildwood Elementary School destroyed
On the morning of May 14, a grey GMC truck fleeing an alleged catalytic converter theft crashed through the dead end on Winsor Avenue, drove through the playground of Wildwood Elementary School and ended up on Witter Field.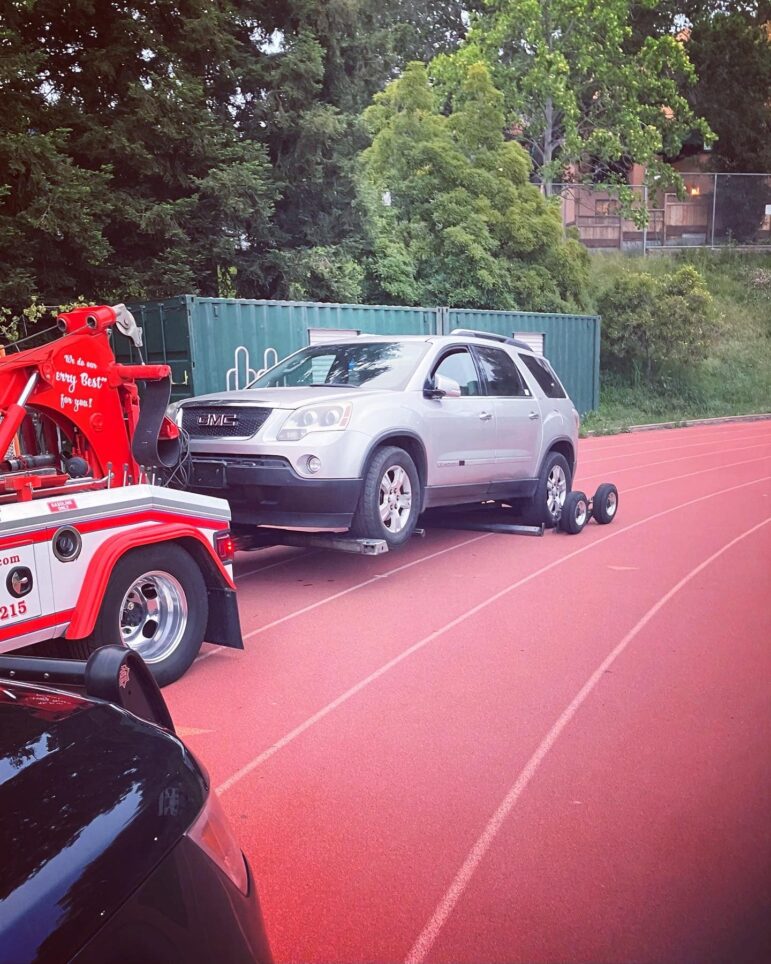 The incident began at 5:47 a.m. when a resident reported a catalytic converter theft in progress at Park View Avenue and Palm Drive. The suspect vehicle with two occupants fled on Winsor. According to Piedmont Police Department Captain Chris Monahan, it was not chased.
According to Captain Monahan, the vehicle rammed through two security gates surrounding the playground and field. The suspects fled in the direction of Magnolia Avenue.
A search of the vehicle produced two "freshly cut" catalytic converters, according to Captain Monahan. Two reciprocating saws were also found, along with several blades and miscellaneous burglary tools. A cell phone belonging to one of the suspects was also found.
A Black male suspect was later located and booked into Santa Rita Jail in Dublin. He had outstanding warrants, according to Captain Monahan. The other suspect, described as an Hispanic female, was not found.
According to a message sent to parents by Piedmont Unified School District interim superintendent Dr. Donald Evans, the Wildwood Elementary gate has been secured but will need to be replaced.
---
California flag and a pride flag burned at PHS
Also on May 14, a juvenile was captured by surveillance cameras lighting the rope on the flagpole at Piedmont High School on fire. According to Dr. Evans, the California flag and a pride flag were burned in the incident. The school estimated the damage at $1,000, according to Captain Monahan. An investigation is in progress.
---
Community alert for "sextortion" incidents
The police department also issued a community awareness alert as to what it called "sextortion" incidents involving children. The alert called it "a trend we've seen lately" where someone threatens to distribute sexually explicit images and videos online if demands are not met.
Captain Monahan said there have been two incidents in the past six months in Piedmont and there are no prosecutions pending "at this time."
"We urge parents and guardians to have open and honest conversations with their children about online safety and to closely monitor their online activities," the alert read.
---
A garbage collector was struck by a motorist looking for an address on May 10 at 9:05 a.m. on Mountain Avenue. The driver pulled over and had the vehicle on the side of the road when police came. The victim was sitting at the side of the road. There was no information on injuries but the individual was taken to Highland Hospital for a precautionary checkup.
---
On May 8 at 6:08 a.m., a vehicle was reported being in the middle of the road on Warfield Avenue. A gray 2001 Chevrolet Tahoe was parked in the middle of the road. The vehicle had been reported stolen earlier this month out of Oakland. It was described damaged, stripped with no plates. The vehicle was towed.
---
On May 6, a vehicle missing both driver's side wheels was found parked on the sidewalk on Monterey Boulevard. The 1997 Acura had a damaged door lock and ignition, damaged interior and was missing the catalytic converter. It was reported stolen out of Hayward in April. The vehicle was towed and a message left for the registered owners.
(Photos via Piedmont Police Department social media.)
---
While not Piedmont proper, Bay City News reported on May 16 that a toddler was hit by shrapnel when a robber fired a gun in an attempted robbery Tuesday morning in the Trestle Glen neighborhood of Oakland, police said. The attempted robbery occurred a little before 11 a.m. in the 800 block of Trestle Glen Road. Two suspects approached both the child and another person and demanded the person's belongings. One suspect had a gun, Oakland police said The wounded child was taken to a hospital and was in stable condition Tuesday, according to police.
Anyone with information about the case is asked to please call the Oakland Police Department's criminal investigations division at (510) 238-3426 or (510) 238-3326.