Update: Police Chief Jeremy Bowers confirmed on Thursday, May 25 that evidence tied five of the suspects to the Piedmont cases.
The Oakland Police Department on Tuesday announced nine arrests connected to 35 robberies in various parts of Oakland. The crimes were similar to a pair of strong-arm robberies in Piedmont that occurred in early May. According to Piedmont Police Capt. Chris Monahan, the department is aware of the arrests and think they could be related but don't know at this time.
"We are still working our cases to possibly tie some of these suspects in," Monahan said.
The Piedmont cases involved five juveniles jumping out of cars and beating older victims who were walking on the sidewalk. The juveniles stole items and left the scene.
Oakland police said they linked a vehicle to the robberies on May 21 and found it on 14th Street. The Department said officers observed individuals getting out of the vehicle and entering a nearby building. Then, some of the suspects left the establishment. Police followed the vehicle by helicopter, and when it stopped near 6th Avenue and 15th Street, four suspects left the vehicle and attempted to flee. Police were able to apprehend four suspects. Five more suspects were also taken in at the building on 14th Street.
The suspects are all juveniles, ages 12-17. Six are male, three are female.
Robberies were reported in Rockridge, Uptown, Trestle Glen, Grand Lake, Mosswood, Fruitvale, Chinatown, Temescal, and several other neighborhoods.
Piedmont resident Mary Prisco and her son were witness to one of the attacks outside Market Hall in Rockridge on Sunday, May 21. Prisco posted about the incident on NextDoor, describing how one of the males in the group, flanked by others, attacked a 60-year-old woman from behind on the head until she fell, and dragged her by the hair across the sidewalk and then struck her again multiple times. When her son intervened, he was also hit. The suspects were able to take the woman's crossbody bag which contained her phone and keys.
According to a Bay City News report on this development on Tuesday, robberies are up 7 percent this year in Oakland over the same period a year ago.
---
A discussion of recent crime trends and events is on the agenda for Piedmont's Public Safety Committee meeting this Thursday, May 25 at 5:30 p.m. at City Hall (120 Vista Ave.) This meeting will not be on KCOM or Zoom. If you'd like to attend to listen or comment, you must do so in person.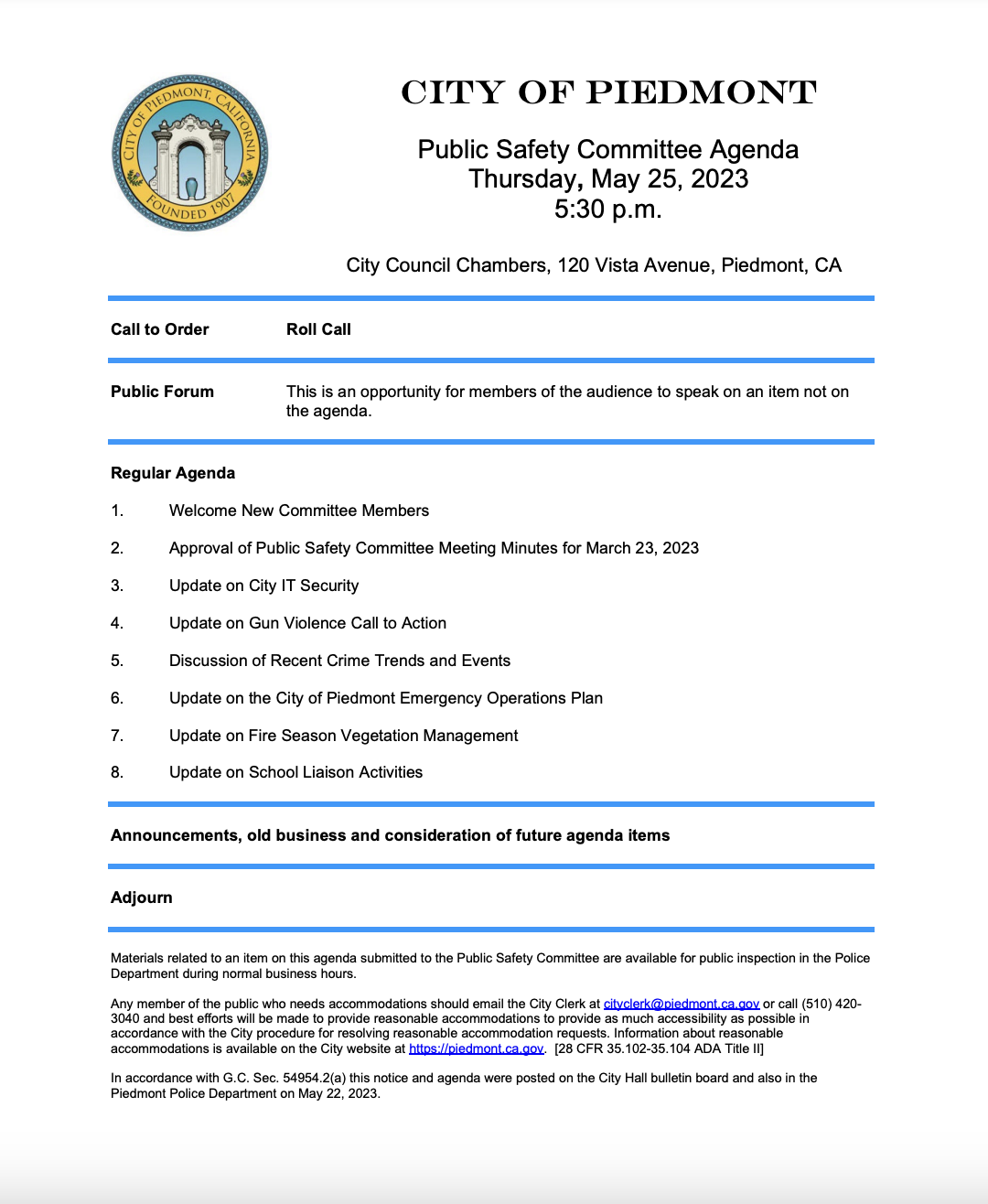 ---
A stolen vehicle was recovered on May 17 in Piedmont, in an incident in which multiple juveniles fled the scene. The Automated License Plate Reader System recorded a hit on a 2013 Kia Soul stolen in Oakland on May 11. A solo Piedmont police officer found the vehicle on Grand Avenue, and attempted a traffic stop. According to Monahan, around six or seven male juveniles and one female juvenile "all exited the vehicle at the same time," and ran north on Grand. No one was identified or apprehended but Monahan said it's possible two entered a backyard while fleeing.
"It is still being investigated," Monahan said.
---
On May 13, a woman was taken to Santa Rita Jail in Dublin after being found "looking into trash cans." Piedmont police found the woman on Highland Avenue at 2:06 a.m. A warrant check found she had bench warrant for burglary.
---
A vehicle wanted in a felony in San Francisco was found in Piedmont on May 14. The ALPR pinged a white 1994 Lexus ES300 at Grand and Wildwood avenues at 1:51 a.m. The vehicle was stopped and the occupants were identified and released. The Lexus towed and impounded.
---
A male wanted on a warrant for grand theft in Rancho Cucamonga was found in Piedmont on May 17. A report came in of a male sitting in a running vehicle on Wildwood Avenue at 5:43 a.m. Police made contact with the individual and found that he had a no bail warrant. He was arrested and taken to Santa Rita Jail.