Piedmont High School's Lucas Smolko made it through to the finals at the West Alameda County Conference boys tennis championships before falling to top-seed Elijah Cho of San Leandro.
Cho defeated Smolko in the finals at Chabot College on April 29, 7-5, 2-6, 7-5.
Smolko's teammate Ben Breber lost to Cho in the semifinals, but finished fourth. He lost to Berkeley's Leighton Sproul in the third place match, 4-6, 6-1, 10-8.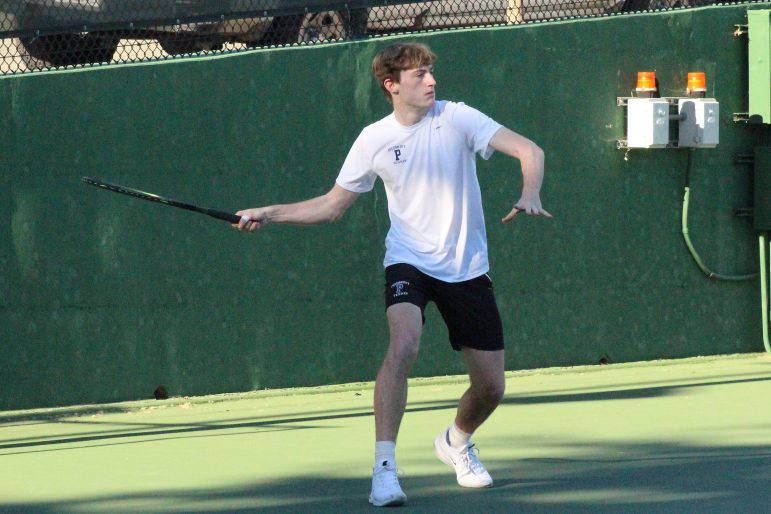 Nate Welch and Arun Brahma teamed to take fifth place in doubles.
Smolko was the second seed in the singles bracket. He got a bye in the first round and then defeated Bishop O'Dowd's Lucas Tanaka on April 28, 6-1, 6-1. Smolko beat the Dragons' Colin Sweeney in the quarterfinals, also by the score of 6-1, 6-1.
In the semifinals, Smolko downed Sproul, 6-2, 3-6, 6-4. Smolko then faced Cho for the third time this season and played well, but couldn't pull the match out.
"It was a thriller with Elijah getting out to an early lead before Lucas came storming back to tie it at 5-5," Piedmont coach Jim Landes said. "Elijah broke with some great returns and went on to take the first set 7-5. Lucas grabbed the momentum in the second set by taking more control of the rallies and hitting some big forehands cross court and down the line. Third set was a battle with Elijah breaking early but Lucas coming back to tie again at 5-5. Lucas played some great defense with a couple of key lobs that kept him in the points. Alas it wasn't to be, and Elijah won the next two games to close out the championships."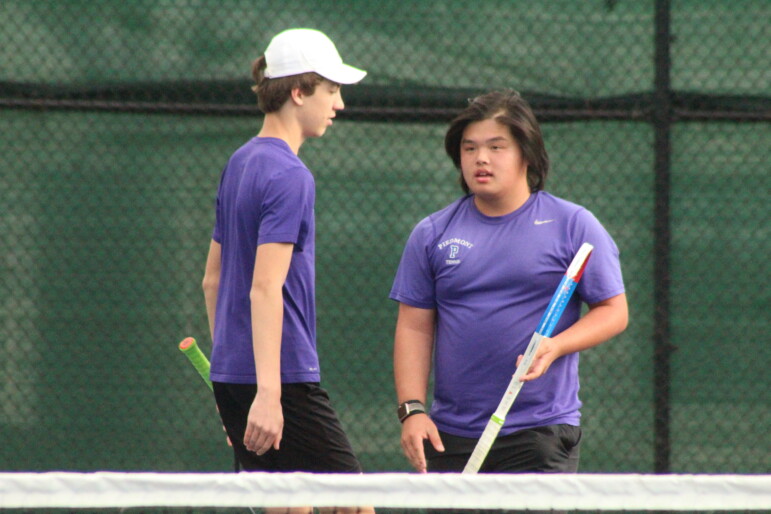 Breber lost to Cho in the other semifinal, 7-5, 7-5.
"(Breber) played the some of the best tennis I've ever seen him play," Landes said. "Ben hit some fabulous forehands, served really well and won a lot of points at the net too."
Ethan Pham also played in the singles tournament and won two matches before falling to, who else, Cho, 6-2, 6-1.
Smolko and Breber both made all-WACC, along with the Highlanders doubles team of Monte Imburg and Brahma.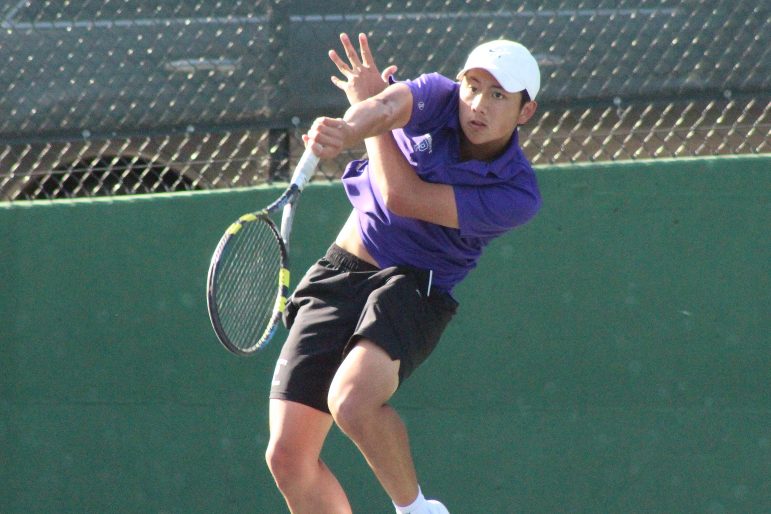 On April 26, Piedmont fell to Berkeley at home, 5-2 in a WACC regular season match. Smolko defeated Sze Ting Chen at No. 1 singles, 6-3, 6-1. Breber fell to Sproul at No. 2, 6-3, 6-2. Pham lost to Celione De Lubrouille at No. 3, 7-5, 4-6, 10-6. At No. 4, Berkeley's Henry Grant beat Alex Zalewski, 6-3, 6-4.
In doubles, the Highlanders' Imburg and Brahma beat Joaquin McCall and Justin Sim in the No. 1 match, 6-4, 6-2. The Yellowjackets' Yanir Charney-Weintraub and Bo Speirs defeated Graham Alban and Nick King, 6-2, 6-3 at No. 2. And at No. 3, Berkeley's Andrew Regan and Will Herndon downed Willie Tenney and Welch, 6-4, 3-6, 6-2.
On April 25, Piedmont beat San Leandro, 6-1. Cho defeated Smolko at No. 1 singles, 7-5, 6-7 (4), 6-3. Breber beat Simon Cho at No. 2, 3-6, 6-4, 6-1. Pham downed Jarrett Feinstein at No. 3, 6-0, 6-1. Imburg defeated Jose Gutterez at No. 4, 6-0, 6-0.
In doubles, King and Welch beat Ket Bunset and Dylan Stauffer at No. 1, 7-6 (1), 6-4. At No. 2, it was Alban and Tenney over Joshua Savage and David Zhu Yang, 6-0, 6-3. And Piedmont's Chris Li and Xiaowei Elias defeated Sander Modena and Zack Lei at No. 3, 6-1, 6-0.
Next up for the Highlanders is a makeup match with Bishop O'Dowd on May 3. The North Coast Section individual tournament begins May 5. Piedmont will apply for multiple at large berths in the bracket.