The Piedmont High School boys tennis team wrapped up another successful season in the NCS tournaments.
Lucas Smolko made it to the Division 2 championship match, falling there to University-San Francisco's Gus Grumet, 6-3, 6-1 on May 16 at McKinleyville High School. Earlier in the day, Smolko defeated Alexander Steele of International-San Francisco in the semifinals in come-from-behind fashion, 4-6, 6-0, 6-3.
"It was a great result," said Smolko, a freshman. "I didn't quite know what to expect being my first time at NCS."

Smolko said he started playing when he was 2 or 3 years old. He has gradually gotten better over the years and loves the game. He said he had never faced Grumet before, although they had played in the same tournament a few times. Steele is a player he has faced before. He said he had won a match over Steele about a year ago.

"I usually start off matches a little slow," Smolko said. "Went down 3-0 in the first but started to come back. I started to get a little bit more confident in my shots, using the wind to my advantage."
On May 15, Smolko won his opening match over Bela Randles of Arcata, 6-1, 6-1. Then, he defeated Bishop O'Dowd's Neo Chai in the quarterfinals, 6-3. 6-0.
Piedmont's Ethan Pham also made the singles bracket. He fell to Lev Cohen of Convent & Stuart Hall-San Francisco, 6-2, 6-3.
In doubles, the Highlanders team of Arun Brahma and Monte Imburg fell in the opening round to Saahil Mishra and Este Liu of Lick-Wilmerding-San Francisco, 6-3, 6-1.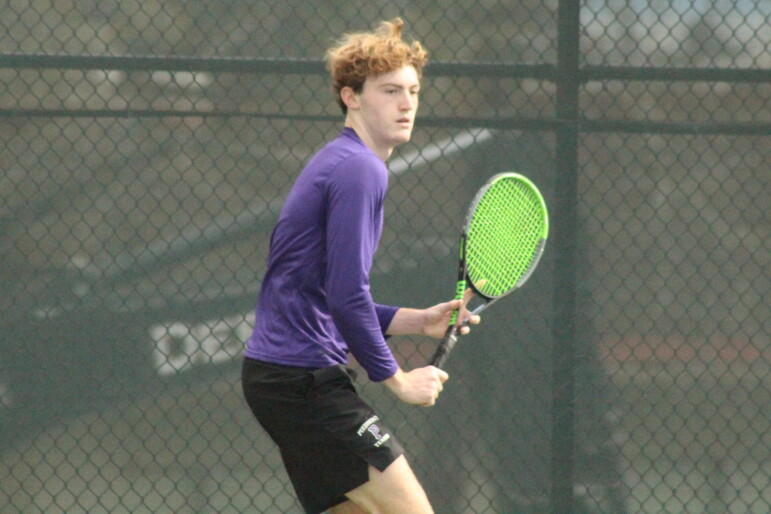 On May 13, Piedmont's team fell to eventual champion Branson-Ross in the NCS Division 2 playoffs, 5-2 at the College of Marin. Smolko won the No. 1 singles match over Jeffrey Huang, 7-5, 6-3. Ben Breber won at No. 2 over Max Goldman, 6-2, 1-6, 10-6.
Everything else went to the Bulls. Chase Hoeveler defeated Chris Li at No. 3, 6-0, 6-0. Ishwar Jayaraman beat Xiaowei Elias at No. 4, 6-1, 6-1.
In doubles, Tommy Higgins and Leighton Fraser downed Brahma and Imburg, 6-1, 6-1 in the No. 1 match. Pete and James Stovell beat Nick King and Graham Alban at No. 2, 6-1, 6-1. And Oliver Goldman and Andrew Peng defeated Nate Welch and Willie Tenney at No. 3, 6-0, 6-2.
Branson later defeated University in the finals. It was the Bulls first championship since 2013. Piedmont has won five titles.
The Highlanders finished the season with a 15-6 record.
Photos by Damin Esper