It's fair to say the current cannabis industry isn't the one your parents once knew.
But your grandparents might. Especially in Rossmoor, the large, gated retirement community just outside Walnut Creek, where the Rossmoor Compassion Society — founded in 2011 as the Rossmoor Medical Marijuana Club — meets monthly.
One April evening, the questions flew and the answers came back just as fast. What type of cannabis is best for sleep? Pain? Anxiety? What's the difference between cannabis with and without THC? How does it compare to prescription painkillers and sleep aids?
About 20 people — many first timers at the meeting — asked questions and swapped anecdotes. The common thread is using cannabis for any number of reasons.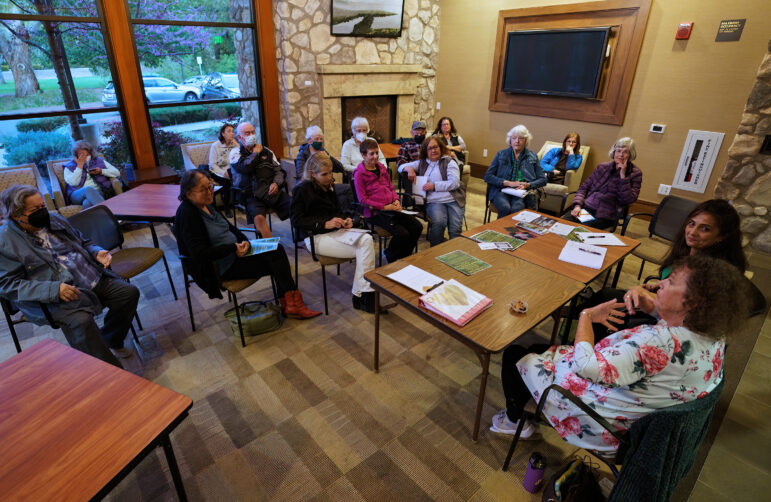 "They ask the many questions that weren't asked before," said Renee Lee, the 70-year-old president of the club. "Before marijuana became legal, it was mostly trial-and-error for many."
Not anymore. Medical cannabis was legalized in California in 1996 and non-medical use for people 21 and over was legalized in 2016. Much of the 20th century stigma of reefer madness has been replaced by sensible and thoughtful approaches to cannabis use. Yes, people still get high from THC — the active ingredient in cannabis, which also comes without THC for the health benefits by which so many swear in 2023.
"Older people are looking for relief from aches and pains, better sleep, specific pain relief for specific conditions and, yes, feeling higher than normal," said Lee, pulling a homemade cannabis-infused muffin from her bag. "Come to a clubhouse room in Rossmoor and ask the experts questions."
"There are lots of questions about the vernacular. There are questions about the differences in effect, what it helps, how and when it should be done," she said.
Lee is a family therapist who started using medicinal marijuana after she lost part of her foot in a 2005 accident.
"I was put on 13 different (medications) and was not functioning. (Medical marijuana) helped immediately, and it helped me get off all the meds and I started getting better," Lee said. "Now many years later I swim and do creative arts, so I think that accommodation [means] all those things are very healing now."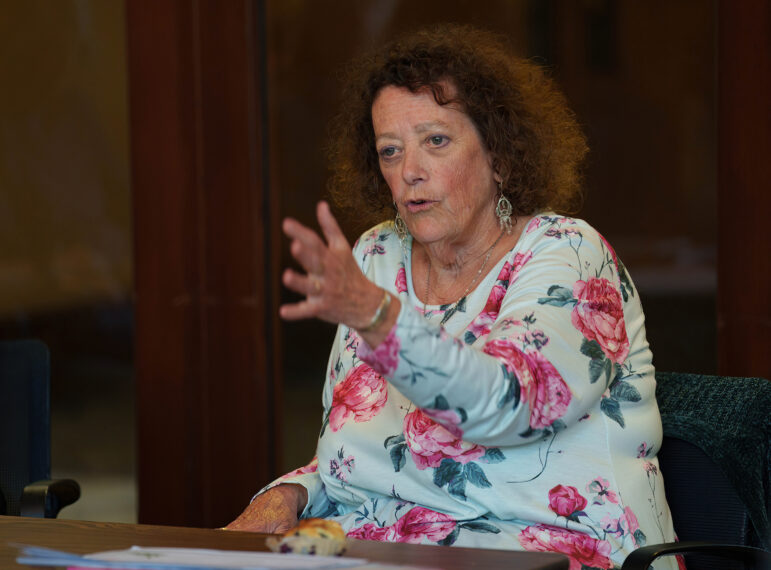 Cannabis/marijuana is now legal in 21 states and two U.S. territories. It's not legal on the federal level yet, but President Joe Biden announced plans last year to pardon everyone convicted of simple marijuana possession at the federal level.
And one of its fastest segments of growth is among U.S. seniors. A study published by the Journal of the American Medical Association in 2020 said cannabis use by Americans 65 and older increased from 0.4 percent in 2006 to 2.9 percent in 2016, then to more than 4 percent by 2018. The use among men between 2015 and 2018 rose from 3.6 percent to 5.7 percent. The rise wasn't quite as sharp among women: 1.5 percent in 2015 to 2.9 percent in 2018.
Between 2015 and 2019, perceived risk associated with regular use decreased among those 65 and older from 52.6 percent to 42.7 percent, according to a study published in 2021 by the Journal of the American Geriatrics Society.
Seniors say it helps them sleep. It helps them move. It helps with pain, which lessens the need to be prescribed more addictive pain relievers like opioids. They say it keeps more seniors away from using alcohol to relax.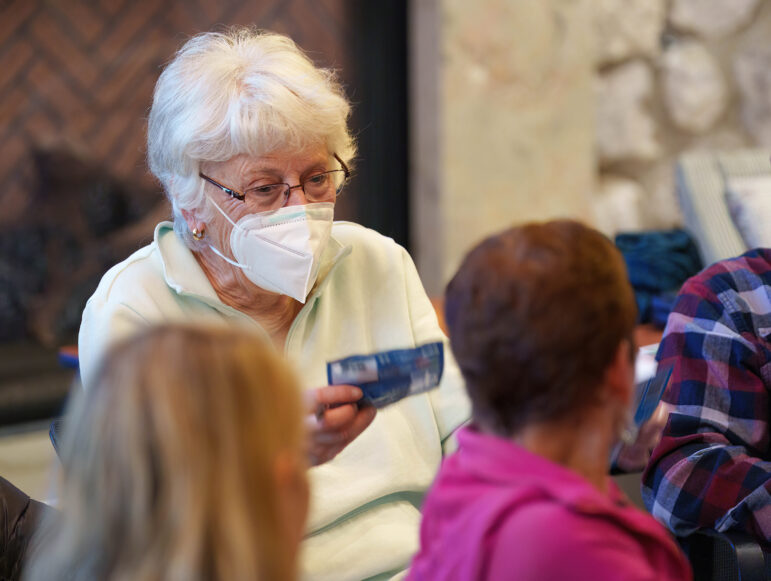 Wendy Peterson said she went to the meeting for reassurance. She brought samples family members gave her to ask about.
"There was some info I needed to know about (using) the right thing for my particular issue, and that's a resource," Peterson said.
"There is no stigma, though I did react to the word 'high.' I don't want to be high. It sounds out of control. It sounds like something you get pulled over for. But I am interested in it."
Before marijuana became legal, it was trial-and-error for many, which can be scary. While the benefits are difficult to ignore, older people are cautious, said Virna Zwingle, whose family owns HerbNJoy, Walnut Creek's sole licensed cannabis provider. Zwingle regularly attends the Rossmoor meetings to answer questions.
"I would be asking too because they're taking so many other medications," Zwingle said. "They have other problems. A lot of them have had, you know, in the good old days they tried something and had a bad experience and now suddenly they're like 'Wait; I don't want to just to get high. I really wanted to focus on what my problem is.'"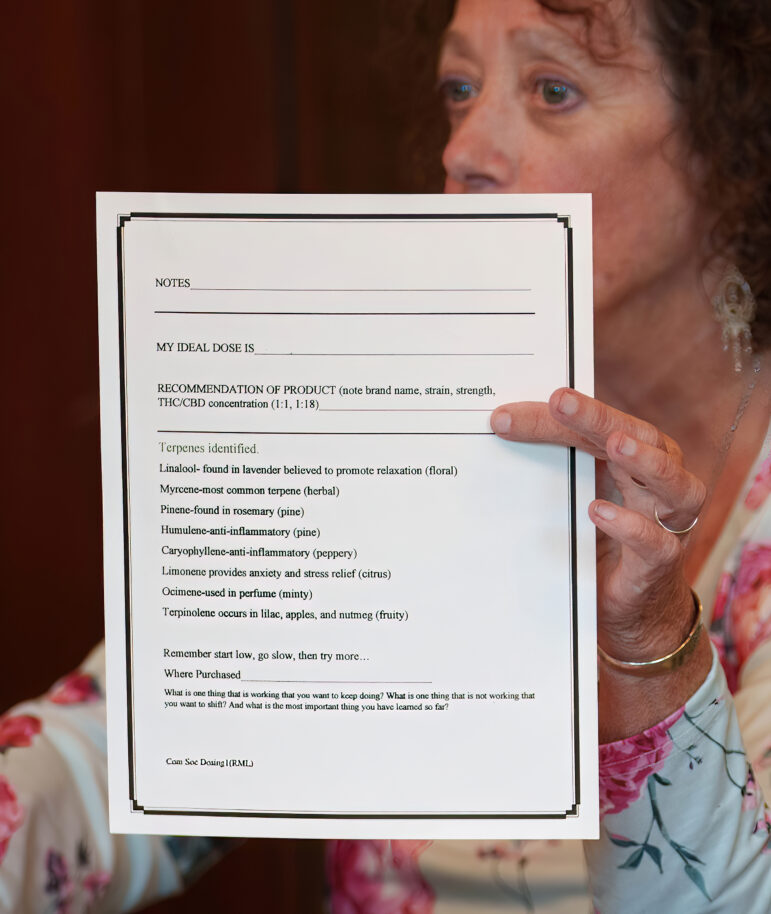 Zwingle said it's best for Rossmoor residents to ask her and Lee questions, rather than taking the word of someone younger, even a professional "budtender," who may have higher aspirations when it comes to cannabis.
"When someone my age or older than me calls and says give me the best product you have for XYZ, the person — the budtender who's 20 years old — the best product for them is the product the highest THC that's going to give you the highest of the high, but that's not what this customer wants," Zwingle said. "This customer is actually looking for the perfect (choice) that will help them with pain but keep them active. The one activity that most people are interested in is how do I complete my gardening, or how do I take a walk, or how will I play tennis while I am consuming," Zwingle said.
Rossmoor resident Dana Corona asked what's best for sleep and when it should be used. Lee explained the different absorption rates of oil versus creams versus edibles. Corona got some from an acquaintance and said it has made a difference.
"I couldn't believe how much they helped me what I just started taking it for sleep this year," Corona said. "I've taken them for headaches in the past but not steady, and then as I've aged, my sleep has gotten worse. I couldn't exercise anymore. (The acquaintance) gave me a lot of support and this changed my life."
Patty Rangel suffered from liver problems and arthritis. She said "mild doses of THC and CBD works."
"I do take gummies and I do research," said Rangel, who asked a lot of questions during the meeting.
"I had arthritis, and I would take a gummy and it would kill the pain just long enough for me to go to sleep."
She said having cannabis regulated in California takes away some of the fear of the unknown. "I think it's medicine," Rangel said. "I'm concerned about the purity of what's available; thankfully it's legally regulated. I haven't seen it be any more hazardous than alcohol, which is legal. So what's the big deal?"
Lee said it's important that people get guidance. "I want people to be able to experience it when they're here with us," she explained. "I make my own oil, then once I teach people how this works, then they understand the product. Everything is made out of oil and you can put it in anything."
People still smoke it, of course, but not in Rossmoor's public spaces. And certainly not in her meetings.
"Right. It's not like people are bringing giant bongs in here," Lee said. "Though that would make for great photos."