A pop-up crosswalk that appeared on Broadway in Oakland last week is part of a plan by students and other safety advocates to shed light on bicycle and pedestrian safety, especially around schools.
The crosswalk at 45th Street outside Oakland Technical High School was the location of a collision between a vehicle and an Oakland Tech student during school hours in March.
Local groups gathered at the site Thursday during "Bike to Wherever Day" to advocate for traffic safety in the area. They included Oakland Tech 10th grader Amalia Campbell, Tech principal Martel Price and the groups Walk Oakland Bike Oakland and Traffic Violence Rapid Response.
"We're trying to make this street better," Campbell said of Broadway, which has two lanes in each direction and 600 feet between intersections.
The four lanes of traffic pose a danger to pedestrians and the long distance between intersections means many cross mid-block, where there were no crosswalks until the pop-up was installed.
Even if cars in one lane stop for a student, cars in the other lane may not see the student.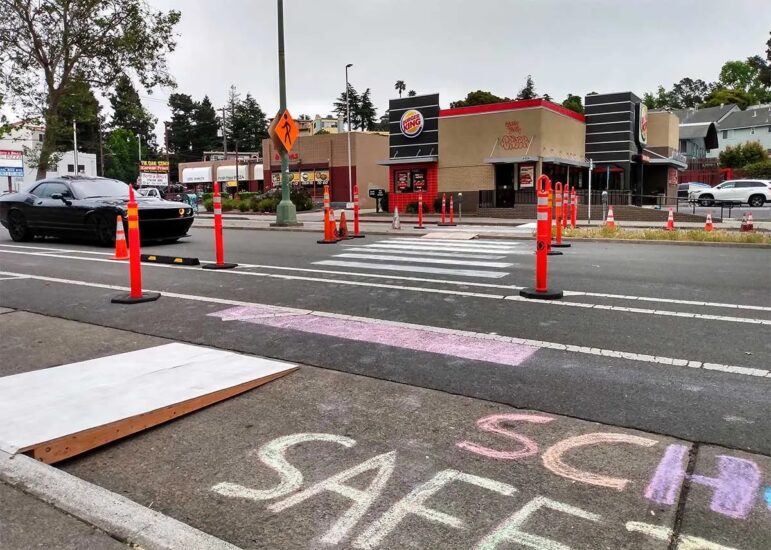 Price said Broadway is a scary area.
Campbell organized Thursday's event with Walk Oakland Bike Oakland and with Price's support.
Campbell has the support of her peers, too. She is trying to show what it would be like to have a permanent crosswalk there. Cars do not stop for students, she said.
Price said the collision spurred people into action. That's when the school and Walk Oakland Bike Oakland started collaborating.
Oakland City Councilmembers Dan Kalb, Carroll Fife and council president Nikki Fortunato Bas also attended the event Thursday. Oakland Technical High School is in Kalb's district.
"I think this is a job not yet finished," Kalb said of the temporary crosswalk.
Of course, the city's transportation department must repair potholes and pave roads, he said, but pedestrian safety, bicycle safety and safer routes to schools must be a priority, too.
Members of Oakland's Public Works and Transportation Committee this Tuesday will get a report on several items including transportation spending and safety for pedestrians, bicyclists and students. The meeting starts at 11:30 a.m. at City Hall.
Bryan Culbertson, co-founder of Traffic Violence Rapid Response, said one lane in each direction is enough along Broadway considering the number of vehicles that use the street. He said four lanes are not necessary.
Culbertson said drivers will not stop for pedestrians on roads with speed limits above 25 mph or on multi-lane roads like Broadway.
He would like to see mid-block crosswalks all the way down the street, which is a main north-south thoroughfare in the city. He envisions limiting traffic on Broadway to one lane in each direction and using the other two lanes for a linear park in the middle of the street. Essentially, "replacing speeding drivers with a pleasant park," he said.
The vision is nice, but it could take a while to create.
Culbertson said one Oakland resident has been trying to get a crosswalk in his neighborhood for three years.
Joe Tena, a parent of an Oakland Tech ninth grader, suggested that more community meetings be held to gather input on safety from residents.
He thinks pedestrians and bicyclists won't be safer until residents rely less on cars.