Spaghetti Western, the two-day youth ultimate tournament hosted by Bay Area Disc Association, took place in Tracy on May 6-7. It is the largest and most competitive competition in the state, bringing teams from Napa, Sacramento, Santa Cruz, San Francisco, Alameda, Oakland, Berkeley, Mountain View, and even Mexico.
Piedmont Middle School's ultimate team, Purple Reign, competed in Division 1 on May 6. This was the team's first time competing in this division. Intermittent rain throughout the day and tough competition resulted in an 0-2 pool play record. But, the team bounced back, winning the 5th place bracket game against Baja Sunset 6-5.
Exceptional zone defense play from Aidan Stewart (6th grade), Drew DeVries (7th grade), Noah Hildebrand (7th grade), Ben McMurtry (6th grade), Ari Lopez (7th grade), Danilo Titterton (6th grade) and Matias Seelenberger (8th grade) contributed to the team's win.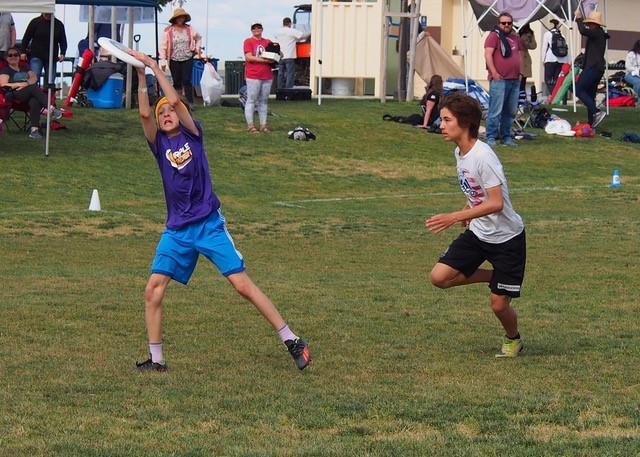 Purple Reign returned on May 7 to compete in Division 2. Wins over Alameda Taurus (11-8) and Davis Sprockets (11-3) put the team in the championship bracket. A semi-final win over the Stanley MS Wildcats (11-3) pitted Purple Reign against the Mountain View Eagles in the championship game. Solid play from 8th graders Leyton Poole and Ryan Wendel, along with stellar defense from 7th graders Ariel Grossberg and Shane McNulty, helped guide Purple Reign to the 11-8 win. This is the program's first tournament win.
"We're incredibly proud of our team. There was gritty play all weekend and it was a full team effort. They supported one another no matter the score and they earned this championship," said Coach Carolyn Stewart.
Photos by Jennifer Poole and Cisco DeVries