It was over in a heartbeat. Tamalpais High School's John Hindley won the opening draw in the second sudden death overtime period, sprinted right down the field, and beat Piedmont goalkeeper Gus Von Metzsch with the shot. Elapsed time: nine seconds.
Hindley's goal ended a terrific high school boys lacrosse match and gave the Red Tailed Hawks a 9-8 win over the Highlanders and their second consecutive North Coast Section Division 2 championship. For Piedmont, it was a heart-breaking loss in a coin-flip game. The Highlanders had built a 5-2 lead in the first half, watched a three-goal flurry give Tamalpais the lead early in the fourth quarter, then mustered the tying goal late to force overtime after their offense had been near dormant for almost 10 minutes.
"The best and worst part of it was that it was so close," Piedmont's Nathan Fredericks said. "We talked about it yesterday in practice how we didn't want it to go to overtime. Sometimes that's how it is. We all played our hearts out. Lots of opportunities came up. Unfortunately we didn't convert on all of them."
Hindley had controlled the draw early and late in the game. At the beginning of the third quarter, a won draw led to a Price Jeffris to James Soenens goal in nine seconds. At the start of the fourth quarter, he won a draw that led to a Chris Travers goal that took just five seconds.
But Hindley said he didn't think Tamalpais had gotten its fast breaks going consistently throughout the game. That wasn't the case on the game winner.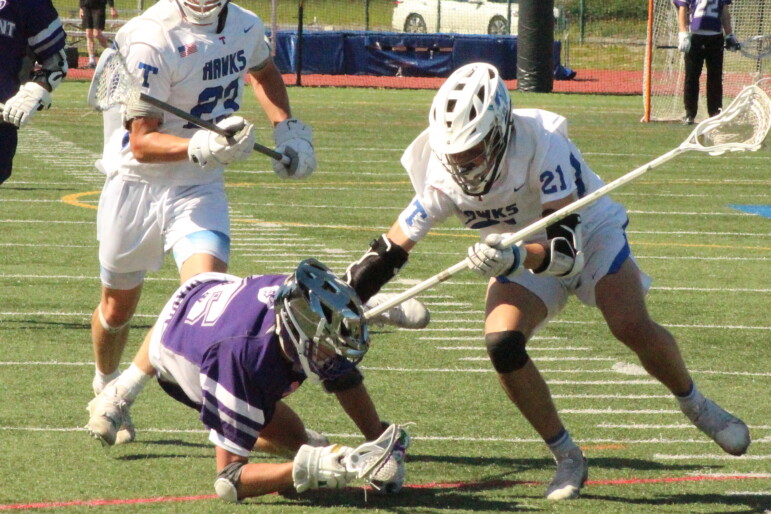 "Our fast breaks hadn't been going perfectly in this game," Hindley said. "I saw the point defender wasn't sliding far enough to me and I thought I could beat him and I took my opportunity, saw an opening, took a shot. It's pretty amazing."
Piedmont finishes the season at 14-5. Tamalpais finished at 18-7.
The Red Tailed Hawks started off controlling possession and scored the game's first goal on a James Soenens shot off a pass from Price Jeffris just 35 seconds into the game. Piedmont got an equalizer from Jack Nelson with 8:36 to go in the first quarter. Tamalpais went back up 2-1 when Jeffris set up Tyler Rothwell with just 37.1 seconds left in the quarter. But then, the Highlanders got a near miracle goal at the end of the period.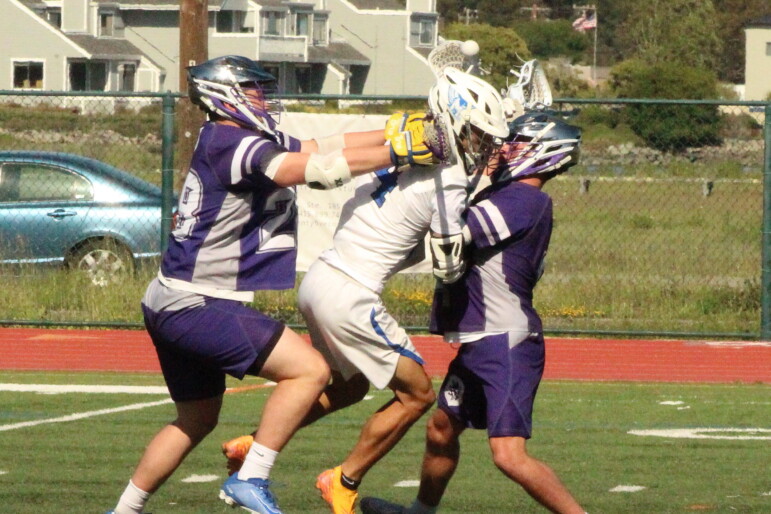 Nelson had taken possession behind the Piedmont net. He flung a long pass upfield to Soren Dixon who got open and flinged a shot past Red Tailed Hawks goalkeeper Marc Medio with just 3.2 seconds left on the clock. It was the kind of play that made you think there may have been some magic in the air for the Highlanders.
Piedmont kept the magic going, scoring the only three goals of the second quarter. The Highlanders did a much better job of getting and keeping possession during the period.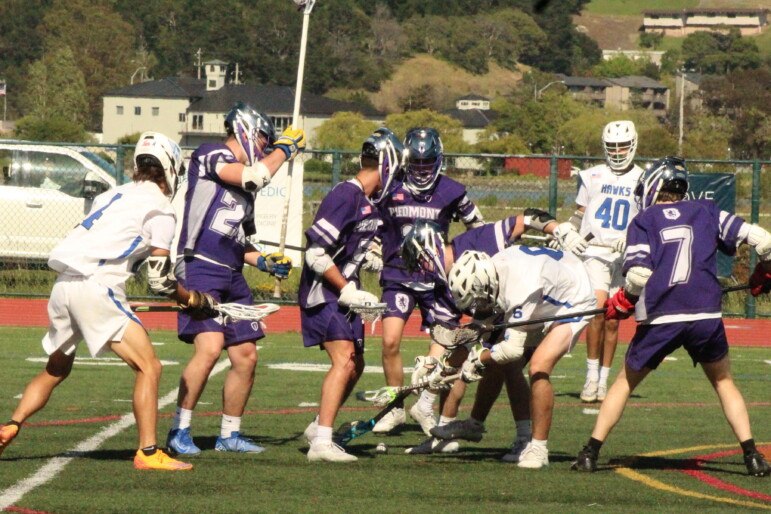 Dixon gave them their first lead with a goal at 7:46. Fredericks made it 4-2 at 5:36. And Dixon set up Fredericks for a goal with 2:07 to go in the half.
"Playing smarter," Dixon said of the difference in the second quarter. "It was a close game in the first quarter, really close. We were like, we've got to step it up, we don't have enough numbers to have it this close all the way through. We started possessing the ball, hitting our shots more in the second and third quarters, first half of the third quarter."
Tamalpais got the early goal in the third quarter, but Piedmont answered quickly with Dixon scoring at 10:48.
Jeffris scored a pair of goals to cut it to 6-5. But again, the Highlanders responded, this time with Fredericks scoring with 51.5 seconds left in the third quarter.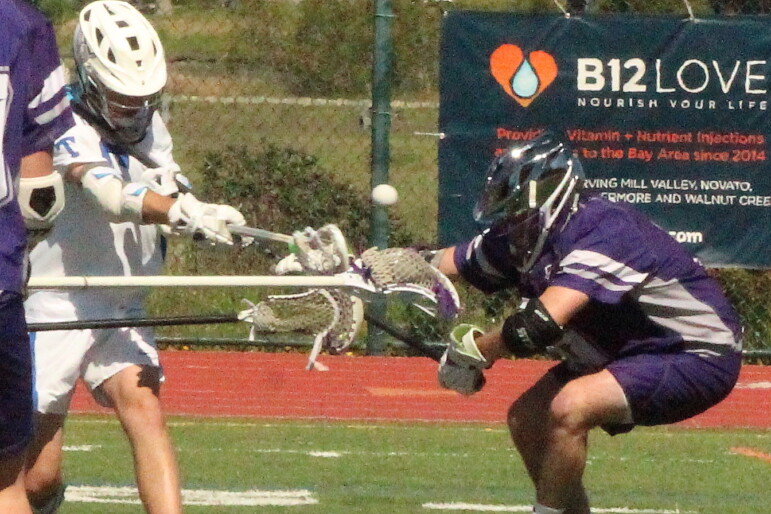 Those answers stopped early in the fourth quarter. Travers scored, then Jeffris set up Jack Knowles for a goal with 9:29 to tie the score. Then, off the draw, Hindley passed to Jeffris who hit Rothwell for the go-ahead score.
"We had too many turnovers," Dixon said. "Either being too aggressive and getting stripped instead of passing the ball around, resting up, or throwing the ball away. That's what killed us because when they have so many players, they can run back and forth. We can't do that. We've got to just settle the ball. We failed to do that, and that's when they came back."
Tamalpais had multiple opportunities to pad the lead but mostly controlled the ball for the next six-plus minutes. Piedmont couldn't get an offensive set until there were fewer than three minutes left.
Finally, Dixon was able to get a shot off that missed wide with 2:09 to go. The tying score came when Nelson set up Dixon in front and the latter put it home, setting off a celebration.
"I've been playing with Jack for 10 years, I knew exactly what he was going to do when the play started," Dixon said. "He takes it right, I'm open on the crease, pass it to me, I dump it in. We just have that chemistry."
The Highlanders got two shots to one for the Red Tailed Hawks in the first overtime. It was looking like that match might keep going for a while until Hindley ended it.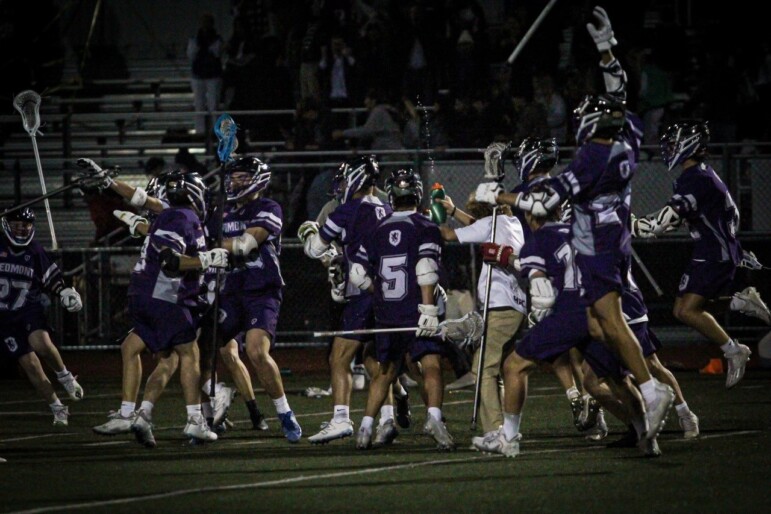 Piedmont made the finals by defeating Acalanes on the road on May 9 by the same 9-8 score, also in double-overtime. Dixon scored the golden goal with 2:43 to go in the second overtime period.
Fredericks had four goals and Dixon three in the win. Jack and Rylan Nelson each scored a goal.
The Dons were led by Zach Appel and two goals from Cooper Olson.
Acalanes had an 8-7 lead in the fourth quarter before Fredericks scored with 4:25 to go to tie the score.
Dixon noted the obvious, especially given the depth issue – Piedmont has a much smaller roster than either Acalanes or Tamalpais.
"We went to double-overtime against Acalanes in the semifinals, we didn't really want to have to do that again," he said. "We don't have that many players, so it's hard to play a super-long game like that. But it's always super-fun to go to the golden goal period of the game, every shot you take might be the game-winner. That's why you play, for those type of games. You can't win them all.
"Unfortunately, we lost this one. It's a pretty big one. It sucks. I'm a senior."
Said Highlanders coach Alex Yu, "We took Acalanes double-overtime and were able to pull that one off. This was a great game all around. To ride the starters we do, we have a lot of players that don't come off the field, and they played with heart. All the way through."
The group of seniors, including Dixon, Fredericks, Noah Lindenbaum, Jack Nelson, Bailey Cain, and Henry Brayer, who missed a few games with a torn labrum, was a key to the great season.
"I wouldn't have wanted to do it with another group of kids," Fredericks said. "Win-lose, I had a blast."
Dixon noted that the group started in second grade when he first played lacrosse with Nelson.
"I've always been been friends with Jack, then Henry moved in, started played lacrosse together, we became best friends," he said. "Then Nate started playing with us. Now Nate and I are great friends.
"We've really all bonded over playing together for 10 years. Now we have the best chemistry out of any team I have ever played on or even played against. It's an amazing experience to play with these boys for so long and have such a successful career."
Photos by Damin Esper