The Piedmont High School boys lacrosse team earned the third seed in the North Coast Section Division 2 playoffs after beating Bishop O'Dowd in the West Alameda County Conference championship game.
The NCS brackets were announced on April 30. The Highlanders will host No. 14 Rancho Cotate-Rohnert Park on May 2 at 7 p.m. at Witter Field.
Piedmont beat Bishop O'Dowd 14-6 in the WACC finals on April 27 at Bishop O'Dowd. The Highlanders (10-4) scored the first four goals of the match and never trailed. The Dragons did cut the lead to 4-3 in the second quarter, but Piedmont regained control and pulled away in the second half.
Soren Dixon scored six goals to lead the Highlanders. Jack Nelson had four along with an assist. Nathan Fredericks had three goals and three assists. Rylan Nelson scored the other goal for Piedmont. Oliver Shafroth contributed an assist.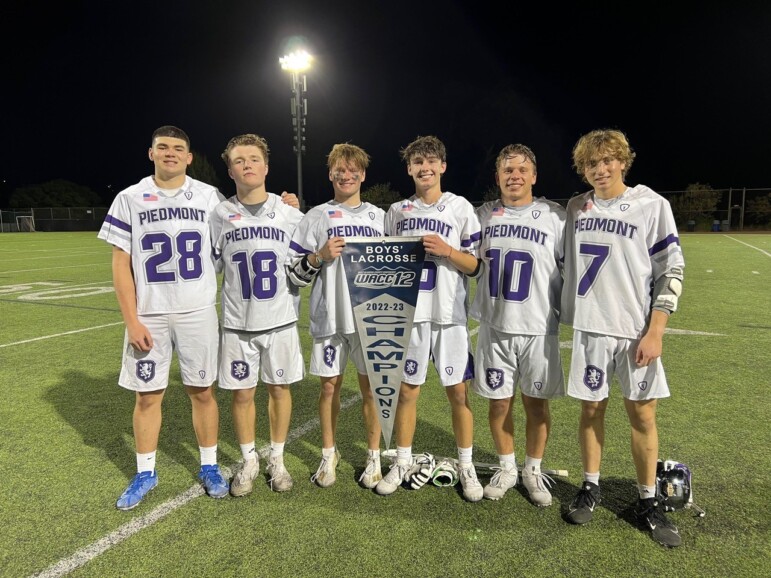 Jacob Glasgow had three assists for Bishop O'Dowd. Beckett Votel, Diego Paredes, and Julian Scott scored one goal apiece for the Dragons. Scott added an assist.
On April 24, the Highlanders defeated Washington-Fremont in the semifinals at Washington, 16-7. Fredericks led the way with five goals, while Rylan Nelson had three to go along with two assists. Shafroth had two goals and four assists, while Dixon had two goals and two assists.
Timmy Kalamas scored two goals, and Jack Nelson, and Andrew McLaughlin had one apiece.
The Huskies got two goals each from Johnny Briggs and Hayden Harrison.
On April 22, Piedmont beat Serra-San Mateo 12-9 in a nonleague match at Witter Field. The game was a makeup of a rainout. Fredericks scored seven goals. Dixon and Curtis Hohener each scored twice. Jack Nelson had the other goal.