The end came quickly, which is a funny thing to say about a baseball game that took 12 innings over two days to complete. Dimitri Papahadjopoulos singled in Peter Krumins with the winning run in the bottom of the 12th to lift Piedmont High School to a 4-3 victory over visiting Branson-Ross. The Highlanders advanced to the second round of the North Coast Section Division 4 playoffs.
It was, in other words, a fantastic high school game.
Even the guys in the other dugout appreciated what a great game it was.
"It was really tense throughout the entire game," said Branson's Will Ashley. "There were times they had man on second, man on third, and they didn't execute and then we came back the next inning and did the same thing. And just back and forth, back and forth like that. My heart was pounding. I was sweating out there at third base. That's what makes baseball so fun, tense moments like that. I'm just glad I could be a part of it."
Piedmont was very obviously happy to pull the game out.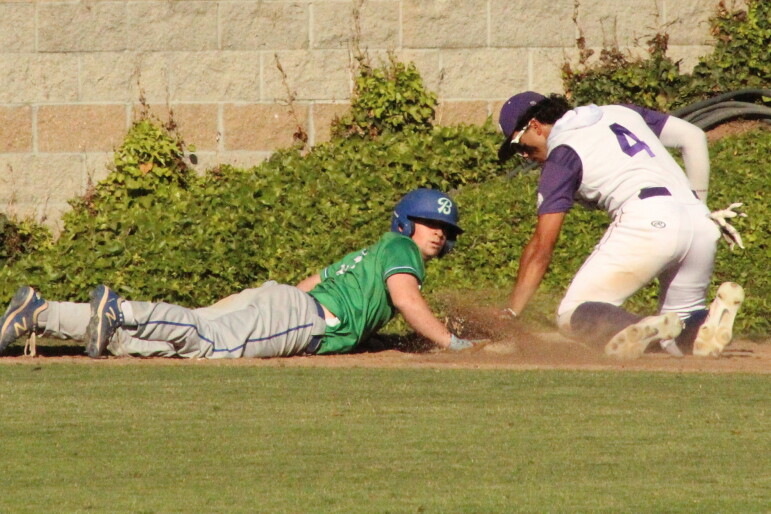 "It means a lot to this whole season," Krumins said. "We've only had 11 varsity guys that started on this roster. A lot of teams, like Berkeley and O'Dowd, they've got 22-man rosters, which is our whole program. We're all like Swiss army knives. We all have a job to do."
The Highlanders (13-10) will travel to face No. 1 seed Fortuna on May 20 in the second round. They'll likely do it with Michael Aikawa on the mound and a pretty stretched out remainder of the staff behind him.
The win over Branson started on May 17, but was suspended after 11 innings with the score tied 3-3. Sunset was fast approaching when umpires called it.
On May 18, the game resumed in the top of the 12th. Seve Sanchez came on to pitch for Piedmont. Tom Lardner led off with a single for the Bulls but was retired on a double play. Sanchez then got Noam AuYeung to ground out for a quick inning.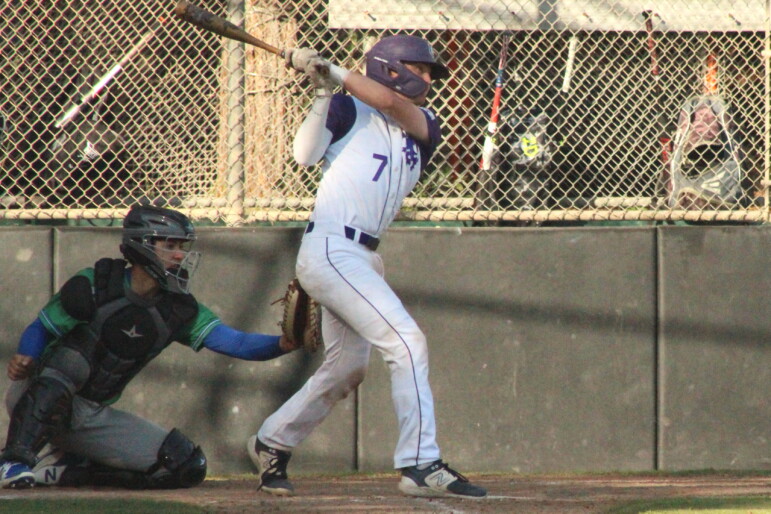 The game was supposed to restart at 5 p.m., but instead started about six minutes early. People were still walking in as Piedmont came to bat.
Krumins led off with a double to left and advanced to third on a throwing error by left fielder Morris Jacoby. Papahadjopoulos then singled to right on a 2-1 pitch to end the game.
"I took the first pitch," Papahadjopoulos said. "It was down the middle. Nerves got a little high there. I just kept myself calm and executed. Just seeing a pitch."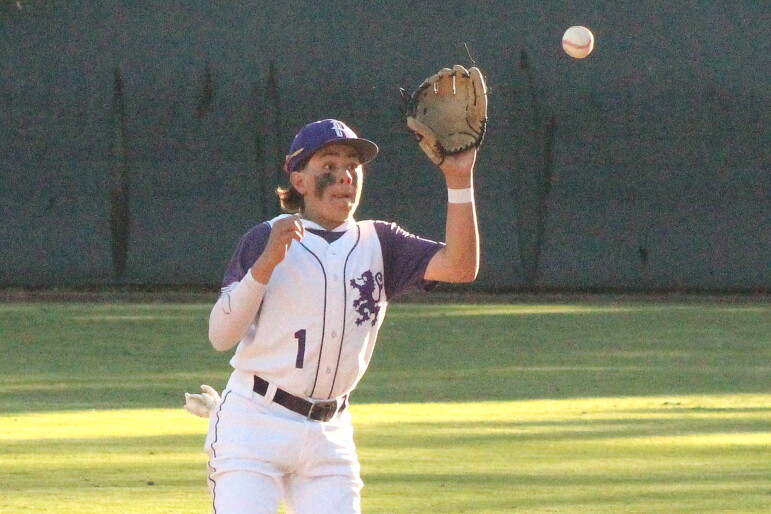 Krumins said the pressure with the restarted game was also different than coming up for the first time in a normal game.
"It's not a normal game, you can't have those first inning messups," he said. "Oh, we'll get it back in the second inning. This is it. I always try to put myself in the position of the pitcher. If I'm the pitcher, I'm going to challenge this guy."
Sanchez got the win but the hero may have been Ryan McConathy. He threw four innings of shutout ball in only 42 pitches, the longest he has gone since returning to the mound from Tommy John surgery mid-season. Not only that, it was innings 8, 9, 10 and 11 with the season on the line.
"I came into it hoping to only go one inning because we want to win the game and get out of here," McConathy said. "I told coach (Eric Olson) my arm has been feeling good and I can go however long he needs me. I'm fully healed up now. After every inning I went back in the dugout and I tell coach I can go one more if you need me."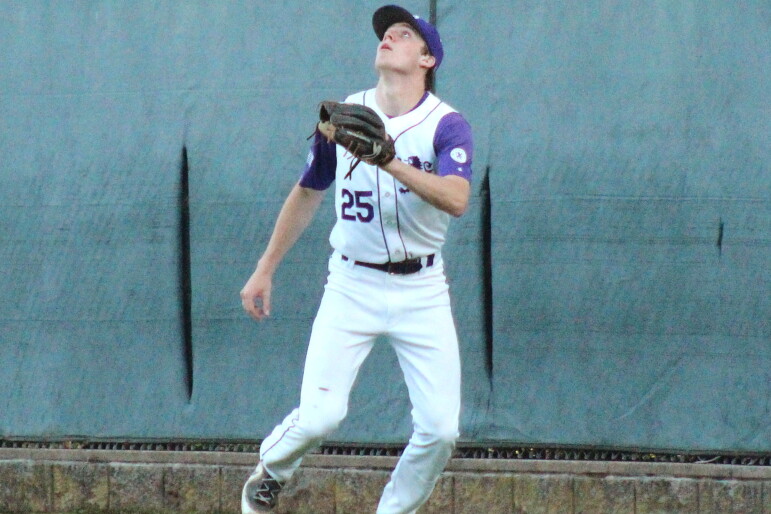 Said Papahadjopoulos, "The bounce-back is amazing. A lot of people didn't think he'd be playing this season, at least on the mound. It's great to see."
Krumins was impressed as well.
"Just to see him go out four innings without any pain in his elbow," Krumins said. "That's just crazy. I support him a lot for how much work he gave.
"You should see him when he wants to go one more. He wanted to pitch today. It didn't matter how many pitches he threw yesterday."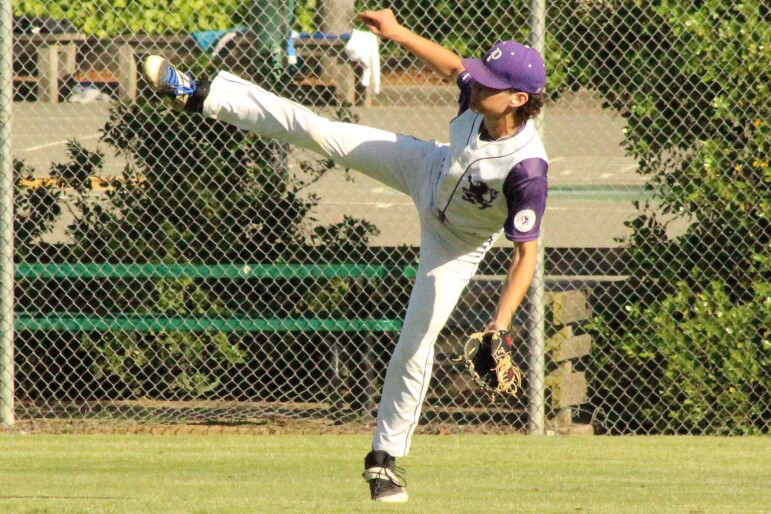 In the 11th, McConathy allowed back-to-back singles to Liam Parrot and Kaden Gustafson to start the inning. He then got Luke Shane to ground into a short-to-second-to-first double play.
"It was not looking too good," he said in a tiny bit of an understatement. "I gave him a hanging slider earlier the first time he faced me and I knew I had to start pitching him outside. I threw him a cutter outside and he rolled over on it and we ended up getting a double play out of it. And that was huge."
With Parrot now on third, McConathy got Jacoby to ground out to end his day. Piedmont got two runners on in the bottom of the inning on a pair of walks, but couldn't score. Then, the umpires called the coaches and scorekeepers to home plate and suspended the game.
Branson scored two runs in the third and one in the fourth. The Highlander pitchers then posted eight shutout innings. Krumins went the first 4 1/3, allowing the three runs on five hits. John Olsen went the next 2 2/3, allowing no hits. Next came McConathy.
The Bulls were just as good. Piedmont scored two in the first and one in the fifth and then was shut out for seven innings. Wilson Wendt went the first four-plus, allowing three runs on five hits. Jacoby threw four innings, allowing no runs on two hits. Ashley came in for three, allowing no runs on no hits. Gustafson came on for the 12th and took the loss.
Papahadjopoulos doubled in two runs in the first to give the Highlanders a 2-0 lead. Ashley doubled in two to tie the score in the third. Branson went up 3-2 on a Tom Lardner sacrifice fly in the fourth. Piedmont tied it up on an error in the fifth.
Lardner summed up the game as well as anybody.
"Going into the eighth, I was just thinking wow, this was so much fun," he said. "I wasn't really thinking about the score. I was having such a great time. This was the best baseball experience I've ever had."
Photos by Damin Esper