Piedmont High School's badminton team recorded a 9-6 win over visiting San Lorenzo on May 2 at the Eastbay Badminton Association in Emeryville to wrap up the West Alameda County Conference Shoreline Division championship.
The Highlanders swept the girls singles, boys doubles and mixed doubles matches. San Lorenzo swept the boys singles and girls doubles.
Nasreen Schulze, Maddie Xiong, and Adele Puccio won the girls 1-2-3 singles, respectively.
"I'm really happy for the team," said Xiong, a sophomore. "We have a lot of new players this year. First day was a little intense. Each player has gotten better. My game has definitely improved. My smash has gotten better and my defense has gotten better."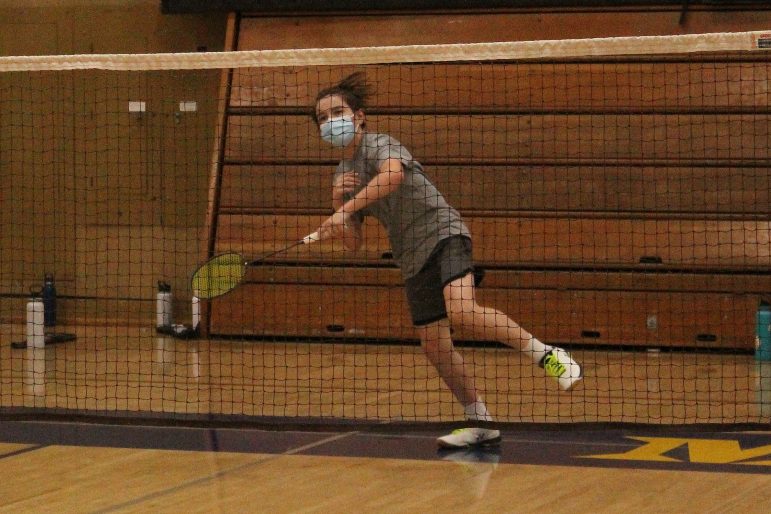 The team will next play at the WACC championships on May 6.
"Our team can get first," Xiong said. "I think our team has a really good chance."
Senior captain Gary Zhou teamed with Ivan Munn to win No. 1 doubles. He said he was not "super-confident" the team could win the division before the season.
"We improved a lot this year," he said. "Most of the team is more developed than I thought they would be. They really listen. Some of these young freshmen really wanted to win."
Senior Ethan Tran played with Mandy Tang in the second mixed doubles match against San Lorenzo. He also played boys doubles with Zhou this season.
"We had a lot of freshmen," he said. "They used to be at the bottom of the lineup. Now, they're at the top."
Tran said his game has improved as well.
"Last year, I was more rushed with my shots, now I'm more precise," he said.
One of the freshmen who made the roster was Evolette Mak, who didn't play against San Lorenzo, but normally plays singles.
"Our team's not small, but we still have a really good dynamic," she said. "We communicate with each other really well."
Coach Fiona Lai agreed with that.
"The team communicated a lot with each other," she said. "I'm happy."
She said she expects one of each of her doubles teams to have a good chance to advance to the North Coast Section tournament.
Piedmont beat Berkeley, 9-6 on April 27. The Highlanders defeated Tennyson, 13-2 on April 25. They downed Hayward, 14-1, on April 20. Two days before that, they defeated Encinal, 9-6.
Castro Valley beat Piedmont on March 23, 13-2, and Alameda beat Piedmont on March 30, 14-1. The Highlanders handled Mt. Eden on March 28, 10-5. San Leandro downed Piedmont on March 21, 10-5. The Highlanders defeated San Lorenzo, 10-5, on March 16, and beat Berkeley, 8-7 on March 14. And back on March 3, Piedmont defeated Hayward, 14-1.