Oakland's teachers resumed instruction Tuesday after nearly two weeks of walking picket lines and negotiating an ambitious list of contract demands, including increased pay, reduced class sizes and housing assistance for homeless students.
Oakland Unified and its teachers union reached a tentative agreement on a three-year contract over the weekend that included changes to the salary schedule that gives most union members a 15.5% salary bump, with larger increases for newer teachers. Teachers also would get a $5,000 bonus, and bilingual teachers would earn an annual stipend.
The tentative agreement, which will end an eight-day strike that began May 4, also includes "common good" items, such as shared governance of community schools, free transportation for students and the creation of Black Thriving Community Schools.
"Beyond the economic gains, this hard-fought tentative agreement, if ratified by our members, will help ensure that educators, parents, students and other stakeholders have a voice in the decision-making process," said Kampala Taiz-Rancifer, vice president of the Oakland Education Association.
The union represents teachers, nurses, social workers, psychologists and librarians.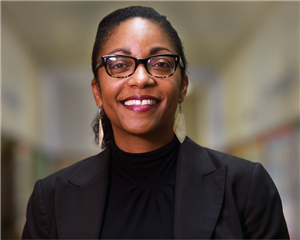 Superintendent Kyla Johnson-Trammell described the agreement as a significant step toward moving the district "from a history of crisis to a culture of stability" at a news conference Monday.
"Since becoming the superintendent in 2017, my goal has always been to stabilize the foundation of our district through fiscal stewardship, so that eventually, we could position ourselves to pay our teachers and educators what they deserve," she said. "And I want to underscore, we realize we're not there yet, but this is one crucial step toward getting there."
The agreement will cost the district at least $70 million, district officials said, which may be a challenge to cover in the coming years, especially if enrollment continues to decline. Some elements of the agreement, such as expanded arts programs and career pathways and presumed lower teacher turnover, may actually attract more students to the district, offsetting some of the losses, Johnson-Trammell said.
Although the strike is over, classroom instruction will not return to normal until Tuesday. District staff were on campus Monday to work with students, but teachers were not required to be on campus, according to the district website. District officials said teachers did not get paid for the days they were on strike.
Kylise Hare was one of the teachers who chose to return to the classroom Monday morning. The ninth-grade biology teacher at Oakland Technical High School waited eagerly for her students to arrive, but none did. Hare learned later that some of her students showed up at the student center asking for her but left because none of the staff there knew she was in her classroom.
Coming to school was still worthwhile, Hare said. She ran into a group of her former students heading out for a field trip. They shared hugs. Her principal gave her a big hug.
"I am very happy," she said. "I'm super happy to see the kids. I had so many hugs."
Hare planned to stay at school and complete some grading. She plans to discard any grades that do not improve a student's overall grade because there are only eight days left for students to make up work or improve grades before the school year ends.
Negotiations on a new contract have continued since October but gained new urgency on May 4 when district teachers went on strike, claiming district officials were not negotiating in good faith. The strike lasted seven days, causing concern that it would end the school year early.
"I'm obviously very excited for them to go back," said Nuria Bertrand, parent of a child at Melrose Academy. "That is a universal feeling for all the parents. Of course, there are challenges. Having kids at home suddenly posed problems for parents."
Bertrand and her wife joined 10 other families with children in kindergarten and first grade to form a cooperative to educate and supervise their children during the strike. Parents worked in pairs, taking morning or afternoon shifts at a park in Oakland Hills.
Bertrand supported the strike. Low pay is pushing teachers out of the district, and families are pulling their children out of district schools, she said.
"I think they were fighting for an overall better school experience, which I really admire. They weren't just fighting for themselves, to get better wages; they were looking more systematically at the problems in the district," she said of the teachers.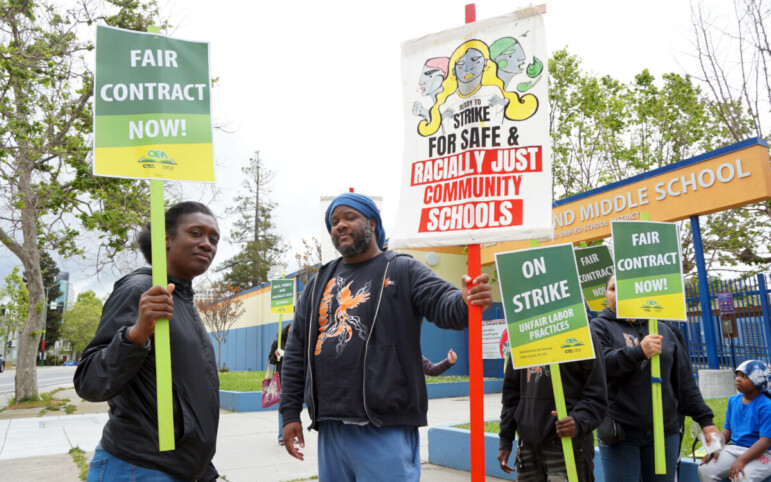 The teachers' union initially asked for a 22.9% pay raise for the teachers, counselors, psychologists, social workers and librarians that it represents.
District educators are paid some of the lowest salaries in the region. Last year, teachers were paid between $51,905 and $97,980, depending on their seniority and education level.
An EdSource analysis earlier this month showed that Oakland had among the lowest-paid mid-career teachers statewide. Of California's 25 largest school districts that filed teacher pay data with the state, Oakland ranks 20 in actual pay and 22 in pay adjusted for local cost of living. Three of the largest districts did not file pay data with the state.
The low pay has resulted in a high turnover rate, with many new teachers gaining experience and then moving on to districts with better pay.
It has also resulted in a high number of under-prepared teachers working on emergency credentials in Oakland classrooms. An EdSource analysis of 2020-21 data found that the district had the lowest rate of teachers, 57%, assigned to classrooms they are credentialed to teach, compared with other districts with more than 10,000 students.
State Superintendent of Public Instruction Tony Thurmond and a team from the California Department of Education helped to mediate the negotiations.
"I am also glad that this contract results in higher pay for the deserving school staff who are working in one of the most expensive parts of the state," Thurmond said in a prepared statement. "Their experience represents the need for our systems to find ways to provide better compensation for school staff all across the state."
The tentative agreement also includes "common good" items that district officials initially said were outside the purview of contract negotiations. The district eventually agreed to negotiate on several of the items, although they included language in the agreement that indicates that this agreement does not set a precedent for future contract negotiations.
Johnson-Trammell also said she supported the "common good" elements of the agreement as a way to combat declining enrollment and boost attendance overall. Extra services are especially important as schools emerge from the pandemic, she said.
One agreement would ensure shared governance of community schools, including Black Thriving Community Schools, which would be established at schools with a Black student population of more than 40%.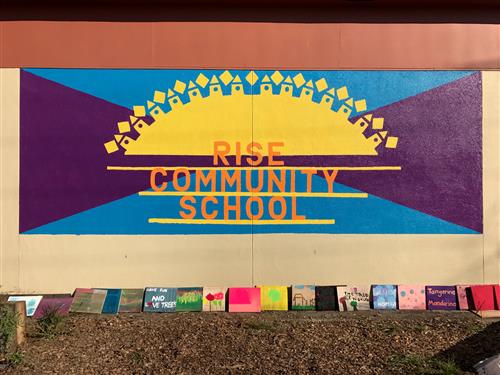 Community schools would offer additional support and services to students and their families. Under the new contract, committees governing community schools would be made up of teachers, union members, district officials, parents and students, according to the union.
The agreement changes the makeup of the district committee governing community schools, which are funded by the state Community Schools Grant. It offers four seats each to teachers, members of other district unions, parents and students. Five district officials can sit on the board.
The district also agreed to work with the union, public agencies and nonprofit organizations to identify homeless and housing-insecure students enrolled in the district and to offer them housing assistance. They agreed to look for district locations that could be developed into housing for families in need.
Teachers also won concessions on traffic safety and student transportation, expanding free bus passes to all students and prioritizing students who qualify for free and reduced-priced lunches.
"The strike wasn't just about teachers being able to earn enough to put a roof over their head in high-priced Oakland," said Oakland Education Association President Ismael Armendariz.
"The strike was also about students and their families having a roof over their heads and a more holistic approach to meeting our students' needs."
Cecily Myart-Cruz, president of United Teachers Los Angeles, who was in Oakland to join teachers on the picket line, said she was "very happy, very gratified Oakland Unified came to its senses" and reached an agreement with the union.
"Common good" demands were also part of the UTLA negotiations with Los Angeles Unified. Myart-Cruz expects them to be part of most contracts across the state. Incorporating these services into contracts means that districts must continue providing the services, even if the funding goes away, she said.
"This is righteous work we're doing," she said.