Steven Rowley introduces The Celebrants | A Great Good Place for Books | June 3
One of the thrills of turning the corner on covid is the resumption of face-to-face, elbow-to-elbow, in-person appearances of writers on new book tours. Hosted by GGPB, early June brings best selling author Rowley to the cozy shop for a conversation about his latest novel. Rowley's previous novels include Lily and the Octopus, a Washington Post Notable Book of 2016; The Editor, an NPR Best Book of 2019; and The Guncle, semifinalist for the Thurber Prize for American Humor, Goodreads finalist for Novel of the Year, and one of NPR's Books We Love 2021.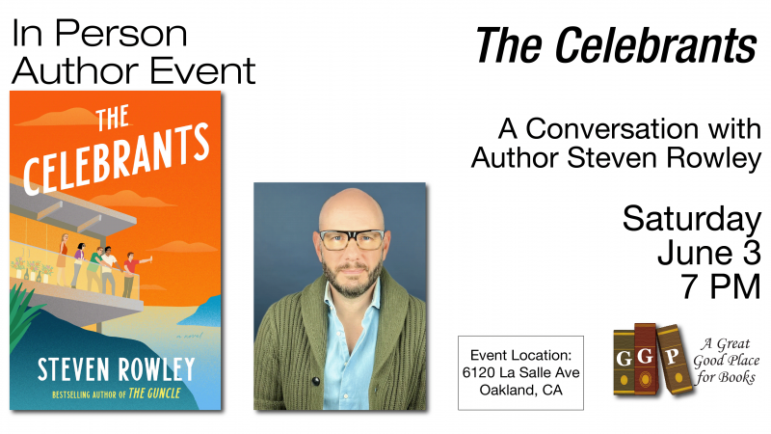 With Celebrants, Rowley turns his gaze on five Cal alumna who 28 years ago formed a pact to hold "living funerals" for each other whenever any one of them reached (and survived) a crisis point. But this time, they find themselves confronted with a doozie. The quintet, all of them now 50 years old, face one man's terminal cancer and a real funeral looms. Far from a downer, Celebrants is about the friends who have your back and hold your hand when trouble reaches the level of terrible. With Rowley appearing in-person, there's no reason to miss out on hearing him read and talk about his work.
June 3 | 7 p.m. | Free | ggpbooks.com
---
Aisha Harris book launch for Wannabe | Mrs. Dalloway's | June 14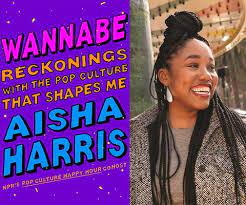 Local author and NPR personality Aisha Harris is celebrating the launch of Wannabe: Reckonings with the Pop Culture That Shapes Me, her new book of essays. Touching on the culture that shaped her during childhood and adolescence, Harris frames them in today's cultural influences on children, youth, and adult life. On NPR, Harris is known to dig into music, television, movies, and other entertainment genres to tickle out the political, social, and pop culture implications. Applying the same keen eye and analytical intellect, the nine essays have Harris investigating the origins of her name, fandom run amok, artists' identity in the age of social media, the backlash that erupted when Disney cast a Black actor as Ariel in the live-action remake of The Little Mermaid, among others. Harris in 2018 became The New York Times' assistant television editor on the Culture Desk and culture editor for the Opinion Desk. She holds a bachelor's degree in theatre from Northwestern University and a master's degree in cinema studies from New York University. Based in Oakland, Wannabe is her first book.
June 14 | 7 p.m. | Free | Limited seating, pre-registration required | mrsdalloways.com
---

Dorothy Lazard: "Placing yourself in History" | Oakland Public Library, Main Branch | June 15
Lazard is the lauded former head librarian of the Oakland History Center and has in 2023 published her coming-of-age memoir, What You Don't Know Will Make a Whole New World." Moving with her family to Oakland in 1970, Lazard as a child was enamored with reading and writing. Drawing on location- and time-specific experiences that led to Lazard earning a bachelor's degree in English/Creative Writing from San Francisco State University, her life took a turn when she decided to apply to library school at UC Berkeley. Lazard went on to manage two libraries on the UC campus and in 1999 earned a Master's of Fine Art in Creative Nonfiction from Goucher College (Baltimore, Maryland). During the decades working as a librarian, she continued to write, her work appearing in Essence Magazine; Oakland Noir; OHA News; and various literary anthologies. This conversation with Lazard at the library's main branch will offer visitors insights about writing memoirs and helpful advice and techniques for shaping a family story within a specific location and time. The program is presented by the Oakland Heritage Alliance.
June 15 | 6 p.m. | Free | oaklandlibrary.org
---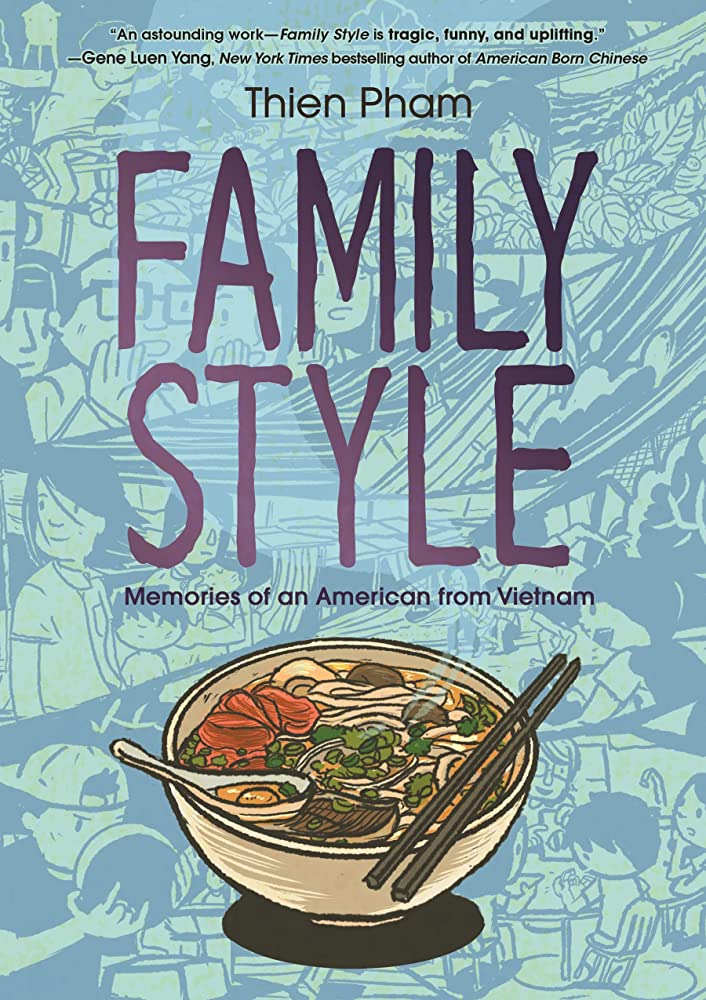 Thien Pham launches graphic memoir Family Style | Mrs. Dalloway's | June 20
Author/illustrator Pham's young adult graphic memoir Family Style : Memories of an American from Vietnam, finds its origins on Instagram. Now sharing his most significant childhood memories on the printed page, he tells a story that places food at the center of the narrative. From Vietnam to a refugee camp in Thailand to eventually resettling in California, Pham and his family find belonging and comfort in the various meals they eat along the way. Everything from seafood and strawberries to steak and potato chips plays a part. Pham calls upon his many considerable talents—storyteller, comic artist, educator—to create dynamic images that reveal a compelling immigrant story. He will be joined in conversation by award-wining writer/illustrator Gene Luen Yang, whose middle-grade graphic novel Level Up was illustrated by Pham.
June 20 | 7 p.m. | Free, but pre-registration required | mrsdalloways.com
---
Katy Rose Pool with her new YA Fantasy/Thriller, Garden of the Cursed | Books Inc., Alameda | June 20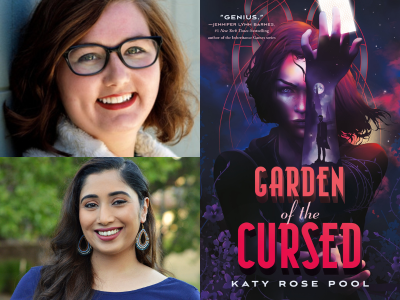 Oakland-based Pool will be joined in Alameda by local author Akshaya Raman to discuss Pool's newest YA book, Garden of the Cursed. The fantasy thriller involves romance, curses, mystery and disappearances. Protagonist Marlow Briggs can break even the fiercest, firmest curse, but has yet to solve the mystery of her mother-gone-missing. Presented with a new case she loathes to accept but knows it is the only way to find the answers she seeks, Briggs finds herself in a trap filled with lies, false power and more. Pool is the author of the Age of Darkness trilogy and holds a history degree from the UC Berkeley. Raman earned a degree in biology from UC Davis, pursuing a career in science with a goal to write books.
June 20 | 7 p.m. | Free | booksinc.net **
**A special note about Books Inc's famous warehouse sale that begins just ten days earlier: June 10 and 11. There will be bundles of books, games, and other items perfect for stocking up your summer reading library. Hours are 10 a.m. to 5 p.m. both days at the San Leandro location: 2483 Washington Ave.
June 20 | 7 p.m. | Free | booksinc.net