With the increasing prevalence of cyberattacks, it's more important than ever to take steps to protect ourselves, our data, and our financial accounts. So, how can we best do that?
[SPONSORED POST]
A comfortable space—regardless of your background or experience with financial topics—where we can talk openly about money and its role in our lives, communities, and society.
Life with Money
In today's digital age, cybersecurity has become a major concern for individuals and businesses alike. With the increasing prevalence of cyberattacks, it's more important than ever to take steps to protect ourselves and our data.
So, how can we best do that?
We think about this question frequently at Park Piedmont. We take cybersecurity seriously, and we're continuously educating ourselves on how best to protect our clients' data.
With that in mind, we recently attended a cybersecurity webinar hosted by Charles Schwab. We took away a lot of helpful information, and we wanted to share what we learned with you.
Create Unique Passwords
One of the most important steps you can take to protect yourself from cyber threats is to use strong passwords.
An ideal password should be unique and at least 12-15 characters long. It's important to avoid using the same password; otherwise, hackers only need to crack one password to gain access to multiple accounts.
As important as it is to use unique passwords, keeping track of them can be a challenge. Fortunately, there are password manager apps that can generate and store unique passwords for you, and many of them offer free levels of service.
Here are a few options to consider:
1Password
LastPass
Bitwarden
Dashlane
NordPass
Keeper
These are only a few of the many options available. It's important to do your own research so that you can choose the best password manager app for your needs.
You can also add an extra layer of security to your accounts by using multi-factor authentication, such as a fingerprint or a one-time passcode sent to your phone.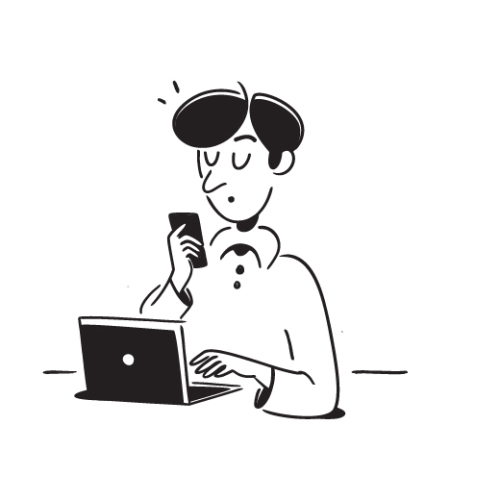 Update Your Technology
Another step you can take to protect yourself is to ensure that your software and operating systems are up to date.
Software updates contain important security patches that can prevent cyber hackers from exploiting vulnerabilities. Your device will let you know whenever a software update is available, and you should take immediate action when you receive those alerts.
In addition to staying on top of the updates, you will also want to use antivirus software for PCs, such as Bitdefender Antivirus Plus, Norton AntiVirus Plus, or McAfee Total Protection.
Beware Phishing Attempts
Phishing emails are on the rise, as you've likely noticed in the past couple of years. Before you click on a link or download an attachment, verify that the email is coming from a familiar sender.
In addition to checking the sender's name, be sure to verify the email address itself. For example, we recently received an odd email from "Amazon" stating that we needed to review our billing information by clicking on a link below.
Upon further review, however, we noticed that the email address was not from @amazon.com but instead from an obscure email address. This was a phishing attempt.
Be Vigilant
The last thing we want to mention is simply to be vigilant. Monitor your accounts regularly and act immediately if you notice any suspicious activity. And, of course, please feel free to reach out to us if you have any questions.
---


We'd love to meet you – by phone or video if you prefer, or in-person.
Contact 20-year Piedmont resident Nick Levinson to learn more: nickl@parkpiedmont.com.
---
Founded in 2003 as an alternative to the Wall Street advisory model, Park Piedmont Advisors (PPA) is an independent, multigenerational family-owned firm, dedicated to client-centered relationships. Decades of experience inform our straightforward approach to investment and financial advising; we help our clients protect, build, and share their wealth in a low-cost, tax-efficient manner.
As a fiduciary, we provide thoughtful advice to individuals, families, and the retirement plans of small businesses and non-profit organizations (including 401(k), 403(b), and defined benefit plans). And through our advisory process, we help clients gain insight into the ways financial decision-making can express and transmit their core values.