Piedmont Mayor Jen Cavenaugh declared May 1 as Highlander Robotics Team Day at Monday's city council meeting, an honor the team received after securing a spot at the FIRST Robotics Competition World Championship held in Houston from April 19-22 and finishing third in their division, placing them in the top 1.5 percent of all competitors internationally with their robot "Paddo the Frog." Many team members, parents, and supporters were at City Hall for the official proclamation. Alex Ware, a team captain, thanked the community for its support. 
The FIRST Robotics Competition, which frames high school robotics as a full contact sport complete with mascots and cheering sections, announces a new game in January of each year to be played by two alliances of three robots in an arena about the size of a basketball court. An entirely new robot must be constructed for each season. Competitions start in the sixth week. In this year's game, Charged Up, robots weighing up to 125 pounds and 6 feet, 6 inches tall score points by collecting and placing 9.5-inch inflatable cubes and 1-foot-high rubber cones in a grid of poles and pedestals as well as by balancing robots on a see-saw-like platform called a "charging station."
Teams who qualified for the World Championship at regional tournaments in seven countries were placed into eight divisions. Each team plays 10 qualifying rounds with randomly selected partners, after which the highest ranked eight teams become alliance captains and draft three others to work with throughout the double-elimination playoff brackets. Draft selections are key to success in the playoffs and all teams at the elite level dedicate time to track every robot's performance across 125 qualifying rounds in a process called "scouting."
The Highlanders ended the first day of qualifications on April 20 with a 2-win 2-loss 1-tie record and ranked 36th of 77 in their division. Despite the mixed results, individual robot performance had been excellent and the team showed up in scouting data as third in points scored. On the second day of competition they continued to perform well, with three wins and two losses and a 19th-place finish — while maintaining their rank of third in overall scoring.
The Highlanders were picked in the first round of the draft by the 8th seed alliance captained by 7197 Mountie Megabots from Jackson, Michigan and joined by two Israeli teams, 1690 Orbit from Binyamina and 2630 Thunderbolts from Emek Hefer.
In the first round of the double elimination playoffs, the Highlanders lost 208-189 to the first-seeded alliance captained by 1678 Citrus Circuits from Davis, who hoped to extend their record streak of 8 consecutive division wins at Worlds.
Coming off their first round loss, the Highlanders fought back and won three straight matches in the lower bracket, upsetting the fourth seed 196-161, the 3rd seed 214-187, and the seventh seed 182 to 175 to reach the semifinals.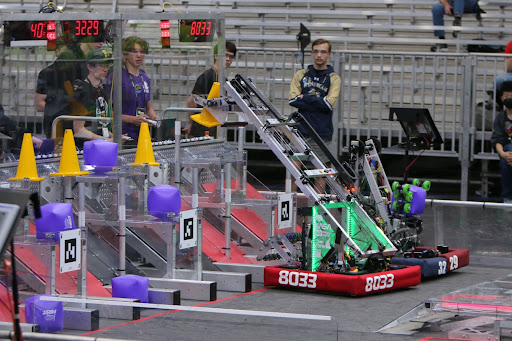 In the semifinals the Highlanders once again faced the first-seeded Citrus Circuits, who had lost to the second seed and been sent to the lower bracket. Citrus Circuits led for the entirety of the match at one point by a margin of 36, but in the last 25 seconds the Highlanders whittled a 25 point lead down to 4. At the buzzer, the unofficial score showed 181 to 185 in favor of Citrus Circuits with scores for climbing on the Charging Station and an official count of game pieces placed still to be determined.
For five minutes, no official score was posted as the referees discussed the round with animated body language. Finally, the screen showed the result: 212-183 in favor of the alliance captained by Citrus Circuits. Two of the cubes placed by the Highlander's partner, Orbit, had wedged into position resting against each other, preventing either from touching the ground and invalidating 31 points which otherwise would have reversed the result.
Citrus Circuits and their alliance went on to win the Galileo division and were eliminated at the final field called "Einstein" by an alliance formed by 1323 MadTown Robotics from Madera, California; 4414 High Tide from Ventura, California; 4096 CTRL-Z from Champaign, Illinois; and 2609 BeaverworkX from Guelph, Canada — who went on to win the championship.
Paddo the Frog was operated by Vaughn Khouri and Matteo Scanu. They were supported by drive coach Alex Ware, technician Nate Hart, and human player Ava Grochowski. Helena Young and Peter Stokes led the pit crew, which kept the robot running smoothly through 15 full contact matches. Jasper Tripp led scouting and strategy operations with the support of 13 scouts and a three-person software team led by Cassie Colby. Jessica Liu, Caetano de Figueiredo, and Tiago de Figueiredo acted as ambassadors who fielded questions, built connections with other teams, and represented the team to FIRST Judges.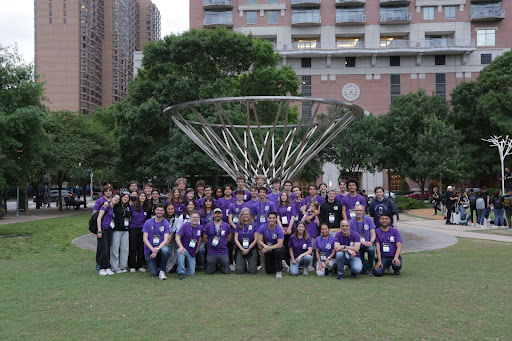 Highlander Robotics was founded in 2019 by brothers Henry and Charlie Lambert and is composed of 54 students from Piedmont High, Millennium High, The College Preparatory School, Las Lomas High, Stanford Online High, Lick Wilmerding, Maybeck, Monte Vista, Head Royce, and Bently. They work from the Mary G Ross Engineering Lab at Piedmont High School.
For more information contact Kevin Clark at kevin.clark@gmail.com or visit https://frc8033.com/.