From a City of Piedmont press release on May 15:
The City of Piedmont's recently completed annual striping project brings to life two of the highest priority items identified in the city's 2021 Safer Streets Plan — a new bike lane on Moraga Avenue and pedestrian safety upgrades at the intersection of Mesa and Moraga Avenues.
Moraga Avenue bike lane connects network to Oakland border
The new class 2 bike lane in the uphill direction on Moraga runs from Red Rock Road to the Oakland border, where it connects with the existing City of Oakland bike lane. This project brings the vision of a continuous bikeway on Moraga Avenue one step closer to completion, building on previous work that added a bike lane between Ramona and Bonita Avenues as part of implementation of the city's 2014 Pedestrian and Bicycle Master Plan.
In the downhill direction, the project added new edge striping to the existing "sharrow," reducing the lane width by 1 to 2 feet. Narrowing the travel lane on the steep downward slope is expected to slow traffic, making travel on this stretch of Moraga safer for everyone.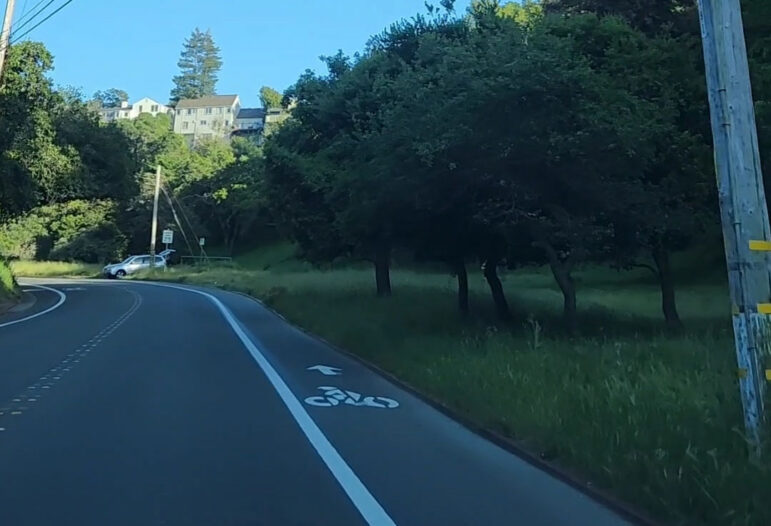 Together, these improvements address two of the most common bicycle-related requests from Safer Streets Plan outreach, which identified missing segments on Moraga as one of the most important gaps in Piedmont's bikeway network and the need for safety improvements at tight corners on Moraga as a top priority for cyclists.
Crosswalk improvements at Mesa and Moraga
At the Mesa and Moraga intersection, the city re-painted the existing crosswalk for better visibility and added corner striping lined with white reflectors to increase visibility for approaching vehicles. In the uphill direction, "rumble strips" – a row of reflective bars that rise 2 inches above the pavement – were added to slow down vehicles as they near the intersection.
This work marks Phase 1 of desired safety improvements for the Mesa/Moraga intersection, which the Safer Streets Plan identified as one of the top 10 highest priority street crossing projects citywide. Ultimately, the long-term vision for this intersection includes flashing beacons, bulb-outs, and re-locating the crosswalk to the other side of Mesa Avenue.
Until funding for this costly infrastructure work can be identified, this investment in striping improvements marks an important advancement of a key Safer Streets Plan priority while aligning with the Plan's stated goal to "emphasize low-cost, affordable solutions to address Piedmont's main walking, biking, and traffic safety needs."