"Black Venus," on view at the Museum of the African Diaspora in San Francisco through August, is a visual critique of centuries-old stereotypes of Black women, with the intent to reframe, re-sort and reclaim Black womanhood through the work of contemporary artists.
The dark historical root of the Black Venus in this exhibition is the so-called Hottentot Venus, with the stage name of Sara Baartman, a South African woman enslaved by Dutch colonizers and toured around Europe as part of a "freak show" of anatomical anomalies, because her body type was unfamiliar to Western Europeans. Baartman is depicted in a poster whose reference to Venus is totally antithetical to Botticelli's famous light-skinned, blond-haired Venus emerging from an enormous seashell.
Curator Aindrea Emelife strongly reclaims the issue with works by 18 artists who celebrate Black beauty and affirm its variety.
In several works, artists Taiye Idahor and Coreen Simpson use collage, drawing and photography to capture the evolving identities of Black women, Idahor with images morphing into each other, Simpson with African masks covering her subjects' faces.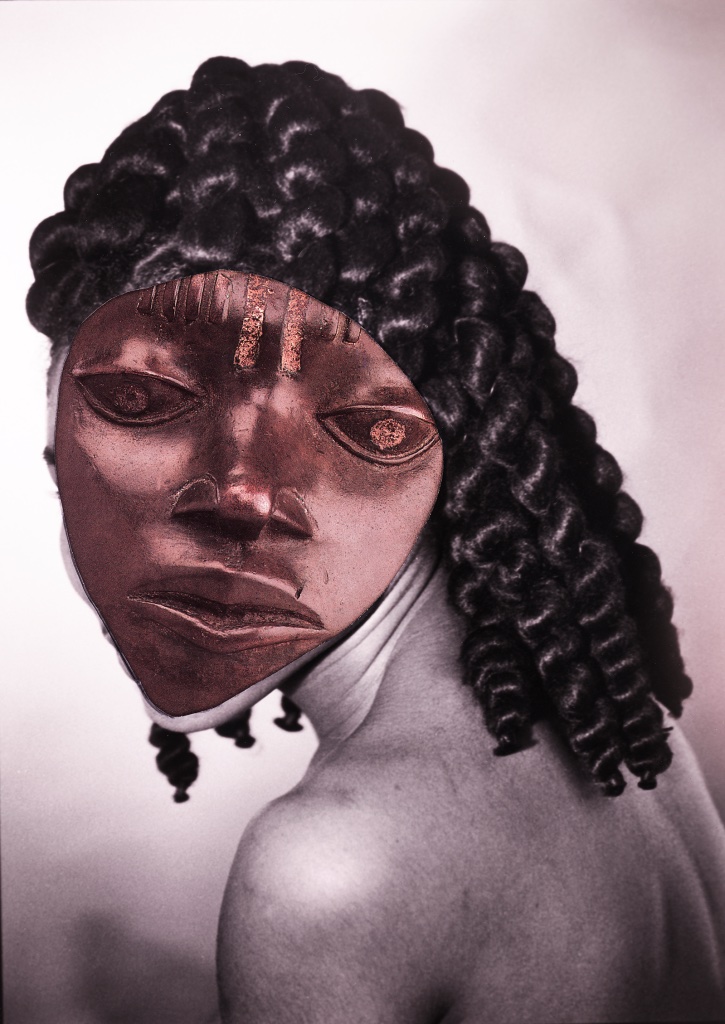 Ayana V. Jackson photographs herself wrapped in a fabric associated with odalisques, women who serve as slaves or harem members, painted in enticing recumbent positions, often with fabric judiciously enveloping them.
In another photograph, Jackson portrays herself reclining, seemingly bejeweled. Only on a closer look do the shell-like shapes adorning her upper body become identifiable as spoons and the embellishments on her lower body reveal themselves as strappy sandals or flip-flops.
Carrie Mae Weems also uses herself as the subject of "Not Manet's Type," various photographs of her naked body in different poses, accompanied by texts describing the painters who would reject her as their muse or subject, ending with a realization on her part: "I took a cue from Frida," referring, of course, to Mexican artist Frida Kahlo.
Also on display are self-portraits by Renee Cox, who in one photograph wears only plastic breast- and buttock-enhancing apparatus. In another, "Miss Thang," she portrays a "black and bougie" woman in a resort pool, wearing a yellow swimsuit, sunglasses and a towel around her head, smoking, with a bottle of liquor at her side.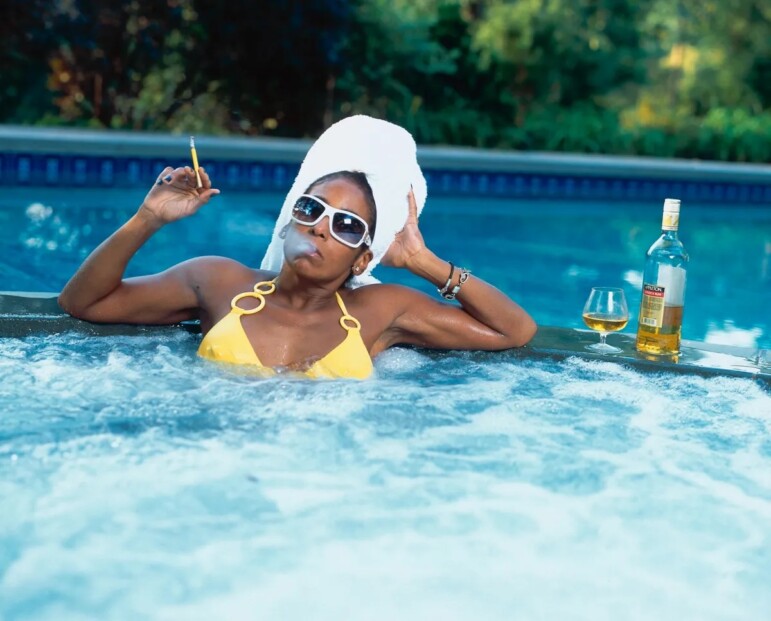 A photograph by Kara Walker is a study for her first public installation in 2014, which consisted of an enormous sphinx in the shape of a woman, made from enormous quantities of sugar, her head drawn from the Giza sphinx in Egypt, her body that of a Black woman in lingerie.
"Black Venus" continues through Aug. 20 at the Museum of the African Diaspora, 685 Mission St., San Francisco. Admission is $6 to $12. Call (415) 358-7200 or visit moadsf.org.