California's Democratic lawmakers have spent the past year enacting legislation to protect abortion rights in the wake of Roe v. Wade's reversal, but a ruling Friday by a Texas federal judge is one thing they can't touch.
U.S. District Judge Matthew Kacsmaryk suspended the U.S. Food and Drug Administration's two-decades'-old approval of mifepristone, arguing thatit was flawed and invalid. Kacsmaryk issued a temporary stay on his ruling for seven days to allow the Biden Justice Department to appeal, which it quickly did. The ruling is likely to pull the drug from pharmacy shelves unless a higher court intervenes while the case moves through the appeal process.
But soon after the ruling in Texas, a district judge in Washington state issued a conflicting ruling in a separate case, prohibiting the FDA from taking the drug off the market in 17 Democratic-led states (not including California). Despite the confusion caused by these dueling decisions, legal experts say even the threat of a legal gray area is likely to cause providers to stop distributing the drug.
Mifepristone is the first of a two-drug regimen that makes up the majority of abortions in the U.S., according to the Guttmacher Institute, a reproductive health research and policy center. It blocks the pregnancy hormone progesterone and is also used to manage miscarriages.
Democratic lawmakers quickly fired back at Kacsmaryk's ruling, though their options for direct redress are limited.
"Today's ruling, by an extremist judge pursuing a radical political agenda, ignores facts, science, and the law – putting the health of millions of women and girls at risk," Gov. Gavin Newsom said in a statement. "Abortion is still legal and accessible here in California and we won't stand by as fundamental freedoms are stripped away."
In anticipation of Friday's high-profile ruling out of Texas, states across the country began stockpiling abortion drugs. While places like Washington and Massachusetts secured tens of thousands of mifepristone pills, California's strategy targeted misoprostol, the second drug used for abortions which was not part of either court case and remains legal.
Medication abortion remains legal in California
On Monday, Newsom announced the state purchased more than 250,000 misoprostol pills for $100,000 and could increase that order up to 2 million pills. Misoprostol causes contractions and forces the body to empty the uterus. Studies show it is safe and effective when used alone, but there are fewer side effects like prolonged bleeding when used in conjunction with mifepristone, according to the American Academy of Family Physicians.
Julia Spiegel, deputy legal affairs secretary for Newsom, said the state intentionally chose to stockpile misoprostol over mifepristone because its legality is not in question and lawmakers wanted to ensure medication abortion remained accessible "no matter what is happening in the courts."
"In this immediate moment of chaos and fear and confusion, California and Gov. Newsom wanted to send a very clear message that you can do that here legally and safely," Spiegel said.
Future demand is unpredictable, Spiegel said, but the initial shipment of the drug is enough pills for nearly 12,000 medication abortions.
California was not one of the 16 states to join Washington state in its challenge of the FDA's "particularly burdensome" mifepristone regulations that have historically required precautions like in-person prescribing and consultation. Last week's ruling out of Washington prohibits the FDA from changing the availability of mifepristone in states that were part of the lawsuit and in Washington D.C.
A spokesperson for Attorney General Rob Bonta's office, who refused to be identified and refused an interview, said via email the office is "unable to comment on legal strategy" when asked why California did not join the lawsuit.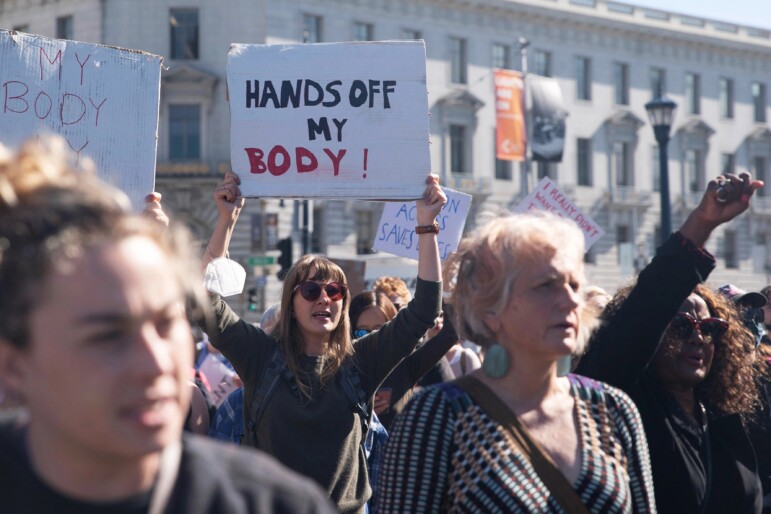 "Uncharted territory"
While the U.S. Supreme Court's Dobbs decision last June rescinded federal abortion protections, it left intact states' ability to set their own abortion laws. California legislators and Newsom jumped at the chance to make the state a beacon for progressive politics, even approving financial assistance for people in other states seeking abortions in California.
But Kacsmaryk's ruling addresses the FDA's authority nationally, and leaves little room for states to mitigate the fallout.
"We're in uncharted territory," Lisa Matsubara, an attorney for Planned Parenthood Affiliates of California and vice president of policy, told CalMatters a day after Kacsmaryk heard arguments in the case in mid-March. "It will take some time to understand how this will play out in California."
Planned Parenthood Affiliates of California CEO Jodi Hicks said in March the organization's clinics will move to a misoprostol-only treatment should the district court's decision tie their hands.
The ruling comes less than a month after the Legislative Women's Caucus and Future of Abortion Council announced a package of 17 bills building on last session's work and primarily focusing on privacy and legal protections for patients and providers. State Sen. Nancy Skinner, a Democrat from Oakland and chairperson of the caucus, said during a press conference unveiling the legislation that lawmakers were "not done, not by a long shot" in their efforts to preserve abortion rights.
The women's caucus issued a statement blasting the "abominable" and "deplorable" ruling: "When will the assault on women's health and dignity stop? That one anti-abortion judge has the power to block access to a safe and medically proven treatment is an outrage."
The caucus vowed again: "California will not back down."
Ahead of the district court's ruling, 20 Republican-led states threatened retail pharmacies with legal action should they distribute abortion pills. In an attention-grabbing tweet, Newsom made the sweeping announcement that California would no longer do business with Walgreens, which had announced it would not stock the medication in states where attorneys general were opposed. Newsom has since had to significantly walk back the statement, which ran afoul of federal regulations.
Despite political assurances, the state can't take any direct action to keep mifepristone available.
"There's nothing to be done at the state level to make it newly legal so to speak," said Cat Duffy, a policy analyst specializing in reproductive rights with the National Health Law Program. "It'll be in the hands of the (U.S. Department of Justice) to appeal the ruling." 
Though Kacsmaryk's ruling does not entirely revoke the FDA's approval of mifepristone, leaving that decision up to a higher court, this type of challenge to the agency's authority to regulate pharmaceuticals is unprecedented, Duffy said.
Although misoprostol remains available, the inability to use mifepristone stretches an "already strapped network," Duffy said.
"It (will) really gut a lot of advances made in improving access that disproportionately impact people in rural areas and the folks that face structural barriers to care like Black and indigenous communities," Duffy said.
More than half of abortions are completed by medication nationally, according to the Guttmacher Institute. Though California does not track detailed abortion data, advocates say COVID-19 pandemic rules allowing abortion medication to be prescribed through telehealth and delivered via mail improved access in rural areas of the state where there are no abortion clinics. Kacsmaryk's ruling states, in part, that the FDA inappropriately relaxed in-person prescribing and distribution rules.
Legislation introduced this year by the Women's Caucus and Future of Abortion Council primarily focuses on tightening privacy protections for patients and providers.
"We're going to do whatever we can to make sure that folks are protected and that we are really, truly a haven state," Planned Parenthood attorney Matsubara said. "As things come up this year we may have to change course. That's certainly what we did last year and we're prepared to do that again this year."