Friedie Schickedanz scored six goals and added two assists to help lead the Piedmont High School girls lacrosse team to an 18-2 win over visiting Moreau Catholic on April 3 at Witter Field.
The win moved the Highlanders to 4-5 on the season.
Schickedanz scored the game's opening goal just 53 seconds in, then added back-to-back goals with 17 minutes, 38 seconds to go in the first half and then with 14:06 left as Piedmont opened up a 5-0 lead in the early minutes. Schickedanz had five goals in the first half and added one in the second.
"I did? Wow, I wasn't counting," Schickedanz said when told of her totals, adding that she didn't think she had ever scored six goals in a match.
"A lot of games this year and last year, I've played on the left side of the crease," she said. "It's a very important position, but it's not my dominant hand. A lot of times I'm not in the position to score. (It's) getting it to the next player, making things that I know will work happen versus taking it for myself."
Schickedanz said it was fun to break out.
"Your mind goes blank, especially when I have opportunities to cut," she said. "Just being open in the middle and getting those passes and really making the assists is the fun part because that's the part you have to think about."
Schickedanz's development is a key for Highlander coach Carlton Chan.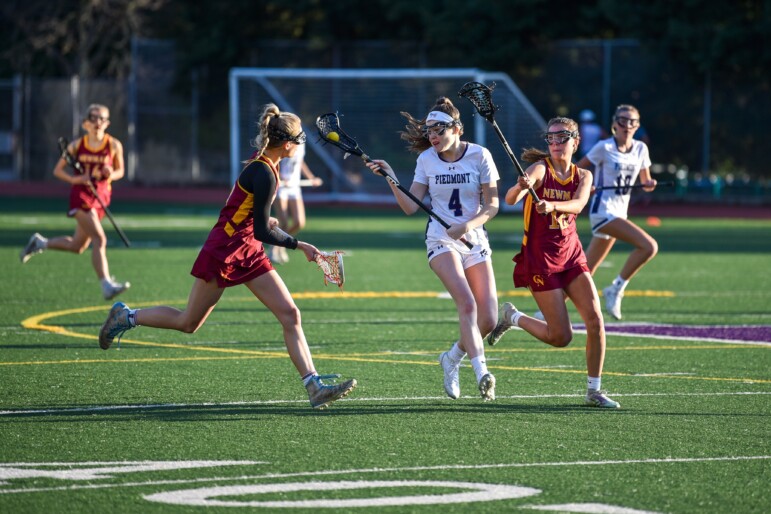 "Friedie is just amazing," Chan said. "She was watching Elizabeth (Ethington) from last year who was holding that spot. She's now playing with Molly (Ashton). Molly's going to graduate. We're looking to develop her because she's going to be that girl who's going to take that spot next year. And she's playing just tremendously well. And understanding the offense is the whole thing."
Said Schickedanz, "I know when it's time to step back and learn and watch, and Molly, especially, and all my teammates are so good that I really just try to absorb and play my part.
"I learned so much from watching my teammates last year and being in practice and absorbing plays and absorbing the rhythm. I think this year I'm able to be a lot more confident on the field and really feel settled because I had that experience, it was kind of like a trial by fire. I was able to make mistakes then when there were other people to perform and I had room to make mistakes."
She added, "I'm still making mistakes this year that I will continue to grow into next year and the years after."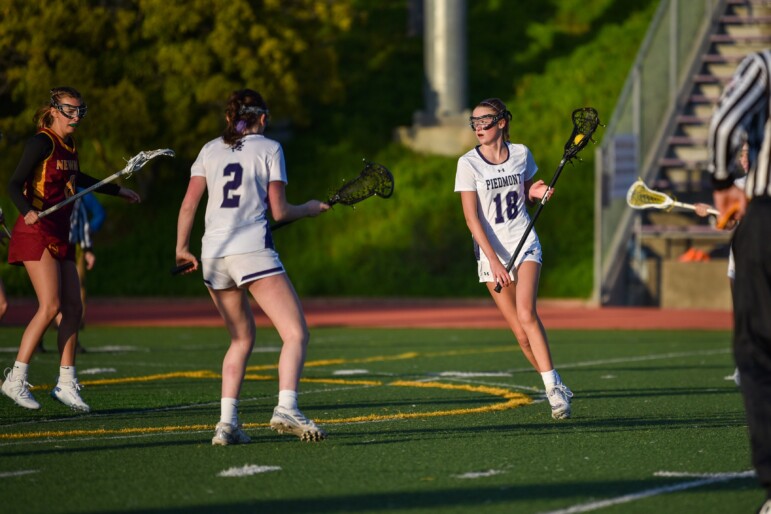 Peyton Watson and Chloe Graham each scored three goals for Piedmont. Luisa Cole added two and Alicia Bernales, Laurel Bentley, Hailey Marshburn, and Hallie Burden each had a goal for the Highlanders. Charisse Echano and Lila Duke scored the goals for Moreau Catholic.
On April 1, Piedmont fell 16-6 to visiting San Marin. Ashton had three goals and Watson two to lead the Highlanders. Schickedanz scored the other goal.
San Marin was led by Abby Brackett's seven goals. Alex Chamberlain had three.
On March 28, Piedmont won a thrilling game in overtime at Las Lomas, 11-10. Ruby Guzdar scored the game-winner in overtime, her seventh of the night. She also scored the game-tying goal in regulation. Ashton added four.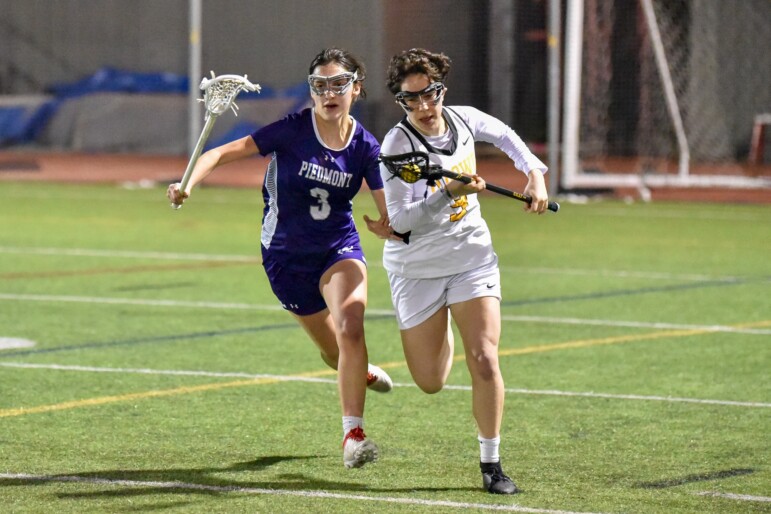 "This was quite a game," Chan said. "Piedmont started quick but Las Lomas punched back. The one reason we were on our heels the entire game was the draw control of (Caitlin Ellis), who was one the best self drawers we've played – her height and strength – first half as we rotated through several of our middies. At half, we gave them a good speech – that we forget the first half and play like Piedmont knows how to play."
Alexandra Williams had four goals for the Knights.
Piedmont is next scheduled to host Tamalpais on April 17.
Photos by Todd Marshburn