Piedmont High School's track team sent its top runners down to Arcadia for the nation's most prestigious track and field meet on April 7-8. The Arcadia Invitational annually brings together the top athletes from across the country, and provides them the top competition they will face before going to college.
The Highlanders' Distance Medley Relay team of Xander Schulte-Sasse, Sam Shelby, Parker Long, and Christian Taylor made it into the invitational portion of the meet, finishing 22nd in 10 minutes, 44.31 seconds. Loyola-Los Angeles won the event in a sizzling 10:12.91.
Long continued his outstanding season, taking third overall in the Open boys 800 meters. Long was boxed in during part of his heat but closed to finish in 1:53.35. Colby Jenks of Big Piney-Sublett County, Wyoming won the heat in 1:52.18. It was the fastest of the four heats.
Taylor finished sixth in the seeded mile in 4:20.75 (which converts to a 4:19.1 in the 1,600 meters, which is the standard high school distance). William Steadman of Herriman, Utah won the race in 4:14.88.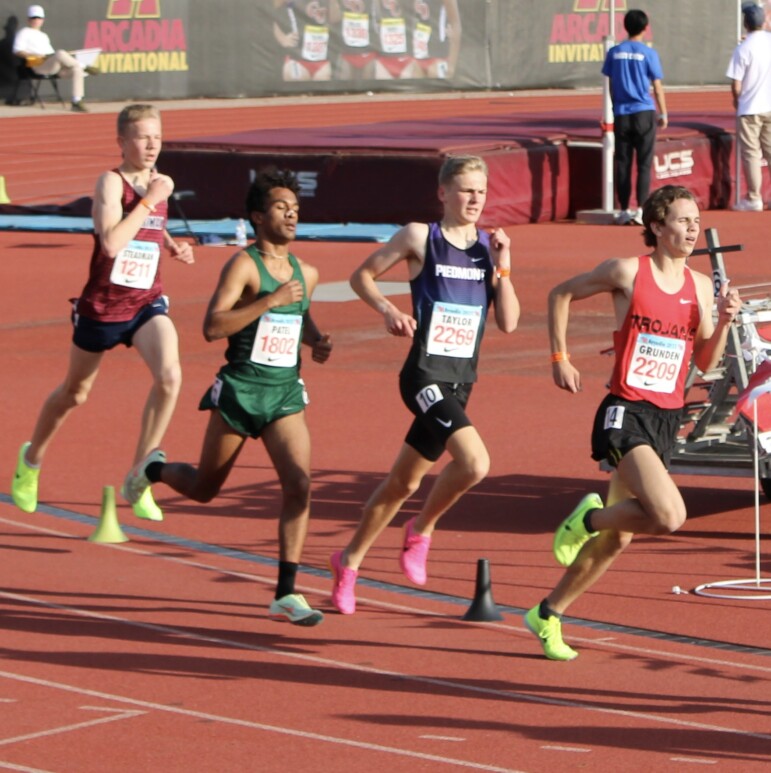 "These guys earned the right to compete against the top athletes in the country, and they didn't disappoint," Piedmont coach Pouyan Assadi said. "We saw some elite performances by D1 commits and future Olympians, and our boys held their own. As usual our kids are constantly impressing me and representing Piedmont well.
"We're glad both of our senior captains Parker and Christian got to take home medals, and Xander and Sam got a taste of the action. We'll be back, and I'm excited to see who from next year's team is going to represent Piedmont at this incredible event."
The meet produced 13 top national marks, including Hana Moll of Capital-Olympia, Washington becoming the first high school girl to clear 15 feet in the pole vault outdoors. Her twin sister Amanda Moll is the only high schooler to complete the feat indoors – she cleared 15-1 ½ in January. And Amanda held the old outdoor national record at 14-9 ½. However, she was second to her sister at Arcadia at 13-3.