Piedmont High School's Parker Long has committed to running at Cal Poly-San Luis Obisbo. Long is having a breakthrough senior year, with a best 800 time of one minute, 53.25 at the Dublin Distance Fiesta on March 18, a 10-second drop from his best a year ago.
That performance likely drew the attention of the Cal Poly coaching staff.
"I didn't really think I was going to be going there until after the Dublin race," Long said. "I applied but didn't think I was going there. I applied as a student and I got wait-listed."
Long beat a top-shelf field at Dublin, rallying down the homestretch to steal the race. He backed that up with a third-place finish at the Stanford Invitational on April 1 (1:53.77), and then third place in the Open division race at the Arcadia Invitational on April 8 (1:53.35).
"It was kind of all of a sudden," Long said of getting into Cal Poly.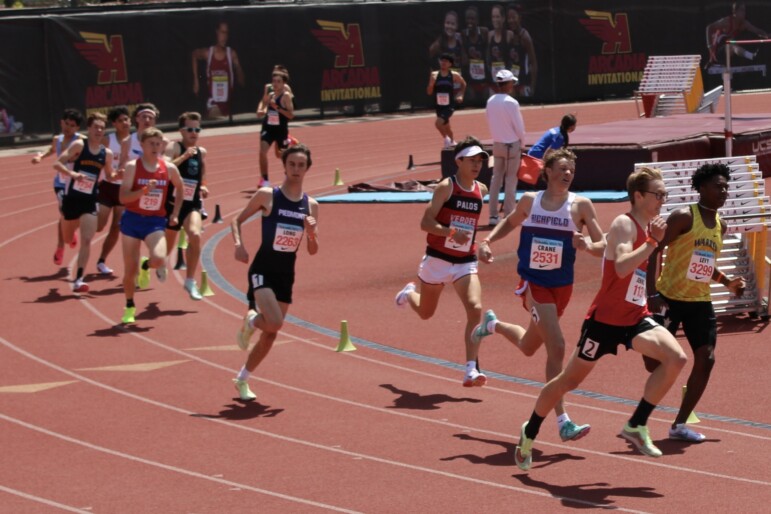 Piedmont coach Pouyan Assadi said Long worked hard over the winter to lift his game.
"I think what you're seeing is Parker putting together all the pieces at once," Assadi said. "We knew he had endurance. He's a cross country captain. We knew he had some speed, he was on the record-breaking (1,600 relay team). But what we saw over the winter was him putting that together. He did that through weight training, we saw that by him doing plyometrics, we saw that in him modifying his workouts."
Long said he has stopped overthinking his approach.
"The main differences are how I think about my training every day," he said. "Cross country season, I think I overthought a lot of it. I think at the end, that hurt more than it helped. I don't wear a watch when I run anymore, I don't record my training. I've kind of just taken a step back."
Assadi added that Long meets Cal Poly's profile – strong in academics as well as strong on the track. Long wanted to run in college rather than just look at academics.
"It's a much better school than a lot of them on my list," Long said. "I picked a lot of running schools that aren't good academically.
It's crazy. Every day I just wake up and how is this where I am now? It's certainly a weight off my shoulders to get college off my mind."
Now, Long can focus on finishing his senior year strong. Before the season started, going to the California Interscholastic Federation championship might have seemed like a dream. He's in the mix now.
"I'm feeling pretty good," he said. "The next big race we have is the state meet and the meets that lead up to it. Every day, I'm thinking of how can I be in my best shape at the (state meet)."