This past weekend 37 students from Highlander Robotics traveled to the FIRST Robotics Competition's Monterey Bay Regional Tournament with their robot "Paddo the Frog" and finished second, earning a place at the World Championship April 19 – 22 in Houston.
The FIRST Robotics Competition announces a new game each January to be played by two alliances of three robots, built by 9th to 12th grade students, in an arena about the size of a basketball court. A new robot must be built for each season and competitions begin six weeks after kickoff. In this year's game, Charged Up, robots weighing up to 125 pounds and standing 6 feet, 6 inches tall score points by collecting and placing 9.5-inch inflatable cubes and 1-foot high rubber cones in a grid of poles and pedestals as well as by balancing robots on a see-saw-like platform called a "charging station."
During regional competitions, teams play in nine to 12 qualifying rounds with randomly selected partners. The highest individually ranked eight teams then become alliance captains and draft two others to work with throughout the double-elimination playoffs and best-of-three finals.
After the first day of qualifying rounds in Monterey, the Highlanders found themselves with a 6-2 record and in fifth place of 36 behind 2019 World Champion MadTown Robotics from Madera, last year's World Championship Roebling Division Finalist BREAD Robotics from Redwood City, 2009 World Champion Spartan Robotics from Mountain View, and Duncan Dynamics from Fresno.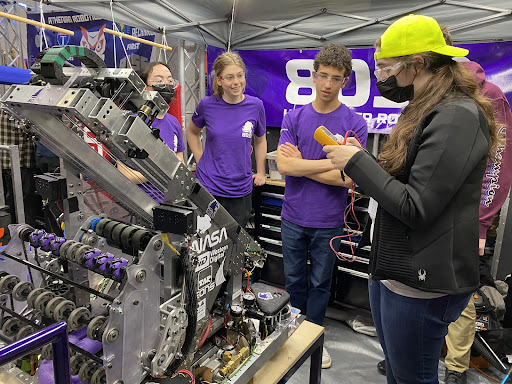 Despite the bonafides of the top teams at the tournament, Highlander Robotics had shown they could keep up. They ranked third in points overall and in one round had eked out a win nearly unassisted after one of their alliance partners was carried off the field before the match began and the other proved a lethargic defender. They were guaranteed to have the option to be an alliance captain if they stayed in fifth through their last three qualifiers, but their best path to Worlds would be as a first pick.
Invitations to the World Championship are earned by the winning alliance of a regional tournament as well as by winners of FIRST's two most prestigious judged awards: Engineering Inspiration and Impact. When a redundant bid is earned at a regional, a wildcard is generated that goes first to the winner of the Rookie All Star Award and then to the captain, first pick, and second pick of the second place alliance. However, the Rookie All Star Award, which recognizes an outstanding first-year team, isn't awarded at every competition.
"[Top ranked] MadTown qualified in Fresno and was favored to win Monterey, likely in an alliance with the number two team, BREAD. If that happened they would generate a wildcard," said Rui de Figueiredo, the Highlander's Scouting and Strategy mentor. "Spartan, who we expected to be the captain of the second seed alliance, had won the San Francisco Regional so any wildcard would skip them." This meant that Rookie All Star, if awarded, was the only thing standing in the way of sending the Spartan's first pick to Worlds should they make finals. "So we waited and hoped everything went right," said de Figueiredo.
Things started well the next morning as the Highlanders decisively won their last three qualification rounds. In the second round of the series, they found themselves on an alliance with Spartan Robotics and had an opportunity to audition the partnership. The result, 170-92, left the team hopeful. "We just work really well together." said team captain Alex Ware. Shortly after, Spartan confirmed their intention to draft the Highlanders.
The second seed alliance of Spartan Robotics, Highlander Robotics, and The Apes of Wrath from San Jose went 3-1 in the double elimination playoffs, only losing to the first seed alliance formed by MadTown, BREAD, and Unipards from Chinese Taipei.
In the best of three finals, the MadTown lead alliance won in two high intensity rounds 184-152 and 158-150. As finalists, the only thing that would prevent MadTown's wildcard going to the Highlanders would be a Rookie All Star.
"Then I saw the award on the presenter's table," said Ware. Rookie team The Mechanical Magicians from Newark had earned the wildcard to Houston. "It was clearly well deserved, but hard not to feel disappointed," he added.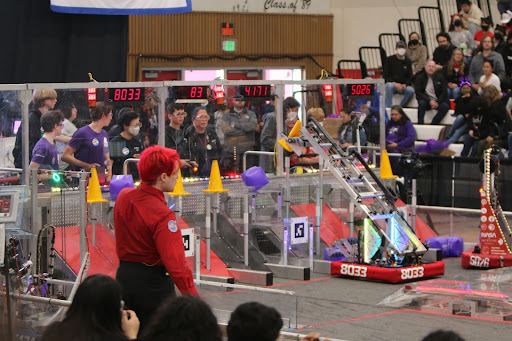 Very few paths to Worlds remained. The Highlanders could win Engineering Inspiration or Impact themselves and qualify directly or an additional wildcard could be generated if BREAD or Unipards won. So the team waited and hoped as the awards were announced. Teams can win only one judged award per competition, so any other award would eliminate a possibility.
The Highlanders won the Imagery Award, which celebrates attractiveness in engineering and outstanding visual aesthetic integration of machine and team appearance. In particular, the judges wished to recognize the Highlanders brand refresh, led by Ava Grochowski, Chloe Kessinger, and Jessica Liu, which sought to maintain a connection to Piedmont while being more inclusive to non PHS students.
BREAD won the Engineering Excellence award.
Unipards won Engineering Inspiration, triggering a second wildcard and sending Highlander Robotics back to Houston. "[It was a] rush of emotions. All the hard work had finally paid off," said Ware.
The Highlanders are now fundraising to pay the $5,000 registration, costs to ship the robot and pit, and financial aid for students. Learn more HERE.
Paddo the Frog was operated by Vaughn Khouri and Matteo Scanu and supported by drive coach Alex Ware, technician Nate Hart, and human player Ava Grochowski. Helena Young and Peter Stokes led the pit crew, which kept the robot running smoothly through 17 full contact matches with turnarounds as quick as 30 minutes. Jasper Tripp led scouting and strategy operations. Lewy Seiden led a team of five ambassadors who fielded questions, built connections with other teams, and represented the team to FIRST Judges. Cassie Colby, Chloe Kessinger, and Caetano de Figueiredo presented the team's Impact Award submission which documents efforts to spread FIRST core values and expand STEM education over the previous four years.
Highlander Robotics was founded in 2019 by brothers Henry and Charlie Lambert and is composed of 54 students from Piedmont High, Millennium High, The College Preparatory School, Las Lomas High, Stanford Online High, Lick Wilmerding, Maybeck, Monte Vista, Head Royce, and Bentley. They work from the Mary G Ross Engineering Lab at Piedmont High School.
For more information contact Kevin Clark at kevin.clark@gmail.com or visit frc8033.com.